May 16: Updated directions and note sections.
Date: Saturday, May 22, 2010
Time: 12:00pm - 2:30pm
Location: Mt Diablo State Park

Trailhead: Curry Point, South Gate Road
Trail detail: It is an easy 3.3 loop trail with an elevation gain of 500 feet. Take the Knobcone Point Road from the parking lot for about 1 mile to Black Hawk Trail. Turn right and continue to Sycamore Creek Road. Turn right again to Devils Slide Trail and turn right. Begin climb out of Sycamore Canyon on this wonderful singletrack trail as it heads back to Knobcone Point Road, where you turn left back to the trailhead.  See highlighted trail in map.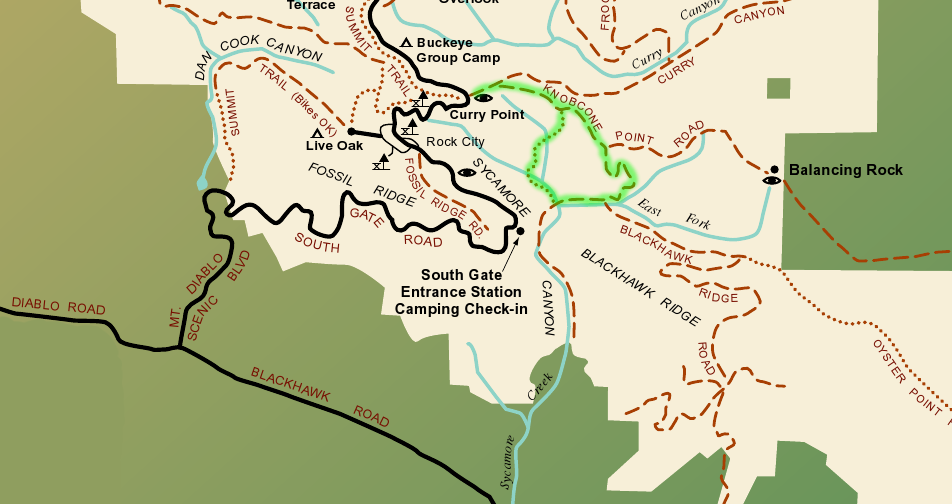 Highlights: During our hike, we will review what we learned about all three types of rocks (from our camp at Del Valle). The Cub Scouts will be surprised to learn that Mt Diablo is sedimentary in origin.  It was laid down millions of years ago on the floor of the ocean. Within the last one to two million years, a piece of hard, red 160-million-year-old Franciscan rock was pushed up through six to eight miles of overlying rock and soil, tilting and distorting the rock layers and in some places turning them completely upside down. As a result, the fossilized remains of many sea creatures have been discovered here.
Directions: From Crow Canyon Rd continue onto Blackhawk Road. It becomes Diablo Road. Go to Mt. Diablo Scenic Boulevard and turn right.  At the Park boundary the road becomes South Gate Road. Continue up the mountain, past the entrance station to just past Rock City. Park in the Curry Point view area on the left.
Note: This is a great hike but part of it is arduous (avoid heavy lunch).  Please bring a bottle of water and sun screen.  After the hike, we could go for an ice-cream.
What to bring:
Entrance fee $10 per car.  You can car pool and reduce vehicle emissions and charges.
Food, snack (granola bars, trail mix, fruit), water.
Binoculars, camera, sunscreen.
Layer your clothes.