Date: Thursday, June 3, 2010
Time: 8:00pm to 8:40pm
Location: LDS Church - Overlook Chapel, 2369 Overlook Drive, Walnut Creek (map)
Cost: Free
To Meridian Scouters,
The Iron Horse District is offering a LIVE in person Safe Swim Defense class on Thursday, June 3rd, 2010 during their Round Table breakout session. For those who are not comfortable taking the Online Safe Swim Defense class, this is a GREAT TIMELY opportunity for you to "be prepared" for the summer when you take your scouts on aquatic adventures!!!  -- Please see the attached flyer for more information...
Training is opened to ALL Scouters (from Tigers to Venture) -- Any scout leader planning to lead any swimming based activities MUST complete this training.
[stextbox id="info" caption="Notes" align="center"]This training is for adults only.
This is a classroom-based training. No swimming.
Registration is not necessary. Just show up at the church.[/stextbox]
--
Ray Chan
Training Chair
Meridian District
925-548-6179 - Cell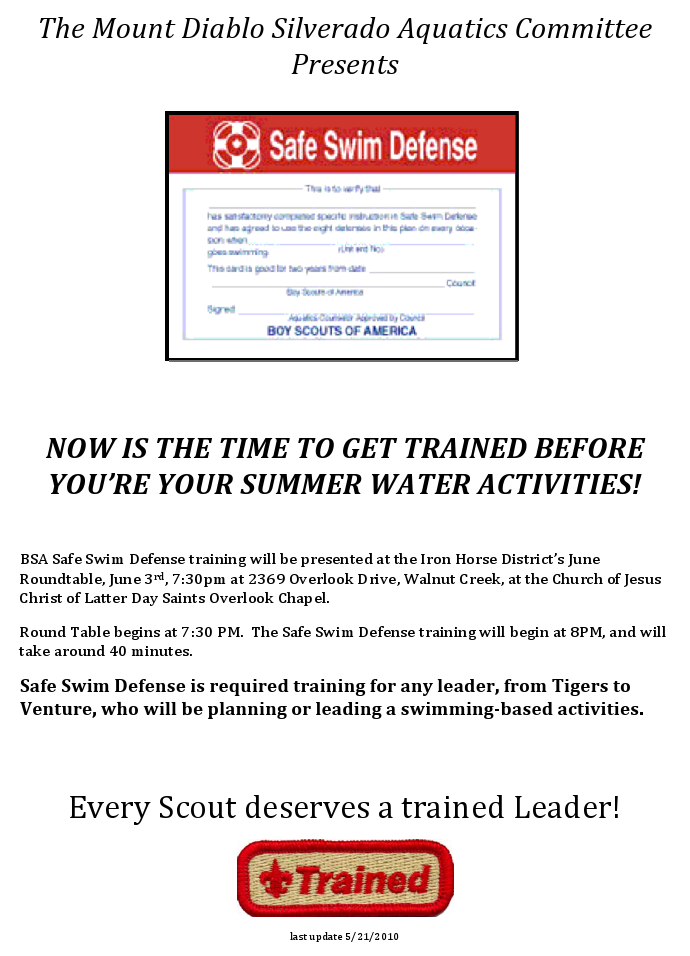 UPDATE (7/15/2010): The CORRECT dates are check-in Saturday, August 7th @ 2 PM and check-out Monday, August 9th @ Noon! Please note this update and re-confirm your participation. thank you!!
Date: Saturday, August 7, 2:00PM - Monday, August 9, 12:00PM
Location: Lake Tahoe - Sugar Pine Point State Park (map)
Fees: $15 per person per night

Rated as one on the most scenic camp sites in CA and now with Wi-Fi! Park brochures here.
The Summer Camping Vitals - Scouts having a great experience Camping, Hiking, Playing at the Beach, Learning about Historical Points of Interest in the great state of California and learning survival skills and earning a few badges, loops and patches along the way.
Advisories - Weather in summer is great for Tahoe but night time temp still dips to the high 30's in August. The spots are limited and will go on a first come first serve basis.
Sign Up essentials - Should you be interested, send a check for $15 per person per night for your family marked to PACK 1776, directly to Committee Chair and send me an email stating that your check has been mailed. That is the only way to secure the spot.
Camping Chair Gapps
Update 2 (5/25 10pm): We have 32 people signed up so far. The coordinator told me that they only have 350 patches to hand out & they may have more scouts than that, so be sure to get there early. The program starts at 9am & he said it should only last "about 90 minutes". Keep in mind that the flyer says 9-12pm.
Scouts & Adult leaders- make sure you wear your full Class A uniform. It gets you free admission to the Exploratorium.
If any of you are still interested in going, it is not too late. Just let me know.
Update 1 (5/25 3pm): We have over 10 non-uniformed adults signed up so far and have secured a group rate of $10 per adult and $7 per child in case you want to bring siblings along. More details to come. Stay tuned.
---
Date: Saturday, May 29, 2010
Time: 9am - 12noon
Location: San Francisco National Cemetery, 1 Lincoln Blvd., Presidio of San Francisco (map)
Hi Pack 1776 families-
I know this is last minute but there is a Flag Planting Ceremony at the San Francisco National Cemetery this Saturday. It comes with patches and free admission to the Exploratorium. We need a quick head count by TODAY to reserve patches.
Let me know ASAP if you are interested.
- I need number of scouts attending & number of Adults.
- Uniforms get you in free to the exploratorium, so dress in full class A
- If we have enough people, we get discounts on the non uniformed adults & siblings.
Yours in Scouting,
Cubmaster Ed
P.S. Only scouts and adult leaders in full uniform will be admitted to Exploratorium for free.  Parents will have to pay the general admission of $15 per person.  If we have 10 or more non-uniformed parents, we should be able to get a group rate of $10 per person.