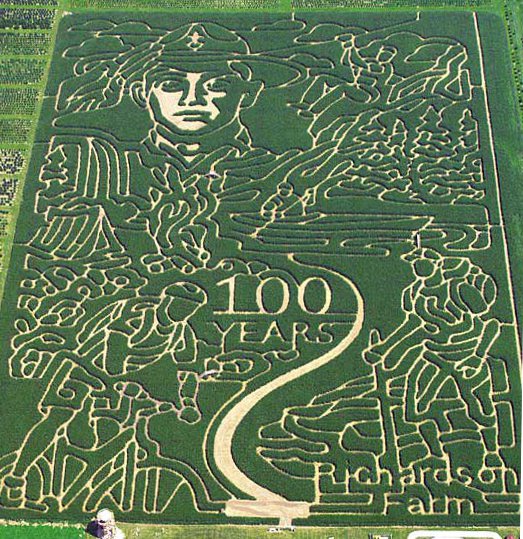 October is popcorn month.  While our popcorn kernel is working hard with leaders to sort out the details, I would like to share with you another view of corns.  That is corn mazes.  Amazing corn mazes around the country celebrating the Centennial of BSA.  Click on the picture to see more.
Date: Saturday, October 30, 2010
Time: 7:30pm
Location: HP Pavilion at San Jose
The second Scout Night of the season with the Sharks is almost here! San Jose Sharks will take on division rival the Anaheim Ducks in a regular season showdown! See flyer for detail and ordering information.
Here's a summary of upcoming Scout Days/Nights:
10/02 (Sat): San Francisco Giants
10/23 (Sat): Schulz Museum
10/23 (Sat): Stanford Football (new)
10/30 (Sat): San Jose Sharks
11/07 (Sun): Oakland Raiders
11/13 (Sat): Cal Football
12/16-17 (Thu & Fri): Radio City Christmas Spectacular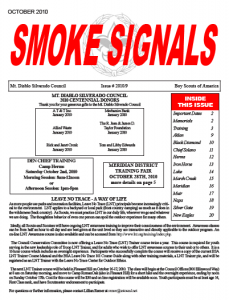 Smoke Signals is a monthly newsletter published by Mount Diablo Silverado Council. The October issue is now available for download.
Find out what is going on with the Council and read on for news on popcorn, Scouting for food, and training opportunities.
Date: Saturday, October 2nd, 2010
Time: 8:00AM - 1:00PM and/or 12:00PM - 5:00PM
Location: Camp Herms, 1100 James Place, El Cerrito, CA 94530 (map)
Quite a few of you will go shooting this Saturday! Just a couple reminders:
Permission form: No cubs allowed to shoot without this form filled out! Print it now and bring it to the range.
Class A: This is for the safety of your child. Wear it, or your child won't be allowed to shoot.
Be on time: Registration starts at 7am and 11am for AM and PM sessions respectively and ends when shooting starts. Be there early.
Paperwork: Make sure to bring back paperwork for any belt loops or pins earned. Your Awards Chairs will need them to purchase the awards at Scout shop.
This event is for preregistered Scouts only. No drop ins.  No adult shooting.  For those who missed this event, shooting opportunities will be available at these upcoming events:
Oct 22-24: MDSC Cub Scout Family Camp
Spring 2011: Adult Shooting Sports Awareness - a special adult only event where adults are taught to shoot Archery, BB gun, Black powder, Rifle, Shotgun & Pistol.
Jun 20-24: Meridian District Cub Scout Day Camp
Jun 11: MDSC Marksmanship Day
Stay tuned for further announcements.