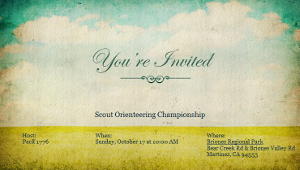 Hi Scout Parents,
We have our orienteering event coming up this Sunday. I have attached lots of info, as well as a park map and sample orienteering map. Though the map on Sunday should be of higher detail. Please read the info document or pass it on to the parent who will be planning to come on Sunday.
There are two ways to get to the Bear Creek Staging Area where we'll meet, one a bit longer but easier. The other is shorter but curvier with a narrow road. I will leave it up to you to decide the best way to get there.
Since the weather will be warm, please be sure to bring a hat, water and snacks. Your scout will be hungry after the race. It would be nice if your scout could wear his burgundy Pack 1776 shirt.
I won't know our actual start time until later. I'll let you know. Please email me if you have any questions.
Please don't forget $5 per car for parking, $5 per scout, and $5 per parent or pair (mom & dad) of parents.
See you there. Thanks. 🙂
Susan Kim