Date: Thursday, October 28, 2010
Time: 7:00pm – 9:00pm
Location: LDS Church in San Ramon, 5025 Crow Canyon Road, San Ramon, CA (map)
Cost: Free to everyone
Detail: See flyer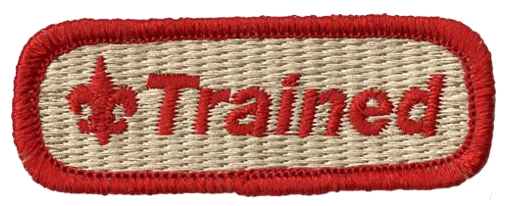 All Pack 1776 Scouters,
The Meridian Training Fair is just TWO weeks away! We have an amazing turning out of trainers coming from over twenty different training programs through our council and beyond. In one evening, we will showcase ALL the available training courses for Cub Scouts, Boy Scouts, Ventures, Varsity, and Adult Scouters... This is a ONE STOP shop to learn about all the training opportunities and SIGN UP!
Trainers will be setting up booths to pass out information about their programs and answer any questions you may have.
Here are some of the training programs represented:
Boy Scout Outdoor Leader Skills (OLS)
National Youth Leadership Training (NYLT)
White Stag
Basic Adult Outdoor Orientation (BALOO)
National Advance Youth Leadership Experience (NAYLE)
Cub Scout 2010
World Friendship Fund (International Scouting - World Jamboree)
Sara Sciences for Cub Scouts
Diablo Rock Climbing
Magic of the Den Box
L.E.A.D
WoodBadge
Sea Scouts Training
Powder Horn Training
Den Chief Training
Leave No Trace
HAT (Core, BBA, OkPik, Paddle Sports, Shooting Sports)
MyScouting.org
Cub Day Camp program
and the list continues.... we will have Cub Scout demonstrations, Boy Scout pioneering projects; we have raffle prizes, treats, and information for everyone -- it's going to be one big party!
So, please DO NOT miss out on this great opportunity to learn more about what our council has to offer -- this is your chance to get the inside scoop on training courses for your Boys and for your adult leaders for 2011 --- you can get a HEAD START for 2011!!!
If you have any questions, please let me know...
Yours In Scouting,
Ed Laubach
Pack 1776 Training Chair

Date: November 5th 3pm to November 7th 12 noon
Location: Mt. Diablo State Park, Barbecue Terrace group campground (directions) (campground map)
Cost: $15 per person per night
RSVP via evite
Pack 1776,
Come join us for a wonderful fall weekend camping at Mt. Diablo. On a clear day, from the summit of Mount Diablo State Park visitors can see 35 of California's 58 counties. It is said that the view is surpassed only by that of 19,000-foot Mount Kilimanjaro in Africa. With binoculars, Yosemite's Half Dome is even visible from Mt. Diablo.
We have reserved the best group camp site (BBQ Terrace) that accommodates up to 50 people. Space is limited, so please don't miss out on this wonderful camping experience so close to home.
As always the cost is $15 per person per night. Checks made out to Pack 1776 must be received by me in order to secure your spot.
Look for an eVite!
Gapps Natesan
Camping Chair