Scouts from around the Oakland Diocese will gather at the Cathedral of Christ the Light for the annual "Celebration of Scouting" celebrating all young people and their leaders in scout programs. There will be a prayer service and presentation of scout religious awards. The event will be on Saturday, February 12, beginning with a procession of all scouts at 1:30 p.m. Click on the links for the letter of invitation and flyer on the event.  Contact John & Ammy Pluth if you are interested in this event and religious awards for Scouts.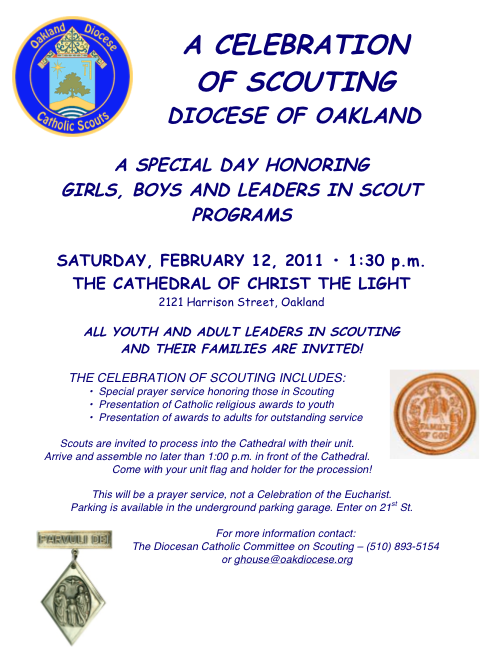 From the Meridian District ...
Come to the Danville Town Council Meeting Tuesday, February 1, 2011 at 7:30pm. This tradition dates back many, many years. The proclamation of Boy Scout Week in Danville coincides with National Boy Scout week, February 6-12. Scouts will open the meeting with a Flag Ceremony. This will be an opportunity to fulfill one of the requirements for the Citizenship pin. Wear your uniform, show your pride in scouting. Plan on attending! Come and see your local government in action. The Danville Town Council meets in the Town Meeting Hall, 201 Front Street, Danville.