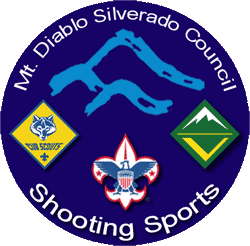 Date: Sunday, November 1st, 2015
Time: Choose from:
- AM Session 9:00AM - 12:00PM (Check in at 8:15 AM)
- PM Session 1:30PM - 4:30PM (Check in at 1:00 PM)
Location: Camp Herms, 1100 James Pl, El Cerritos (map)
Cost: $30 per scout.  Lunch included.
Attire: Class A uniform
Bring: Completed authorization form, warm clothes.
Note: This event always fills. Register early.
Marksmanship Day is a Council-led event with BSA trained supervision at a BSA facility range. Two different sessions are available on November 1st. More information and registration are available at the council's webpage. Be sure to wear your Class A uniform !