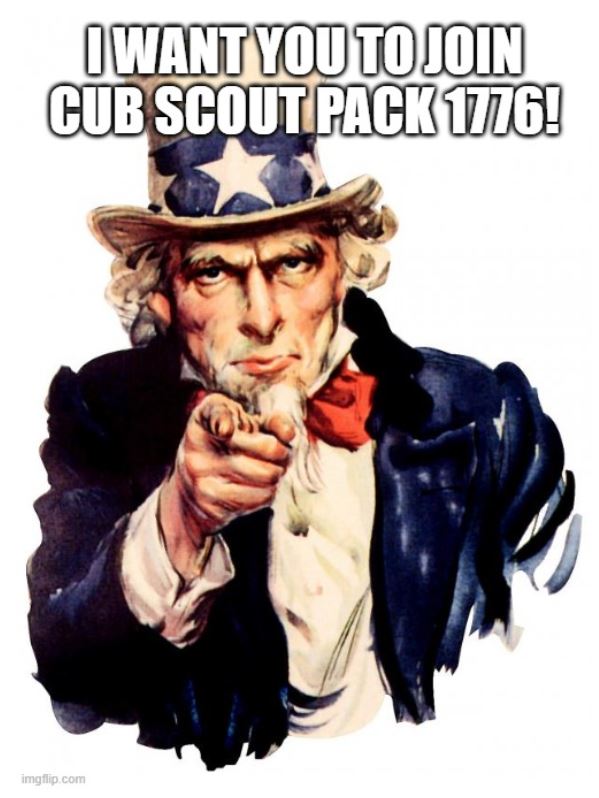 Pack 1776 celebrates its 20th anniversary this year! Come be a part of the fun. Registration is open. Click here to learn more:
What Pack activities will we be doing in light of COVID-19?
Pack 1776 hasn't slowed down due to COVID-19. While it did reduce our ability to meet in person, we quickly shifted to virtual pack and den meetings via Zoom where we played games, learned new things, performed songs & skits, and even did crafts using materials delivered by the pack. We've heard from our parents and scouts alike that they had fun. While our kids were able to see their friends during School Google Meets sessions with their teachers while school was in session, this opportunity was dramatically reduced for many during the summer. Even then, they did not have much of a chance to chat or do things other than school work. The pack's virtual den and pack meetings gave the kids a chance to see and socialize with their friends.
While our pack will continue to hold virtual pack meetings until it is safer to meet in person, indoors, we also plan to conduct social distanced/time-slotted outdoor events. This includes Rocket Day, hikes in local parks, a Bike Hike down the Iron Horse Trail, Halloween Trunk or Treat, Hoot Owl program and perhaps a "raingutter regatta." While we hope the rollout of a vaccine may allow us to conduct our famous Pinewood Derby inside the Coyote Creek MPR come January 2021, we are already making back up plans to hold it outdoors, with it being simulcasted on Zoom. Given dens are smaller, the leader and parents may elect to conduct socially distanced meetings in person.
Continuing on with Virtual Pack Meetings allows parents and their Scout to participate in Cub Scouting even if they are not comfortable attending these socially distanced outdoor events. Pack Meetings will host speakers, crafts, games, our NOVA Stem program, and other fun things. For instance, take a look at what we are planning for the first half of our scouting year:
September Virtual Pack Meeting: Hometown Heroes. Talk to a Fire Fighter and build your own superhero craft.
October Virtual Pack Meeting: Into the Woods. Hear from a ranger or naturalist about California's big trees and plant one of your own from seed.
November Virtual Pack Meeting: Our Nation's Veterans. Set on Veteran's Day, learn about our Flag from Veterans including a retired Coast Guard Helicopter Pilot.
December Virtual Pack Meeting: NOVA Out of this World. Cub Scout's STEM program where we will explore space related themes and experiments.
January Virtual Pack Meeting: Game Night! Back by popular demand, its Pack 1776 Bingo Night.
Other things in the works: Pack 1776's Minecraft type server, Into the Wild virtual pack meeting, 3D printing (for older scouts) and more.
Does an hour off sound good to you?
Most our Virtual Pack Meetings this year will be held from 6:30 pm to 7:30 p.m. We may go a half hour longer if the program that night warrants it. While we'd love for you to be beside your child during the Pack Meeting, we won't hold it against you if you decide to take that time to head to the other side of the house for some peace and quiet!
How to register.
Click here for more information on the registration process, fee and what's included. Our pack registration fee includes our commemorative 20th anniversary t-shirt and "buff" style mask!