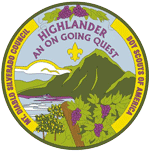 June 13th: Briones Pack Hike
Date: Sunday, June 13, 2021
Time: 10:00 a.m.
Location: Briones Regional Park
Attire: Class B
Award: Highlander Briones rocker patch
Meeting Point: SF Bay Area Girl Scout Council, 4210 Springhill Rd, Lafayette, CA 94549
RSVP: Evite
Please note that the park has an official entrance at Bear Creek staging area, and we WILL NOT meet there. The Springhill area is closer to San Ramon, and we have access to trails. Park on Springhill Road.
See the attached map (also below) with the meeting point and the trail route highlighted.
Hike information:
Hike up to the Lafayette Ridge Trail, 1.2 miles with an elevation and gain of 679 feet. Return via Lafayette Ridge Trail and Springhill Trail. Total hike will be about 3 miles. We should be done in 2 hours.
Pack light snacks and water. Dress in class B uniform and for the weather.
July 11th: Hucklberry Botanical Park Pack Hike
DATE CHANGE: Sunday, July 11, 2021 SATURDAY, JULY 10
Time: 10:00 a.m.
Location: Huckleberry Botanic Preserve, 7087 Skyline Blvd., Oakland, CA 94611
Cost: Free for all.
Distance: 1.7 miles round trip
Time: Allow about 2 hours
RSVP: Evite
Attire: Class B uniform
Award: This is a Trail Trekker Patch Hike. Participating scouts will receive a Huckleberry Preserve Patch.
Directions: From Highway 24 in Oakland, take the Fish Ranch Road exit immediately east of the Caldecott Tunnel. Continue 0.8 miles to Grizzly Peak Blvd. Turn left and go 2.4 miles on Grizzly Peak to Skyline Boulevard. Turn left and drive approximately one half mile to the park entrance on the left, past Sibley Volcanic Regional Preserve. Access: Google Directions.