We are keeping an eye on the weather for the weekend and will send out an update if the hike is postponed or canceled.
Date/Time: Sunday, December 18, 2022, at 9:30am
Location: Redwood Creek Regional Park — 7867 Redwood Road Oakland, CA 94619
Meeting Point: Gather around at Canyon Meadow Staging Area and start out on Stream trail
Fee: $5 per vehicle, $2 per dog
Distance / duration: 3 miles / 2.5+ hours
Difficulty: Winding trail with lots of ups and downs
Recommended for: Tigers through Webelos, younger scouts and siblings at parents' discretion
Hike Info: Hike info (we'll do about 3 miles of the full hike) / Trail map
Park map: map
Awards: Trail Trekkers Cub Scout Patch
Contact: Hiking Chair Kushal (925-639-5493)
[ RSVP ]
Attire:
Class B and dress in layers
Hiking boots/shoes due to winding trail with lots of ups and downs and canyons can be muddy in winter
What to bring:
Sunscreen, cap
Plenty of water and snacks
Magnifying glass, binoculars, camera — optional
Directions
Highway 13, take the Redwood Road exit and go east (uphill). At the top of the hill, you will cross Skyline Boulevard and pass the Skyline Ranch Equestrian Center on the right. Farther along, you will pass Piedmont Stables on the left. Big Bear Staging Area will be on the right about one and one-half miles from Skyline Boulevard, followed by MacDonald Staging Area on the right, and Redwood Gate on the left (seasonal parking maybe a $5 fee). Going thru the redwood gate will take you to canyon Meadow staging area. You may ask for a map at the gate.
The hike
This is a wonderful hike up the Stream Trail along Redwood Creek through a magnificent second-growth redwood forest which is over a century old. The hike gives access to different scenery and great views.
The trail
Gather around at Canyon Meadow Staging Area and start out on Stream trail.
Turn left for Bridle Trails and again turn left for Orchard/West Ridge trail. After about 0.2 miles turn right on Orchard Trail. Keep going about a quarter mile and then turn right on the French trail which is a winding trail. In about a mile, turn right on Chown Trail which is also a winding trail. After about a half mile, turn right on Stream trail which will take you back to the Canyon Meadows in about 1.25 miles.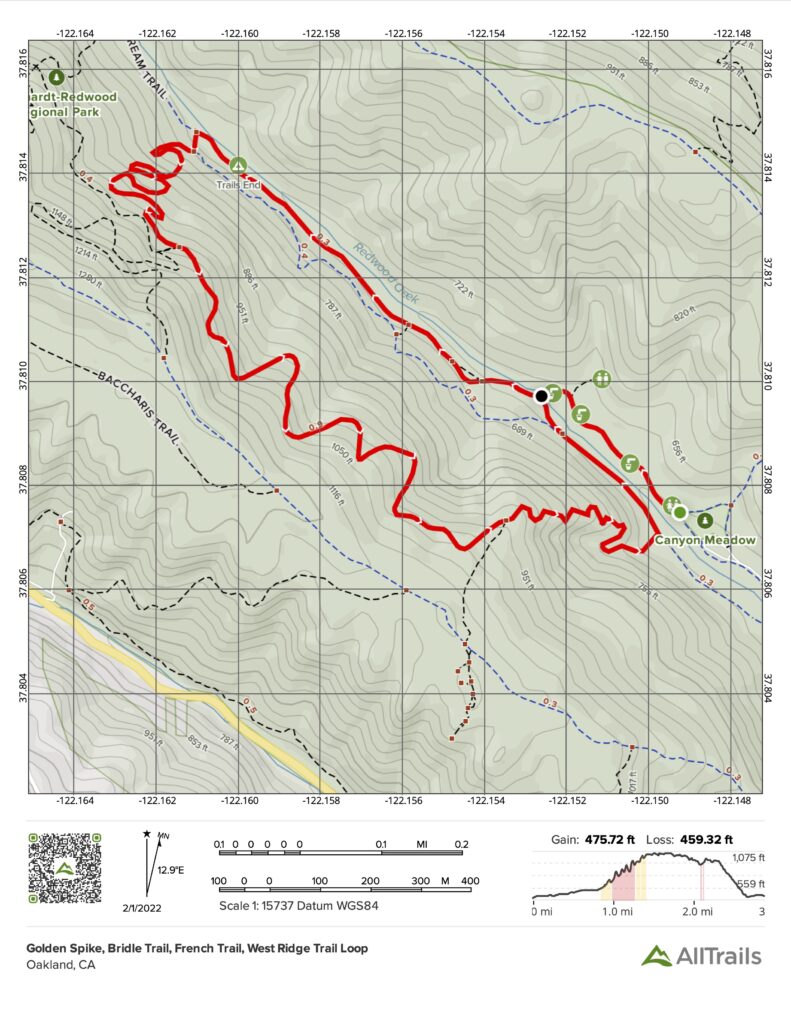 Natural features
Every winter, ladybugs migrate to Redwood Creek. Look out for the swarms of ladybugs on branches and fence posts and on twigs and sticks on the ground. Scouts and siblings will delight in seeing the clusters of ladybugs!
More details on the full hike, of which we'll do a portion...
For all in-person pack or den events and activities, please adhere to the pack's COVID statement. If you are sick, are experiencing symptoms, or may have been exposed to COVID-19, please stay home and stay safe.