Date: Thursday, May 13, 2010 - Friday, May 14, 2010
Time: 6pm - 10pm
Location: Council Office, 800 Ellinwood Way, Pleasant Hill, CA 94523 (map) and
Sun Valley Pool, 1000 Leland Drive, Lafayette, CA (map)


Get ready for summer and sign up for swimming and water rescue training.
Class size limited to 12. Register early!
$20 tuition reimbursable from the Pack upon finishing the course.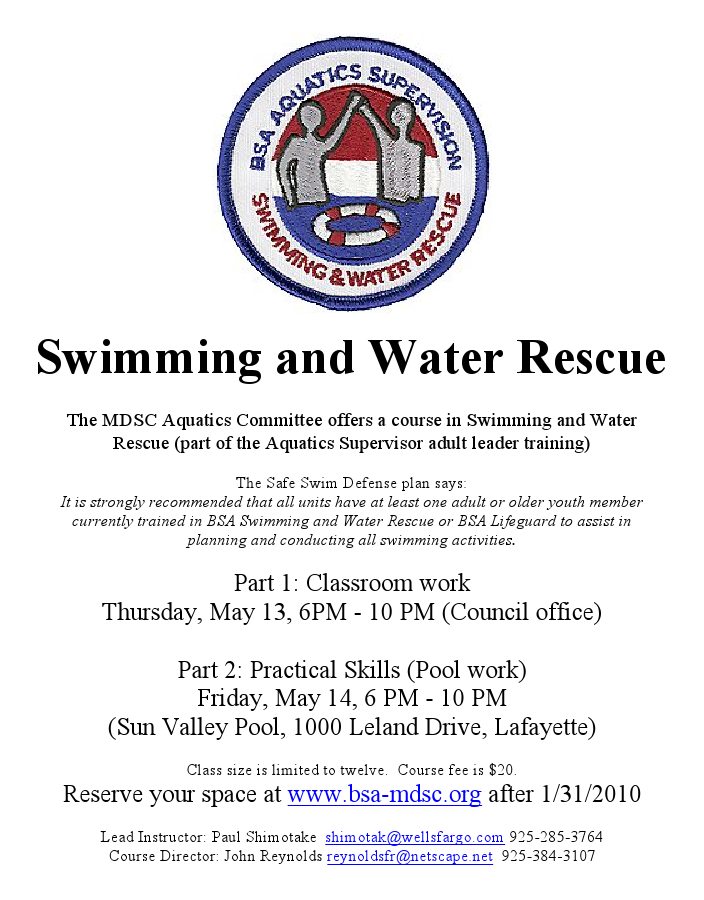 Date: Sunday, March 21, 2010
Time: 1:30pm - 3:30pm
Location: Tilden Nature Study Area, Tilden Regional Park, Berkeley

A view of Mount Tamalpais rising from San Francisco Bay will be the reward for hiking to the top of Wildcat Peak in Tilden Park. This trail loops through eucalyptus and oak forests, up moderately steep hills, then back to one of the best nature study areas in the Bay Area.
[stextbox id="info" caption="Hike Statistics" align="center"]Distance: 2.5 miles
Time: Allow about 2 hours
Grade: Mostly gentle with some moderately steep grades near the peak
Be sure to read: Hike info, area brochure and map[/stextbox] [stextbox id="info" caption="Directions" align="center"]From Highway 24 take the Fish Ranch Road Exit (just east of the Caldecott Tunnel); go north about 1 mile to Grizzly Peak Blvd., turn right; stay on Grizzly Peak about 12.5 miles; turn right on Canon Drive, go about .10 mile and veer left on Central Drive, following signs to the Little Farm and Nature Study Area.[/stextbox] [stextbox id="info" caption="What to Bring" align="center"]Food, snack (granola bars, trail mix, fruit), water.
Binoculars, camera, layer your clothes.[/stextbox]
March issue of Smoke Signals is now available.  Click to read.  Some highlights:
Detail information of Blackhawk 500
Training opportunities