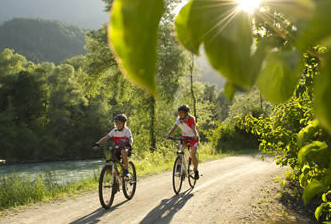 Date/Time: Saturday, June 4th, 2016, 10am - Date Changed !
Distance: about 6 miles or 10 miles total
Time: Allow 60-90 mins
Attire: Class B uniform
Award: Small biking theme gift (bell, light, whistle, or something else)
Meeting Point: Sycamore Park and Ride Lot
Contact: Hiking Chair Siddharth Bhatia
RSVP: Pack Form
Let's meet at the Sycamore Park and Ride and ride north towards Alamo on the Iron Horse Trail. We will go over bike safety, road safety rules, and inspect bikes before we ride. Route specifics will be sent closer to the date. We plan to have two routes.
Younger scouts can ride up to Camille Ave and turn right to go into Hap Magee Park. Older scouts (Bears and Webelos Is) are invited to ride ~2 miles further north to Ridgewood Road where there is a nice sculpture garden, then ride back and join the younger scouts at Hap Magee park. We play in the park for a while and then ride back to Sycamore Park and Ride. Younger scouts will ride about 6 miles and older scouts will do 10. The 10 mile route will be optional and if there is no interest we will all do the shorter ride. We would need parent volunteers and expect each child to have an adult chaperone on a bike. Each adult can chaperone up to 4 scouts on bikes. Siblings are welcome to attend.
The first Merit Badge my elder boy scout chose is the Cycling Merit Badge.  He will be required to complete a 50 mile bike ride to earn it. I therefore highly encourage our Webelos I scouts to attempt the 10 mile ride to prepare for the upcoming Boy Scout adventures.
Thanks, Sid