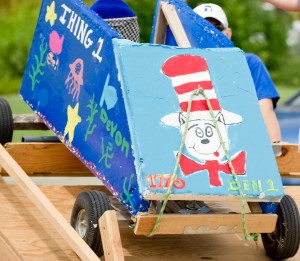 Hi all-
Everyone had a great time at today's Cubmobile  races.  It was fun to see all the cubs scouts race down the track!
Special thanks to all who helped with the organization, setup, score keeping, car handling, announcing, safety patroling & cleanup. I'd like to especially recognize Rennie W for organizing the event & John P for being such an entertaining MC! Also thanks to all volunteer parents & siblings including Russ D, Dillon D, Paul R, Brandon R, John F, Macey Z , Steve J, Scott E & Mimi (& friends) E.
We look forward to seeing everyone next Friday, 05/21/10 at the last Pack meeting of the year. Remember, start time is 6:15pm. We are going to have a special Movie night following the meeting. We'll plan to be done by 9pm.
Yours in Scouting!
Cubmaster Ed