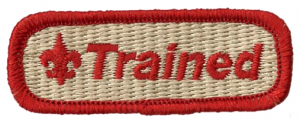 Every Scout deserves a trained leader.  And it is why we come back to training again after we have already covered this a few times.  This time, a message from our Training Chair of the Meridian district:
To Meridian Scouters,
I hope all of you are enjoying your Labor Day Weekend!!! -- May you all take a break with your families and have a wonderful weekend full of rest and fun with those you love...
Training for the Cub Scout program has changed in terms of accessibility.  Starting this month (September) all Cub Scout Position Specific training is NOW AVAILABLE ONLINE!!!

So, a quick refresher -- To be considered TRAINED in Cub Scouts you need the following:
1. Youth Protection (YPT) - Online
2. Fast Start (Den Leader, Cubmaster, or Committee) (FS) - Online
3. This is Scouting (TIS) - Online
4. Position Specific (PS) - ONLINE starting September 1st, 2010
The new ONLINE Cub Scout Position Specific training is broken out in SEVEN tracks:
1. PS - Specific Tiger
2. PS - Specific Wolf Cub
3. PS - Specific Bear Cub
4. PS - Specific Webelos
5. PS - Specific Cubmaster
6. PS - Specific Pack Trainer
7. PS - Specific Pack Committee
Each track will have 15 minutes of Introduction to Cub Scouting (this will be a repeat for most of you).  After the 15 minutes, you will then spend 10-15 minutes on the Position Specific area (e.g. Tiger or Wolf, or Bear, or Webelos etc.).  The total online training time is around 30 minutes.
To access this, please login to www.Myscouting.org --> Click on Training --> E-Learning --> Cub Scout tab -- Leader Position - Specific Training.
So starting this FALL, if you have CHANGED positions (i.e. Tiger to Wolf den leader), you will need to take the Online PS course.  You DO NOT need to retake past positions (i.e. PS Tiger Online) if you have already taken, for example, Tiger PS LIVE training last year.  This rule holds true for all positions.  You only need to take the new online PS course if you are taking on a new position or are brand new to Cub Scouting.
Once you have completed the online training, your training records on Myscouting.org is updated.  You will be prompted to print out a training card at the end of the course.  Please follow the instructions and print the training card and keep that for your records.
WHAT ABOUT LIVE TRAINING?
We will continue to offer LIVE Position Specific Training for all tracks (Tiger, Wolf, Bear, Webelos, Cubmaster, Pack Trainer, and Pack Committee). We have live training sessions on September 18th, October 2nd, and November 8th.  You are encouraged to attend LIVE training, if time permits, because it offer more interactive discussions and Q&A verses the online training.  At this point, it is your choice - it is VERY important that your leaders are trained (LIVE or Online -- they're BOTH GOOD!!!)  You just need to take one OR the other.
Please let me know if you have any questions.
Yours In Scouting,
--
Ray Chan
Training Chair
Meridian District
925-548-6179 - Cell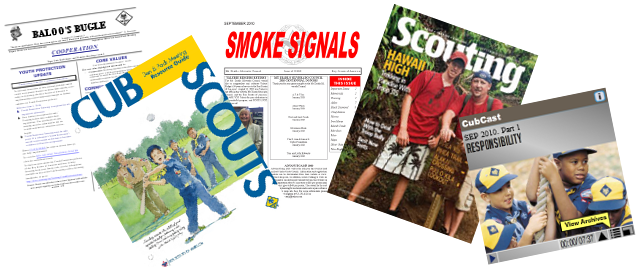 It is the beginning of another Scouting year and there is a slew of reading material to get you prepared for all the fun ahead!  Among everything, here's a couple that worth mentioning ...
Happy Reading (and Listening)!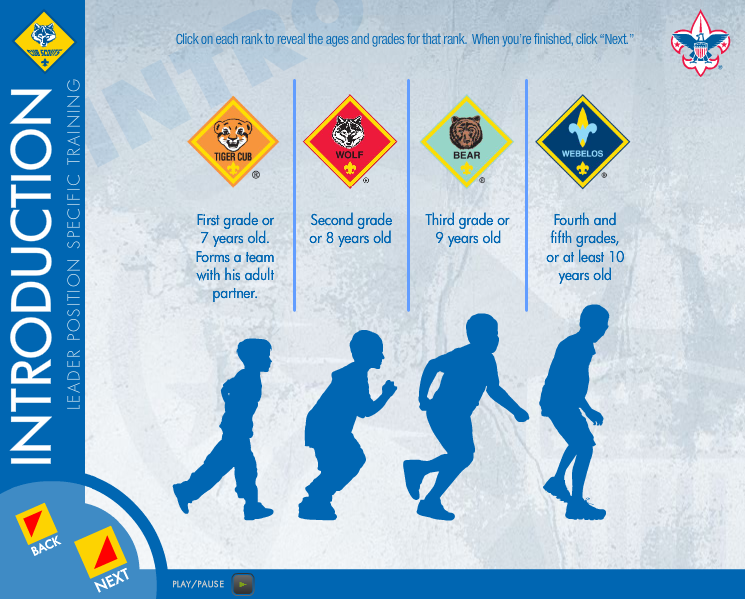 The long-awaited Position-Specific Training is now available online.  That means all four required trainings for Cub Leaders can now be taken at the comfort of your own home.  Go to MyScouting.org, log in, and click on "E-Learning" on the left navigation bar.
From there, under the Cub Scout tab you'll find these new courses:
Tiger Cub position-specific
Wolf Cub position-specific
Bear Cub position-specific
Webelos position-specific
Cubmaster position-specific
Pack Trainer position-specific
Pack Committee position-specific
Take the online courses soon to make sure you're fully prepared to lead your den or pack this fall.
Date: Saturday, July 17, 2010
Time:
- 8 a.m. - 12 p.m. (Den/Pack leaders & anyone interested)
- 12:30 p.m. - 4:00 p.m. (Roundtable Commissioners, RT Staff, & anyone interested)
Location: LDS CHURCH, 1590 Denkinger Road, Concord, CA 94521 (map)
Fees: $5, reimbursable by the Pack upon finishing the training
Dear Pack 1776 families,
Beginning in the fall of 2010, Boy Scouts of America is introducing a new way of delivering the Cub Scout program. This new delivery method, called "Cub Scouts 2010" covers:
Cub Scout Roundtable
Cub Scout Pack and Den Meetings
Cub Scout - Webelos program
The new resources guides are available at the Scout Shop:
Den and Pack Meeting Resource Guide
Cub Scout Roundtable Planning Guide
"Cub Scouts 2010" are predefined recipes for how to conduct Tiger, Wolf, Bear, and Webelos den meetings. These predefined programs are designed to make running den and pack meetings easier because all advancement requirements are already factored into your agenda. All you have to do is assign names and execute the plan!!!
"Cub Scouts 2010" also has new delivery examples and method for Cub Scout Roundtable. These new methods incorporate all the 12 core values in an easy to follow format for each round table month.
Meridian district will be holding an introduction training on how to use the new Cub Scouts 2010 program. This training is optional but highly encouraged for anyone interested.  Find more details in this registration flyer, and contact district training chair Ray Chan at 925-548-6179 if you have any questions about the training.
Webmaster Stella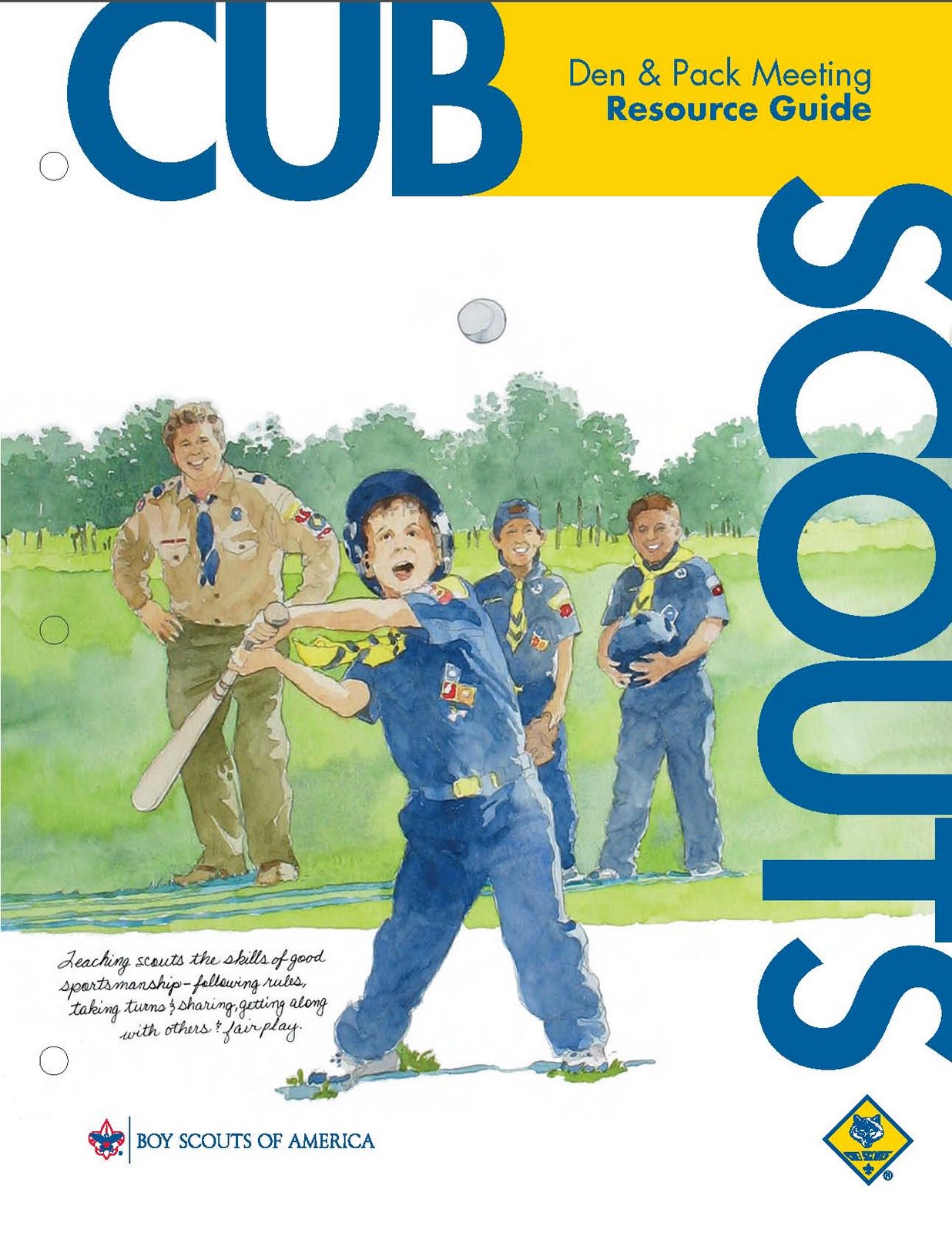 We mentioned changes will be coming to Cub Scouting in the next school year, and now the new Den and Packing Meeting resource guide is available online for download and purchase.  If you are like me who can't wait to read more about it, you can find it here.
And if this is not enough to curb your crave, don't miss the 22 webminar sessions on this new program that are already underway!
You may have heard about changes in the Cub Scouts program for next year.  While things are still being rolled out gradually, here's an overview of the upcoming changes.