If you ask me where I would like to be now, it's definitely Fort A.P. Hill in Virginia, where the National Jamboree is taking place.  If you are like me who cannot be there, don't despair.  BSA has given numerous incentives to participants to tweet, upload pictures and videos to Facebook and You Tube.  Imagine having over 40,000 of potential reporters covering a single event!  You get details from what's available for breakfast, to what's at the bottom of the pool.  And the best thing is, you don't have to brave the extreme heat and humidity on the East Coast, and follow it in the comfort of sunny California.
Find out how you can follow the event from this Scouting Magazine blog, or check out the Jamboree Radio and Jamboree Journal at the Jamboree website.
Don't miss out!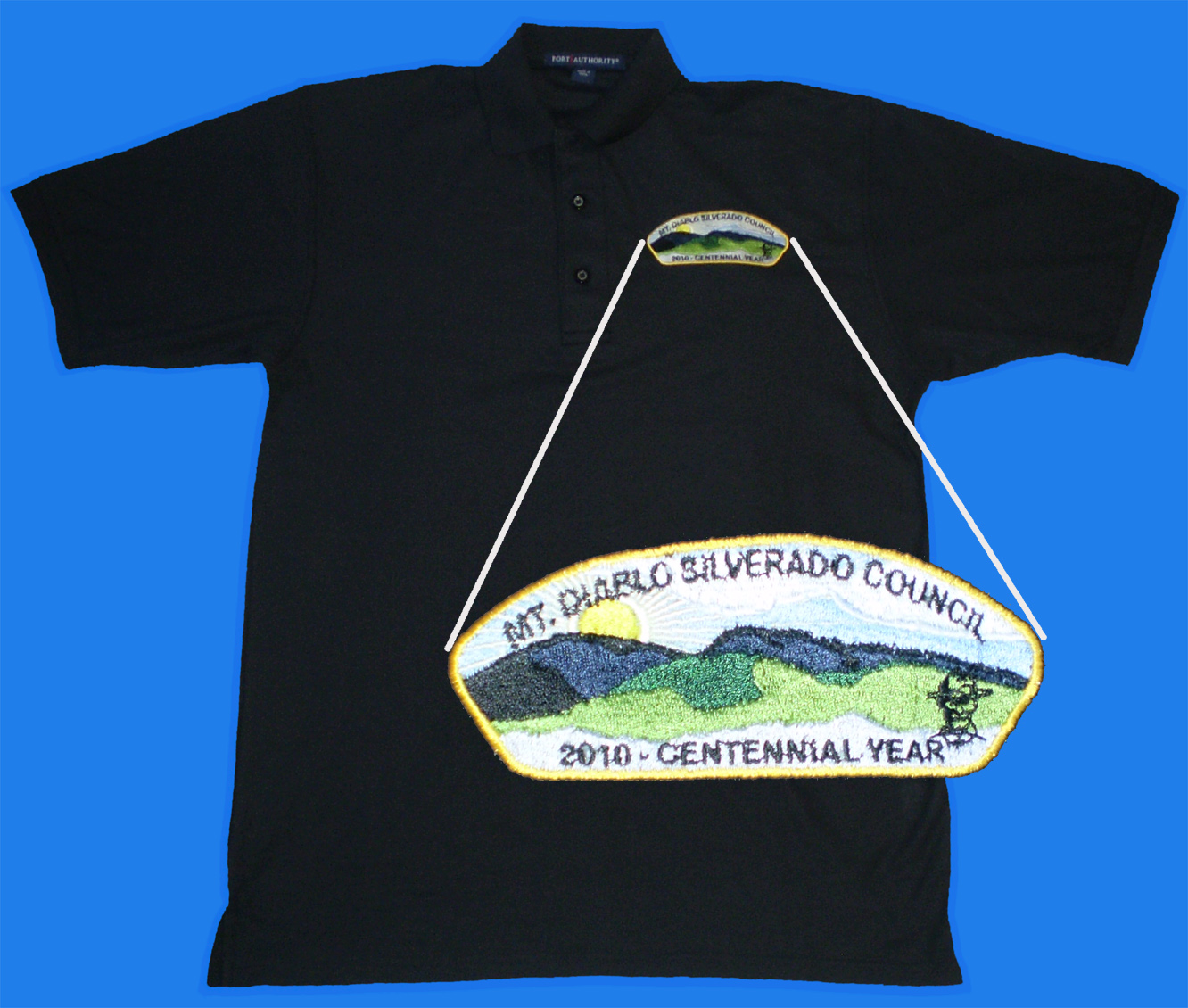 Scouters:
MDSC has created some unique embroidered polo shirts to celebrate 100 years of Scouting. They are now available for a $25 donation. (It would make an impressive statement about MDSC spirit if all adults who attend NorCal wear this shirt on Saturday.) Port Authority brand, Black with collar, Council design is embroidered onto the front. Really nice.
See a picture below and get more details at http://50miler.com - click MDSC Shirts.
Here is how to get these shirts.
1. Come to the Council Office on Wednesday or Thursday, April 14-15 and get them. Shirts will be available between the hours of 11:00 and 14:00 or by special arrangement. Checks and cash only.
2. Send an order via snail mail to Gilwell Group, 1048 Alicante Drive, Danville CA 94526. (Or you can call 925-855-0678). We will get you the shirts at NorCal or make arrangements for you to pick them up at the Council Office. Write the name of your District on the check.
3. Leave a comment on http://50miler.com and click MDSC Shirts or send me an email ([email protected]). Include your name, phone number, quantity, and District. We will contact you to work out details. (Since this is my home District, Meridian leaders can schedule a shirt pick up at my house).
You can collect the shirts at NorCal Jamboree or make arrangements to get them – but we cannot take your money in the Alameda Fairgrounds.
S, M, L, XL, 2XL available. Order for your entire unit.
Make checks payable to (MDSC) Mt. Diablo Silverado Council. Do not miss this opportunity to get Centennial shirts for all your active adults. You will be sorry if you do. And they won't be happy either!
Good Scouting
Mike Dubrall
Meridian District Camping Chair
Passing this on from the Council:
2010 Mt. Diablo Silverado Council National Jamboree Patches Are Now For Sale!
If you would like more information on the patch, and to order one (or more!), please visit www.bsa-mdsc.org/jamboree or view this document.  All proceeds will go to fund the 2010 National Jamboree trip for our three Troops!  Thank you!
Date: Thursday, April 15-18 , 2010
Location:
Alameda County Fairground
Check this out.  It's a fun event that you don't want to miss!