Who: All Packs, Troops, Teams, Crews and Ships
When: May 2, 2011
Where: Hiddenbrooke Golf Club, Vallejo - "An Arnold Palmer Signature Course"
Why: To support ScoutReach programs in the Mt. Diablo Silverado Council
Cost: Foursome is $500, Individual Golfer is $150, Unit Tee/Green Sponsor is $100.

Scouters!
The Early-Bird registration deadline for the ScoutReach Golf Tournament has been extended to this Wednesday, April 27th, 8am. The time to sign up is NOW!
Come join us on Monday, May 2nd, at the Hiddenbrooke Golf Club in Vallejo for a wondful day of golf and to help raise money for Scouting.
Individual golfer fee is $150 if you register by this Wednesday (April 27, 2011). Sponsorship opportunities are available to golfers, and non-golfers. We are also encouraging Packs, Teams, Troops, Crews, and Posts to put together a foursome to compete in our annual "Unit Challenge." Please talk to your Parent's Committee and Scouts to register now!
Please visit our website for more information and to register NOW!
For more information and to sign up for the tournament please visit www.bsa-mdsc.org/srgolf.
Date: Saturday, July 9, 2011
Time: 7:30pm
Location: Buck Shaw Stadium, Santa Clara University

Following is a list of upcoming Scout Days/Nights:
05/01 (Sun): Oakland A's Scout Day
07/09 (Sat) San Jose Earthquakes Scout Night
08/28 (Fri): BSA Motorsports at Indy Grand Prix of Sonoma
Date: Saturday, May 21, 2011
Location: Blackhawk Auto Museum - 3700 Blackhawk Plaza Cir. Danville, CA 94506
Cost: $25
The 12th Annual Mt. Diablo Silverado Pinewood Derby Championship is coming to the Blackhawk Auto Museum in Danville on May 21st, 2011! All Cubs from within the Council are invited to participate.
There will be racing, a design competition & great food. During the event the whole family can tour the Blackhawk Museum's magnificent auto collection and the fabulous exhibits. There will be tons of neat stuff to see and do! Wear your Scout uniform and get in free.
Registration info and event rules will be available at blackhawk500.org. Please contact Tim Welty with any questions at (925) 674-6125 or by email.
Date: Saturday, April 30, 2011
Time: 1:30pm
Location: Joseph D. Grant County Park - 18405 Mt. Hamilton Rd., San Jose, CA 95140
Pack 1776,
Next hike is on April 30th
It will coincide with our camping
You can do the hike even if you are not camping
The hike is located at Joseph D. Grant County Park -  18405 Mt. Hamilton Rd., San Jose, CA 95140,
Travel to the park by taking Highway 101 or Highway 680 to Alum Rock Avenue eastbound in San Jose.
Turn right onto Mt. Hamilton Road and travel eight miles to reach the park entrance.
Park Office: (408) 274-6121
Start time: 1:30 PM
Meet at the camping ground
Dress in layers
Bring water
Bring a snack
Wear long pants/sleeves (preferable)
This is a special hike that will focus on Education (recognizing poisonous plants, using a compass with a map, how to leave no trace behind)
Cub scouts who complete the course and the hike will earn a belt loop and a pin.
For additional information, please consult this document.
Bernard, hiking chair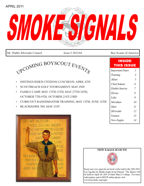 Smoke Signals is a monthly newsletter published by Mount Diablo Silverado Council. The April issue is now available for download.
Find out the latest on Blackhawk 500, Cub family camps, Scoutreach golf tournament, and many more.