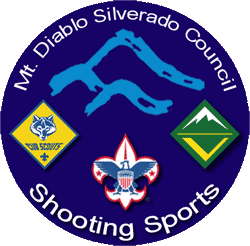 Date: Saturday, October 8, 2011
Time: Choose from:
- AM Session 7:00AM - 12:00PM
- PM Session 11:00AM - 5:00PM
Location: Camp Herms, 1100 James Pl, El Cerritos (map)
Cost: $20 per scout, $5 per adult.  Lunch included.  $5 late fee per person after September 17th.
Attire: Class A uniform
Awards: Participation patch, Archery or BB Shooting belt loop and pin
Bring: Completed authorization form. Warm clothes.
Must read: Event flyer
Note: This event always fills. Register early.
The Cub Scout Academics and Sports Program is an optional program for all Cub Scouts. Its purpose is to encourage the Scouts in learning new skills, or improving one they already posses. Cub Scouts can earn belt loops and pins in 25 academic areas and 28 different sports. Among them, the shooting sports loops and pins (Archery and BB-gun Shooting) can only be earned through Council-led events, under BSA trained supervision, and at a BSA facility range.
Marksmanship Day is one of such Council events and the next one is coming up on October 8th. Registration can be made online at the Council website. Make sure to wear your Class A and fill out the authorization form before you go.
Note: Shooting sports belt loops can be used toward Wolf electives 20c and 20n; and part of Bear requirement 23c.