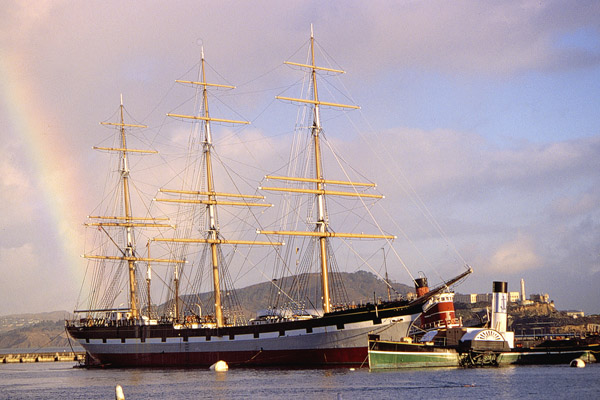 Date: 7:30pm May 14th (Saturday) to 8:00am May 15th (Sunday)
Location: Balclutha, 2905 Hyde Street Pier, San Francisco
Cost: $30 per participant
Max participants: 35
RSVP: Pack Form and Check payable to Pack 1776
Contact: Siddharth Bhatia
Avast, me hearties! Spend a night going back in time and experience first-hand what it was like to work and sleep aboard a permanently moored turn-of-the-century tall ship. Celebrate San Francisco's maritime heritage and travel back to the "Age of Sail". Try your hand at traditional maritime tasks such as raising a sail, swabbing the deck, rowing a longboat, and riding a bosun's chair into the rigging.
What to bring:
Sleeping bag, warm clothes, pillow if desired, personal items you need (toothbrush, etc). No electronic items allowed.
Eat dinner before arriving at the pier. Feel free to bring your own late night snacks.
Breakfast (bagels, croissants, danish, juice/milk etc.) will be provided by the Pack the next day.
Parking:
Free parking is available on the first come first served basis at the north end of lower VanNess next to the aquatic park, or in the nearby Ghirardelli square parking garage at a discounted rate for overnight parking. Carpooling strongly encouraged.
Whats included:
Tour of the Balclutha. This can either be on Sunday morning after breakfast or Saturday evening.
Activities on the Balclutha. The last time scouts learned about pulleys and swabbed the deck.
Tour of the remaining boats that are part of the San Francisco Maritime Association (including the USS Pampanito) on Sunday.
Due to the limitation on the number of attendees, this is open to Scouts and 1 parent/guardian only. We will open it up to siblings if we have open spots available.
Please RSVP and drop off your check in the pack mailbox. Your check secures your spot (response to the form does not). Please make your check payable to Pack 1776 and include your scout's name, Den number, and your email address so we can reply with confirmation.
Hope to see you onboard.
Sid