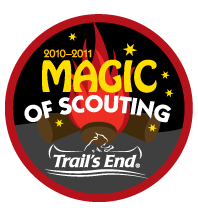 Our Show-and-Sell Popcorn Drive at Gale Ranch Safeway is coming up and the schedule is posted below. When selling popcorn, make sure the following:
If you are the first den for the day, den leaders, please arrive about 10-15 minutes early to help set up.
A Den leader, Assistant Den leader or designated leader must be present at the time of the shift.
Parents should not just drop off cubs and leave. They should supervise their child.
Cubs should be in full Class A uniforms
You will need to keep track of what was sold and which cub worked the shift. There will be a binder with a tally sheet that will help you keep track of this information. Each den will have their own section in the binder.
Customers can make cash donations, if they don't want to buy popcorn. There will be an envelope for this in the cash box.
Customers can make donations to the military. There will be an envelope for this in the cash box as well.
Last den of the day should help clean up. We shouldn't leave a mess.
Contact Popcorn Kernal Yuji if you have questions.
| | | | | | | |
| --- | --- | --- | --- | --- | --- | --- |
| Shift | Oct 16 (Sat) | Oct 17 (Sun) | Oct 23 (Sat) | Oct 24 (Sun) | Oct 30 (Sat) | Oct 31 (Sun) |
| 12pm - 1pm | - | Den 2 | - | - | - | Den 8 |
| 1pm - 2pm | Den 11 | Den 11 | - | Den 8 | - | Den 9 |
| 2pm - 3pm | Den 7 | Den 3 | - | Den 3 | Den 1 | Den 9 |
| 3pm - 4pm | Den 7 | Den 4 | Den 2 | Den 3 | Den 1 | - |
| 4pm - 5pm | Den 7 | Den 4 | Den 5 | Den 6 | Den 5 | - |