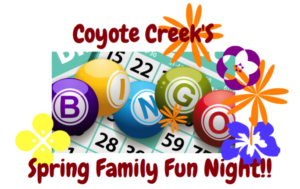 Date: Friday, May 12th, 2017Time: 5:30 pm - 8:00 pm
Location: Coyote Creek Elementary MPR
Cost: $5 (includes bingo, pizza, drinks, cookies and raffle ticket)
Attire: Class A uniform to participate in calling out numbers.
Join us for Bingo, Pizza, Cookies, Drinks and Fabulous Prizes! Doors open at 5:30pm. First Bingo Game starts at 6:15pm
Once again, Pack 1776 scouts are invited to help call out the letters and numbers during the game.
If your cub would like to participate, you must purchase a ticket on the Coyote Creek website by Tuesday, May 9. Tickets are $5 per person and includes: One Bingo Pad, One Raffle Ticket, pizza, cookies and water.
Your scout must be in his Class A uniform to read out numbers.
Kids must be accompanied by a parent/guardian or adult chaperone.
Questions? Contact: Sheila Zarekari [email protected]