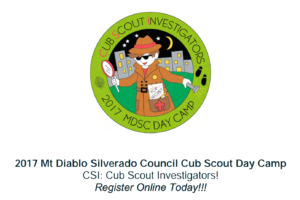 CUB SCOUT DAY CAMP - JUNE 12-16
The Chief Inspector of the Academy welcome future Cub Scouts Investigators at Meridian Day Camp.
Cub Scout Day Camp is an exciting summer adventure where a Scout can spend five days in an outdoor setting and enjoy a wide range of activities with a group of his friends. Day Camp provides a boy fun, challenges and new experiences with activities based on the Cub Scout and Webelos Scout advancement plan.
For more info: http://www.meridiandaycamp.com/
To register: http://www.kintera.org/autogen/home/default.asp?ievent=1171428
To view the cool promo video: https://www.youtube.com/watch?v=75v3jhMufP8
Questions on how to register: (925) 674-6100