Sunday, September 29, 2019
Date: Sunday, September 29, 2019
Time: 10:00 am
Location: Mt. Diablo State Park
Trailhead: Curry Point, South Gate Road
Attire: Class B
Awards: Highlander Patch Rocker
Entrance Fee: $10 per car
RSVP: Evite
Contact: Hiking Chair Deva Sundararajan
Information: Flyer
Details: It is an easy 3.3 loop trail with an elevation gain of 700 feet (approx. 1.5 hours). Take the Knobcone Point Road from the parking lot for about 1 mile to Black Hawk Trail. Turn right and continue to Sycamore Creek Road. Turn right again to Devils Slide Trail and turn right. Begin climb out of Sycamore Canyon on this wonderful singletrack trail as it heads back to Knobcone Point Road, where you turn left back to the trailhead.  See highlighted trail in map.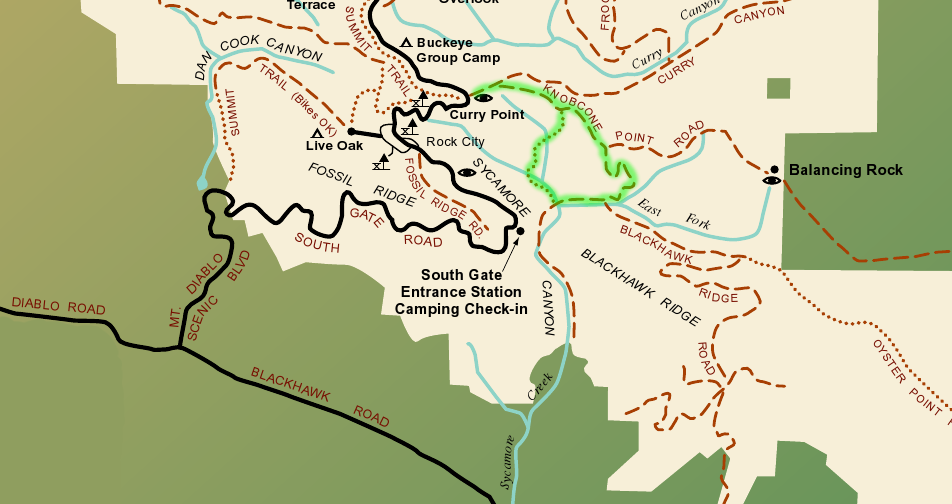 What to bring:
Binoculars, camera
Layers of clothing – please check weather forecast prior to hike
Lunch/Snacks/Water
Getting there:
From Crow Canyon Rd continue onto Blackhawk Road. It becomes Diablo Road. Go to Mt. Diablo Scenic Boulevard and turn right. At the Park boundary the road becomes South Gate Road. Continue up the mountain, past the entrance station to just past Rock City. Park in the Curry Point view area on the left.