Date: Sunday, January 8th, 2023
Time: 3pm to 5pm
Location: Ace Hardware — Alamo Hardware at 3438 Camino Tassajara, Danville, CA 94506
Bring: Pinewood Derby car kit provided by the pack, with the desired design outlined onto the block for the cut lines
If your scout needs help cutting the wood block, you could take it to Ace Hardware. The store staff will charge a nominal fee for each car cut. Sign up required. Sign up is first come first served. Please allow those who have signed up priority to have theirs cut at the store.
[ Sign up ]
Prepare the car design and trace it onto the block ahead of time. Read the Official Pack 1776 Rules fully beforehand.
Head to Ace Danville during the time slot you signed up for.
Remember to pay before you leave the store.
If you would like to go on a different date and time, they advise that you call Ace ahead of time to make a reservation to cut at their store.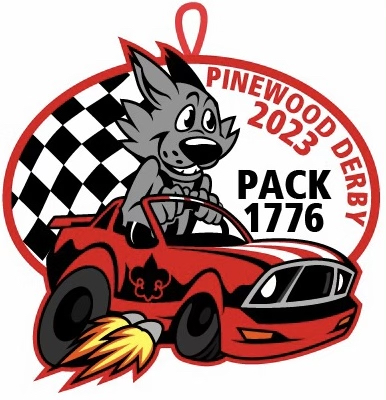 Who's ready to race?
IMPOUND DAY
Date/time: Saturday, January 21st, 2023, at 10am to 1pm
Location: Pack shed, in the back of Coyote Creek Elementary School
Attire: Class A for photos
RACE DAY
Date/time: Sunday, January 22nd, 2023, at 1pm to 4pm
Location: Coyote Creek MPR
Attire: Class A
Bring: Reusable water bottle and Readiness to cheer on your fellow scouts
Volunteers needed: Volunteers are needed Saturday and Sunday, sign-up link to come, additional details below
Pinewood Derby Chair: Kevin Lew
[ Volunteer ]
Our Annual Pinewood Derby will be held on Sunday January 22nd 2023 from 1:00 PM to 4:00 PM in the MPR! There will be racing and design competitions. Please be conservation minded and bring your own reusable bottle - fresh filtered water available from the nice refillable station in the MPR. We will once again have an open class for Scouts BSA (includes Den Chiefs) and one for non-BSA siblings. Additional kits may be purchased for $7.
The mandatory inspection and car impounding is on January 21st 2023 from 10:00 AM to 1:00 PM at the Pack Shed near the Coyote Creek Kindergarten area.
While Pinewood Derby car is a team project for scouts and their adults, we encourage scouts to do as much of the car building as possible. For those new to scouting or just need a refresher course, here are some helpful websites:
How to Video https://www.youtube.com/watch?v=VBshCKglBkM
Design Ideas http://boyslife.org/section/hobbies-projects/pinewood-derby/
How to Tips and Templates http://www.pinewoodpro.com/pinewood-derby-howto-design.php
Online Car Designer http://www.pinewoodpro.com/pinewood-derby-howto-design.php
If you need help cutting the wood block, the pack is coordinating an afternoon at Ace Hardware for scouts to get help with cutting their car design from the wood block. Sunday January 8th 2023 from 3:00 PM to 5:00 PM. See Pack 1776 PWD cut day for more details.
Each car must pass inspection on January 21st 2023 by 1pm by the official inspection committee before it will be allowed to compete. Once a car passes inspection and is entered into the race, only the race committee members can touch it. If the car loses a wheel, or is otherwise damaged, the racer has 5 minutes to make repairs.
Read the Official Pack 1776 Rules fully before participating.
For additional reference: this PowerPoint Presentation was showcased at the Pack Meeting on Dec 14, 2022.
On the day of the event, cars will race in multiple heats. They will have the opportunity to race on each of the 4 tracks. Only their best time will be used. All participants will receive a patch and medal for participating. Trophies will be awarded to the fastest three cars in each rank/group, and the overall fastest three cars in the Pack. We will also give ribbons to 1) Best Paint Job, 2) Most Unique, 3) Most Patriotic, 4) Most Interesting Design, 5) Most Original, and 6) Most Creative. Voting occurs on Race Day during the race, so come and race and see all the cars to vote.
AGENDA
Lion Heats (x4 for each Lion group)
Tiger Heats (x4 for each Tiger group)
Wolf Heats (x4 for each Wolf group)
Bear Heats (x4 for each Bear group)
Webelos I Heats (x4 for each Webelos I group)
AOL / Webelos II Heats (x4 for each AOL / Webelos II group)
Siblings Heats (x4 for each sibling)
Scouts BSA (x4 for each Scouts BSA scout)
Best Overall Heats (x4 for each First place Den Group Winner — Pack 1776 registered scouts only, no siblings or Scouts BSA)
PRIZES
Every participant, including Scouts BSA scouts and siblings, will receive a medal and cool patch for participation. Trophies will be award to top 3 winners in each group.
VOLUNTEERS
We can't do this event without volunteers. Please consider helping us with one of the following positions.
Saturday: Impound Day Set Up (9am to 10am, 4 volunteers), Impound Inspectors & Helpers (10am to 1pm, 10 volunteers)
Sunday: PWD Set Up (10am to noon, 12 volunteers), clean up (4pm to 5pm, 12 volunteers)
[ Volunteer ]
Best of luck to all the racers!
PLEASE NOTE NEW MEETING LOCATION THIS MONTH!
Theme: Nova WILD! — Holiday edition
Come learn about wildlife and the natural world around us while celebrating the holidays!
Date: Wednesday, December 14, 2022
Time: 6:30 pm – 8:00 pm
Location: Tassajara Hills Elementary School MPR
— 4675 Camino Tasssajara, Danville
Attire: Class A uniform
Scouts will receive their Pinewood Derby kit to prepare for the Pinewood Derby race in January! Siblings may purchase a PWD kit for $7 (cash or check only) to participate in the Siblings race.
We are keeping an eye on the weather for the weekend and will send out an update if the hike is postponed or canceled.
Date/Time: Sunday, December 18, 2022, at 9:30am
Location: Redwood Creek Regional Park — 7867 Redwood Road Oakland, CA 94619
Meeting Point: Gather around at Canyon Meadow Staging Area and start out on Stream trail
Fee: $5 per vehicle, $2 per dog
Distance / duration: 3 miles / 2.5+ hours
Difficulty: Winding trail with lots of ups and downs
Recommended for: Tigers through Webelos, younger scouts and siblings at parents' discretion
Hike Info: Hike info (we'll do about 3 miles of the full hike) / Trail map
Park map: map
Awards: Trail Trekkers Cub Scout Patch
Contact: Hiking Chair Kushal (925-639-5493)
[ RSVP ]
Attire:
Class B and dress in layers
Hiking boots/shoes due to winding trail with lots of ups and downs and canyons can be muddy in winter
What to bring:
Sunscreen, cap
Plenty of water and snacks
Magnifying glass, binoculars, camera — optional
Directions
Highway 13, take the Redwood Road exit and go east (uphill). At the top of the hill, you will cross Skyline Boulevard and pass the Skyline Ranch Equestrian Center on the right. Farther along, you will pass Piedmont Stables on the left. Big Bear Staging Area will be on the right about one and one-half miles from Skyline Boulevard, followed by MacDonald Staging Area on the right, and Redwood Gate on the left (seasonal parking maybe a $5 fee). Going thru the redwood gate will take you to canyon Meadow staging area. You may ask for a map at the gate.
The hike
This is a wonderful hike up the Stream Trail along Redwood Creek through a magnificent second-growth redwood forest which is over a century old. The hike gives access to different scenery and great views.
The trail
Gather around at Canyon Meadow Staging Area and start out on Stream trail.
Turn left for Bridle Trails and again turn left for Orchard/West Ridge trail. After about 0.2 miles turn right on Orchard Trail. Keep going about a quarter mile and then turn right on the French trail which is a winding trail. In about a mile, turn right on Chown Trail which is also a winding trail. After about a half mile, turn right on Stream trail which will take you back to the Canyon Meadows in about 1.25 miles.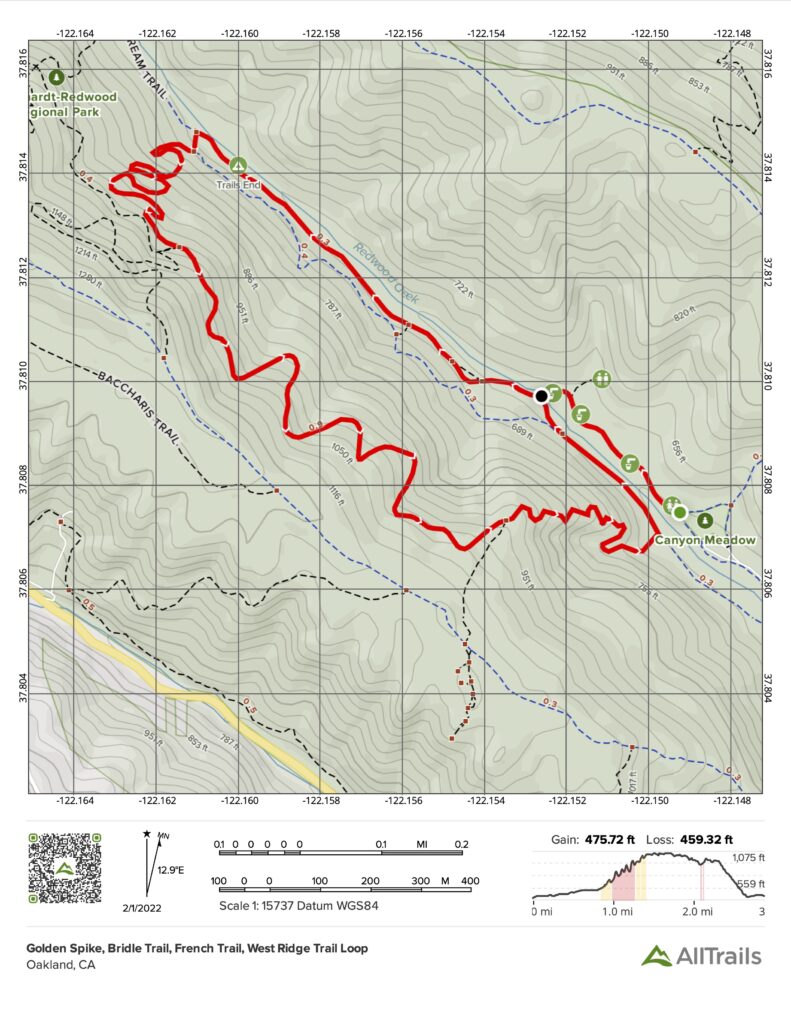 Natural features
Every winter, ladybugs migrate to Redwood Creek. Look out for the swarms of ladybugs on branches and fence posts and on twigs and sticks on the ground. Scouts and siblings will delight in seeing the clusters of ladybugs!
More details on the full hike, of which we'll do a portion...
For all in-person pack or den events and activities, please adhere to the pack's COVID statement. If you are sick, are experiencing symptoms, or may have been exposed to COVID-19, please stay home and stay safe.