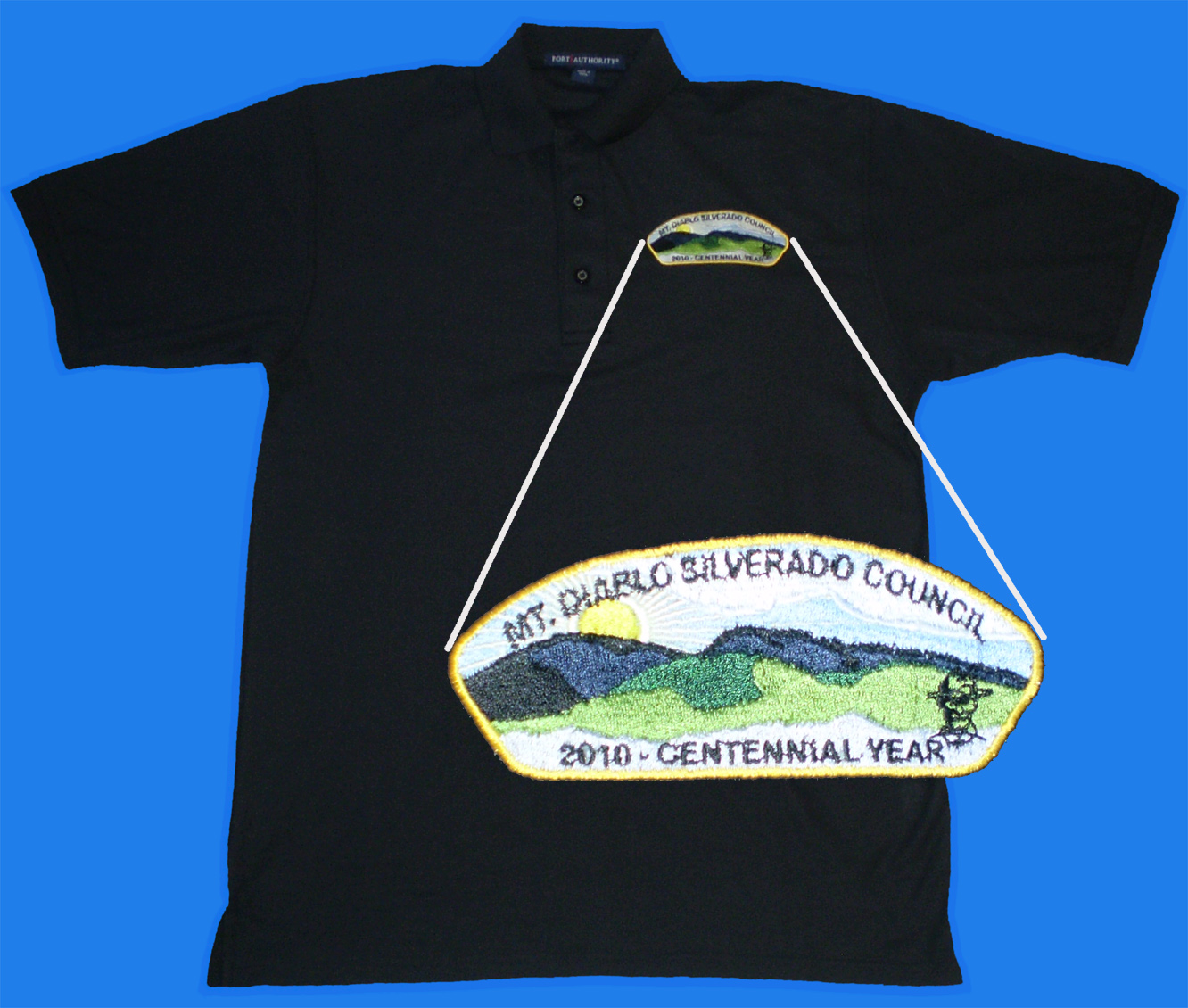 Scouters:
MDSC has created some unique embroidered polo shirts to celebrate 100 years of Scouting. They are now available for a $25 donation. (It would make an impressive statement about MDSC spirit if all adults who attend NorCal wear this shirt on Saturday.) Port Authority brand, Black with collar, Council design is embroidered onto the front. Really nice.
See a picture below and get more details at http://50miler.com - click MDSC Shirts.
Here is how to get these shirts.
1. Come to the Council Office on Wednesday or Thursday, April 14-15 and get them. Shirts will be available between the hours of 11:00 and 14:00 or by special arrangement. Checks and cash only.
2. Send an order via snail mail to Gilwell Group, 1048 Alicante Drive, Danville CA 94526. (Or you can call 925-855-0678). We will get you the shirts at NorCal or make arrangements for you to pick them up at the Council Office. Write the name of your District on the check.
3. Leave a comment on http://50miler.com and click MDSC Shirts or send me an email (miked@50miler.com). Include your name, phone number, quantity, and District. We will contact you to work out details. (Since this is my home District, Meridian leaders can schedule a shirt pick up at my house).
You can collect the shirts at NorCal Jamboree or make arrangements to get them – but we cannot take your money in the Alameda Fairgrounds.
S, M, L, XL, 2XL available. Order for your entire unit.
Make checks payable to (MDSC) Mt. Diablo Silverado Council. Do not miss this opportunity to get Centennial shirts for all your active adults. You will be sorry if you do. And they won't be happy either!
Good Scouting
Mike Dubrall
Meridian District Camping Chair
The monthly theme of May is "In the Spotlight".   Here's the official theme description from BSA:
MAY 2010 - IN THE SPOTLIGHT - Character Connection: Cooperation
It's time to perform and be in the spotlight! This month spend some time making musical instruments to be used in the pack meeting variety show. The variety show could be skits, songs, puppet shows, magic trick - you name it. Have the boys and their parents and families participate in a variety show and have some adults record the show.
Dens can create posters announcing the show and make programs to let everyone know what's coming. Commercials could be videotaped by the den during their den meetings and then be shown between acts. (Get the parents involved)
Take a photo for the local newspaper or a video clip for the local TV station for recognition of their achievements and put Cub Scouting in the spotlight. Visit a television, radio, or cable station to see how they prepare and produce their shows.
Attend a play or musical production. The Cub Scouts can earn the Music belt loop and pin.
Other resources for the theme including BSA Cub Cast and Baloo's Bugle, etc are available and easily accessible from our Monthly Theme Ideas page.  Happy reading and have a great May!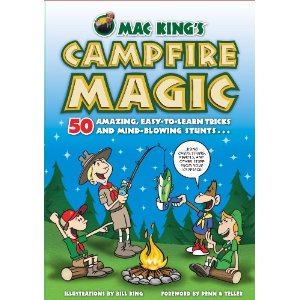 Boys' Life magazine is giving away 2 copies of Mac King's new book every week until May 30, 2010.  Go here to get more information of the book or here to enter the contest.  You can enter the contest week after week.  Good luck.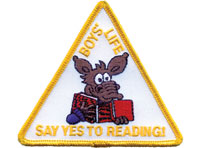 It's back.  You can earn a free patch by submitting a one-page book report.  Doesn't your scout write almost everyday?  This will be a great encouragement to a great habit.  More detail below or here.  Don't forget to check out the 2009 winning essays on Boys' Life website.
---
Write a one-page report titled "The Best Book I Read This Year" and enter it in the Boys' Life 2010 "Say Yes to Reading!" contest.
The book can be fiction or nonfiction. But the report has to be in your own words — 500 words tops. Enter in one of these three age categories:
* 8 years old and younger
* 9 and 10 years old
* 11 years old and older
First-place winners in each age category will receive a $100 gift certificate good for any product in the Boy Scouts official retail catalog. Second-place winners will receive a $75 gift certificate, and third-place winners a $50 certificate.
Everyone who enters will get a free patch like the one on this page. (And, yes, the patch is a temporary insignia, so it can be worn on the Boy Scout uniform shirt, on the right pocket. Proudly display it there or anywhere!) In coming years, you'll have the opportunity to earn different patches.
The contest is open to all Boys' Life readers. Be sure to include your name, address, age and grade in school on the entry.
Send your report, along with a business-size, self-addressed, stamped envelope, to:
Boys' Life Reading Contest
S306
P.O. Box 152079
Irving, TX 75015-2079
Entries must be postmarked by Dec. 31, 2010 and must include entry information and a self-addressed, stamped envelope.