Date:Saturday, January 31st, 2015
Time: 8:30am – 4:00pm
Location: Diablo Valley College, 321 Golf Club Rd., Pleasant Hill (map) (campus map)
Cost: $45 per participant ($55 after December 14th) - includes lunch

Registration for LEAD (Leader Education and Discovery) on January 31, 2015 is now open.
LEAD is not just for adult leaders. For interested parents, there are topics such as:
Magic and Chemistry for cubs
Wood Carving
Geocaching
Campfire programs
… and much more!
Visit the Council website to sign up, view course schedule and descriptions. Class sizes are limited so register early.
Join the Golden State Warriors in celebrating Scout Night on Friday, January 23th at 7:30pm at the Oracle Arena as they take on the Sacramento Kings!
All scouts will receive a commemorative Warriors Scout Patch and will be invited to shoot a postgame free throw on the Warriors Court! Groups of 10+ are eligible for additional savings.
Click here for details.
Scout Days/Nights are not Pack 1776 events but rather community events open to Scout groups.
Dear Pack,
This year's Scouting for Food is scheduled for the weekend of Nov 8 (hanger distribution) and Nov 15 (collection).
For those new to scouting: this is a wonderful opportunity for our scouts to participate in a community service project. The food that we collect goes to the Contra Costa Food Bank from where it is distributed to those in need. Den leaders are responsible for ensuring their den's participation in this event.
Here's the area assignment for each den:

General Reminders:
Wear Class A Scout uniform
Drivers should have all scouts in view at all times
Scouts are NOT to enter a donor's residence
Bring a friend - a great way to introduce what Scouting is about
Hanger Distribution - Nov 8
You may distribute door hangers on a different day than Nov 8
Door hangers should be placed on the door or partially under the door mat (ensure it's visible and won't blow away)
Do not put hangers in mailboxes
Food Pickup - Nov 15
Food must be picked up from the same area you distributed door hangers
Food pickup is to begin no earlier than 9:00 am
Food must be dropped off in front of Coyote Creek MPR between 10 am and noon
Ideas to help us collect more food on the 15th!
Knock on every door that received a door hanger and did not leave a donation. Maybe they forgot to put out their food or would give if asked.
Tell your family and friends if they didn't get a door hanger they can still help by dropping off their food at the MPR on Nov 15th
All participating scouts receive a patch.
Thanks!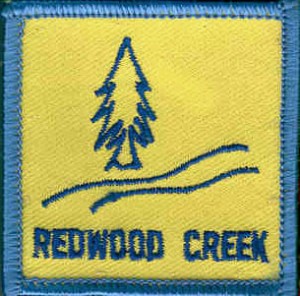 Date: Sunday, November 16, 2014
Time: 9:00am
Location: Redwood Creek, East Ridge and Stream Trails, Redwood Regional Park, Oakland
Meeting Point: Canyon Meadow Staging Area
Distance: 5 miles
Attire: Class A or B
Awards: Trail Trekkers Cub Scout Patch/Progressive Hike Award
RSVP: Evite
Parking Fee: $5
Contact: Hiking Chair Teresa
Details:
Our Next hike will take place in the beautiful Redwood Regional Park in Oakland. This will be a five mile hike that will reward its hikers with great views of the San Leandro Reservoir and the surrounding hills.
Due to the distance of the hike I would recommend all hikers come prepared with plenty of snacks, water and a lunch to enjoy during our break. We will meet at the Canyon Meadow Staging Area and head to the Canyon View Trail. We will then go along the East Ridge until we reach the Skyline Gate. At this time we will have a break and can refill our water bottles or use the restrooms. We will head down the Stream Trail to Mill Site or Fern Hut where we can stop for lunch. If we are lucky the stream will be full and get to see a few of the cascades.
We will meet at 9:00AM for a few announcements and our Flag Ceremony. Boys can wear their Class B t-shirts or Class A uniforms Come prepared for adventure and fun.
Hiking Chair Teresa
Write a one-page report titled "The Best Book I Read This Year" and enter it in the Boys' Life 2014 "Say Yes to Reading!" contest.
The book can be fiction or nonfiction. But the report has to be in your own words — 500 words tops. Enter in one of these three age categories:
8 years old and younger
9 and 10 years old
11 years old and older
First-place winners in each age category will receive a $100 gift card from Amazon.com. Second-place winners will receive a $75 gift card; third-place winners, a $50 gift card.
Everyone who enters will get a free patch like the one on this page. (And, yes, the patch is a temporary insignia, so it can be worn on the Boy Scout uniform shirt, on the right pocket. Proudly display it there or anywhere!) In coming years, you'll have the opportunity to earn different patches.
The contest is open to all Boys' Life readers. Be sure to include your name, address, age and grade in school on the entry.
Send your report, along with a business-size, self-addressed, stamped envelope, to:
Boys' Life Reading Contest
S306
P.O. Box 152079
Irving, TX 75015-2079
Entries must be postmarked by Dec. 31, 2014 and must include entry information and a self-addressed, stamped envelope.
Click here to read the winning essays in the 2013 contest.