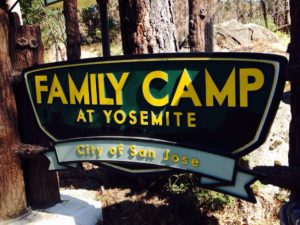 What: All Inclusive Summer Camping in the Sierras
Where: San Jose Family Camp, 11401 Cherry Lake Road, Groveland, CA
When: ARRIVE Friday 8/4/2017, DEPART Sunday 8/6/2017
Coordinator: Kimberly Nelson
About San Jose Family Camp:
Family Camp at Yosemite provides an all-inclusive camping experience where guests of all ages can fish, hike, swim, participate in organized programs, or just sit back, relax and take it easy. The camp provides three meals a day to campers, along with supervised recreational activities. Guests sleep in wood-framed tents scattered among the camp. Each tent cabin can sleep up to six people and has a deck, small table, bench, electricity, and cots with mattresses. We have only reserved 15 tents. Because space is very limited, we're going by first pay, first serve. We will return any unreserved tents on June 2, so please act quickly.
To sign up: 
Click here and find an available tent (or share one) and fill out the information for your party; maximum of 6 people per tent. Deposit the payment at the Coyote Creek School Office pack mailbox or at the Pack Meetings.
Cost for 3 days and 2 nights:
Adults (16 and up): $70
Youth (4 to 15): $60
Children 3 and under are free
Add $30 per tent for fees, taxes and electricity
Things to do: 
Log rolling, swim or canoe in the Tuolumne River
Relax and unwind or meet new friends
Play in the enclosed children's area
Participate in arts, crafts, sports and games
Archery
Eat - All 3 meals and snacks included (e.g., s'mores nightly)
Nightly entertainment including dance, shows and campfire activities
Sleep in a wood-framed tent with electricity
Explore the outdoors with a naturalist guide
Hike on marked trails
Catch fish; staff will clean and cook them for you
What to bring: What To Bring to Family Camp
More Details and Information: General Camp Rules and Information
Video of the Camp: video.