Boys are required to wear Cub Scout "Class A" Uniform to all meetings and activities. The minimum requirement is a shirt, pants or shorts, neckerchief, slide, hat and belt. There is a different color neckerchief/slide/hat for each rank: Kindergarten (Lion t-shirt), 1st grade Tiger (orange), 2nd grade Wolf (yellow), 3rd grade bea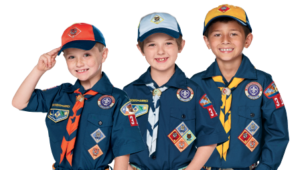 r (blue), 4th and 5th grade Webelo (tan & plaid). You will also need to get insignia for the uniforms.
Go to: http://bsauniforms.org/ for pictures of the uniform and where the insignia should go.
When wearing the Class A uniform, the official Cub Scout pants or shorts is dark blue. However, Pack 1776 will accept any pants with belt loops; no elastic-waist sweats please! The neckerchief should be rolled and placed under the shirt collar. Wear closed toe shoes; no flip flops.
You can purchase scout's uniform online or at the following local stores:
    Mount Diablo Silverado Council Shop, 800 Ellinwood Way, Pleasant Hill
    McCaulou's, 589 San Ramon Valley Blvd, Danville
    East Bay Scout Shop, 1001 Davis Street, San Leandro
    Dom's Outdoor Outfitters, 1870 First Street, Livermore
When you go to the store, ask for the following:
     Cub Scout shirt
     Cub Scout belt
     Cub Scout cap
     Cub Scout neckerchief
     Cub Scout neckerchief slide
     World Scout Crest Emblem
     Mt Diablo Silverado Council shoulder patch
     "1776" Pack numerals
     "Den X" patch (den assignment will be announced after the 1st Pack Meeting)
     Cub Scout Handbook
If you do not like to sew, you can purchase "Badge Magic" and glue on the insignia. The glue can withstand frequent machine wash but leaves a stain when you remove the insignia.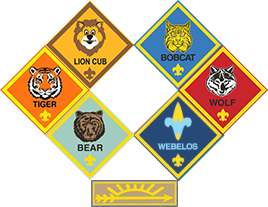 Dear Pack 1776 families and friends,
Join us at our annual Welcome Back to Pack 1776 Kickoff Meeting on Friday August 25 from 7 pm to 8:30 pm at the Coyote Creek Elementary School Multipurpose Room.
Join returning scouts this year in educational and fun activities that promote teamwork, health and wellness, independence, curiosity, and lifelong learning!
We encourage you to invite friends interested in joining our Pack. There will be a demonstration of the flag ceremony and the scout oath.  There will also be a scout information session to answer frequently asked questions, to discuss past scout activities, and to preview activities for the upcoming year such as the 2017 Popcorn Show and Sell.
Parents will have the opportunity to visit our registration tables to complete the registration process.
There will be a donation bin for those who want to pass on their uniform items to new families.
For those unable to attend, you can turn in your completed forms and payment at the Coyote Creek Office. The Pack 1776 mailbox is on a table near the front door.
Looking forward to another great year of scouting!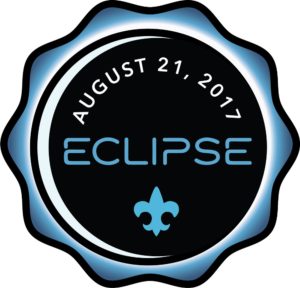 What: Mount Diablo Astronomical Society (MDAS) Astronomy Program
Where: Lower Summit parking lot of Mount Diablo State Park
When: Saturday July 15 at 8:00 PM
The Mount Diablo Astronomical Society (MDAS) is hosting a Public Astronomy Program this Saturday July 15 at 8:00 PM at the Lower Summit parking lot of Mount Diablo State Park. The topic for this Saturday's program is the August 21 solar eclipse.
The program has hands-on astronomy activities followed by supervised observing through the many different telescopes of the MDAS members to view the Moon, planets, stars, galaxies and more.
The program starts at 8:00 PM but you need to enter the park at least 45 minutes before the event begins to ensure you will arrive at the Lower Summit parking lot in time. The program goes until 11:00 PM.  The Park gates will be locked and visitors will be able to leave the summit and exit the park only by escorted caravans through the North Gate a few times during the evening. Caravans will be announced at hourly intervals during the program (1st caravan: 2 hours after Program Starts) and for safety, visitors should only leave with these escorts.
The program would satisfy requirements 1, 2, and 4 of the 2017 BSA 2017 Solar Eclipse patch. The boys would just need to safely observe the eclipse on August 21 to earn the patch.
The program is free but you may need to pay a nominal entrance fee to the park. 
If you plan to attend, have your scout dress in his Class B shirt so we can find each other. The Class B shirt also makes a great pajama for the drive home.