Date/Time: Sunday, October 16, 2022, at 9:30am
Location: Coyote Hills Regional Park — 8000 Patterson Ranch Road​​​​​​​, Fremont, CA 94555
Meeting Point: Outside Visitor Center
Fee: $5 per vehicle, $2 per dog
Distance / duration: 4 miles / 3 hours
Difficulty: Easy to moderate — a few short but steep hills
Recommended for: Tigers through Webelos
Hike Info: Hike info / Trail map below
Park map: map
Awards: Trail Trekkers Cub Scout Patch
Contact: Hiking Chair Zhen Zhou (925-997-4889)
[ RSVP ]
Attire:
Class B and dress in layers
Sturdy closed toe shoes
What to bring:
Sunscreen, cap
Plenty of water and snacks
Directions
Coyote Hills is at the west end of Patterson Ranch Road/ Commerce Drive in Fremont. From I- 880, take Highway 84 west, exit at Paseo Padre Parkway and drive north. Turn left on Patterson Ranch Road (parking fee).
The hike
This hike will introduce the pack to the marsh and hills of Coyote Hills Regional Park and give you a chance to see a great Visitor Center. It is about 4 miles long, with a few short but steep hills.
The trail
First Head into the marsh by crossing the park road at the south end of the Visitor Center parking lot. The kids will enjoy walking on the boardwalk. Stop at the wildlife viewing platforms to observe water fowl and possibly muskrats.
When the boardwalk ends, keep heading straight, gradually curving to the left, until you reach the D.U.S.T. Trail. Turn left on this trail, then right on Lizard Rock Trail. You will then join Bayview Trail, a paved bicycling trail which encircles the hills. Turn left on the Bayview Trail. When you reach Nike Trail, follow it up to a saddle. Once on the saddle, head south on the Hill Trail. After a short steep climb, you'll reach Red Hill Top, a hill formed of red chert. Watch out for poison oak among the rocks.
On a clear day, the views are great. You'll want to point out some of the sights - the salt evaporation ponds to the west, the marsh and boardwalk below you to the east (can you see where you were?), and some of the high peaks in the Bay Area. Some of these peaks are "Rim Rover" peaks which the boys can climb when they become Boy Scouts - Mission Peak just a little southeast, Mt. Tamalpais to the northwest (beyond San Francisco), and Mt. Diablo to the northeast.
Continue south, stopping at Glider Hill to watch people flying model gliders. Go slowly down the steep hill to Soaproot Trail and go left, passing above Dairy Glen, the group campsite. Turn left again, back to the Visitor Center (you'll be approaching the Visitor Center from behind.)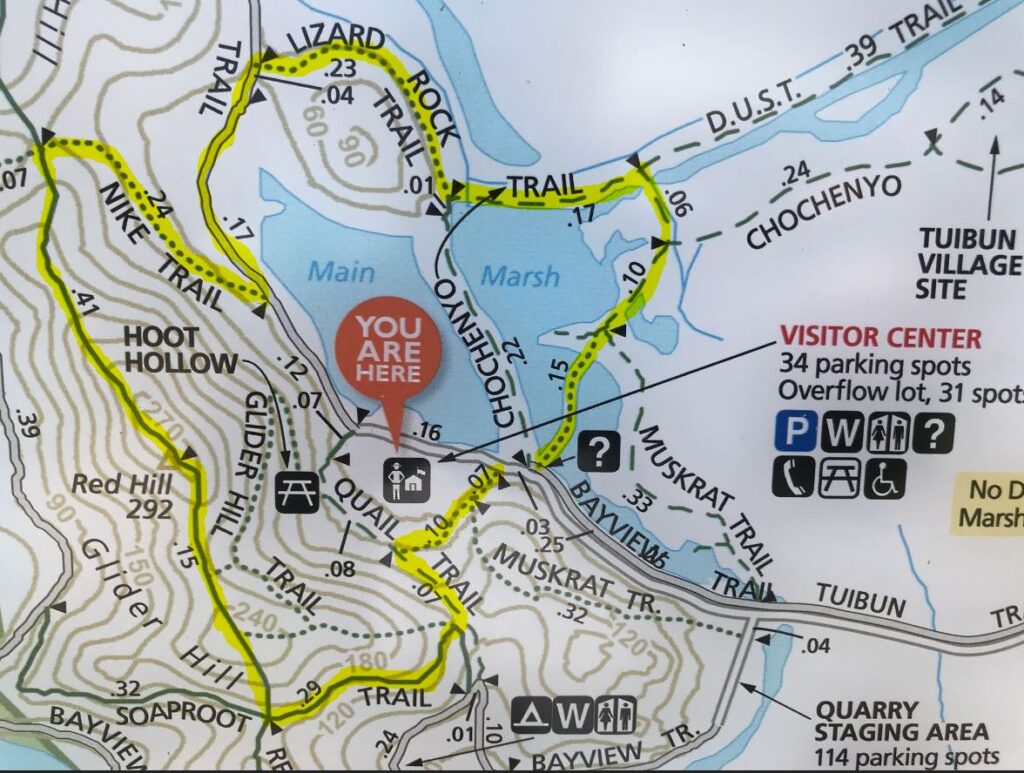 Alternate Routes
Longer or shorter loops can easily be made - consult the park map. The minimum requirement for this patch is to hike to Red Hill Top.
Visitor Center post-hike
Consider visiting the Visitor Center after the hike. Coyote Hills Visitor Center contains educational displays and exhibits as well as the Possum's Pocket Nature Store. The exhibits portray the Ohlone way of life and include a tule reed boat constructed by park staff and volunteers using Native American methods. Other exhibits cover the park's natural history and wildlife. Open 10am - 4pm on Sundays.
For all in-person pack or den events and activities, please adhere to the pack's COVID statement. If you are sick, are experiencing symptoms, or may have been exposed to COVID-19, please stay home and stay safe.
Date/Time: Sunday, September 25, 2022, at 9:30am
Location: Las Trampas — San Ramon
Meeting point: Las Trampas public parking — at the end of Bollinger Canyon Rd in San Ramon
Distance / elevation / duration: 1.5 - 2.7 miles / 575 ft
Difficulty: Easy to moderate
Hike info / map: Hike info | hike map
Awards: Highlander program: Las Trampas rocker patch
Hiking Chairs: Kushal K., Zhen Z.
Attire: Class B or regular t-shirt, approved face covering, cap, sturdy closed toe shoes
What to bring: Plenty of water and snacks, sunscreen, binoculars, camera
[ RSVP ]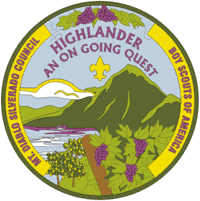 Getting there
Take Bollinger Canyon north, past Crow Canyon. Continue about 4.5 miles to the trailhead at the end of the road. If you've been to Little Hills Ranch, keep going past its parking lot. Turn left on Rocky Ridge Road. Parking lot is at the end on the left. See map.
The hike
Las Trampas (Spanish for the traps) has two distinct areas, each with its own personality. Rocky Ridge, on the west side of the valley, is known for views in all directions, unusual rocks and green rolling hills lightly forested with California bays, oaks and maples. The wildflower display on the hills just off the ridgeline is an east bay favorite. The Las Trampas Ridge, to the east, is quite different, featuring a plant community dominated by chamise with other chaparral plants such as manzanitas and coyote brush.
The trail
Start on Bollinger loop trail for about 0.8 miles then turn right on Bollinger Canyon Trail and stay right and on it for about 0.3 miles. Then turn right on Las Trampas Ridge Trail and keep going for about 0.8 miles, and finally right on Chamise Trail towards the staging area. This final stretch is about 0.5 miles.
Total distance is approx 2.7 miles with about 575 ft gain in elevation. If it gets too hot, we'll cut short the hike to about 1.5 miles.
Date/Time: Sunday, August 14, 2022, at 9am
Location: Sand Hill Trail — Danville
Meeting point: Sycamore Valley Elementary School parking lot — 2200 Holbrook Dr, Danville, CA 94506
Distance / elevation / duration: 2.1 miles / 449 ft / 1 hour 5 mins
Difficulty: Easy
Hike Info: Hike info
Awards: Pack hike patch
Hiking Chairs: Kushal K., Zhen Z
Attire: Class B t-shirt, approved face covering, sturdy closed toe shoes
What to bring: Plenty of water and snacks, binoculars, camera
Getting there
From I-680, exit at Sycamore Valley Road in Danville. Follow Sycamore Valley Road for 1.5 miles, then continue on to Camino Tassajara. Turn left onto Sherburne Hills Road, then turn right to find parking.
The hike
Generally considered an easy route, it takes an average of 1 h 5 min to complete. This is a very popular area for birding, hiking, and mountain biking, so you'll likely encounter other people while exploring. The trail is open year-round and is beautiful to visit anytime. Dogs are welcome, but must be on a leash.
Scouts and participating siblings will receive a patch.
For all in-person pack or den events and activities, please adhere to the pack's COVID statement. If you are sick, are experiencing symptoms, or may have been exposed to COVID-19, please stay home and stay safe.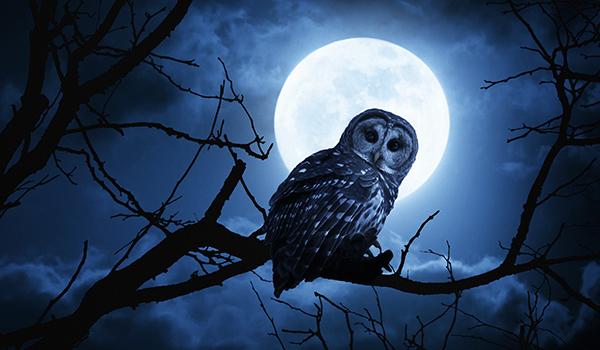 // WHEN
Sunday, July 10, 2022
8-10pm
// WHERE
Sycamore Grove Park
Nature Area Entrance
Livermore, CA 94550
See GPS coordinates: https://goo.gl/maps/tGPnPCzq5Hu
// RSVP
by July 6, 2022
First come first served
// WHO
Pack 1776 Scouts, 5 years and above, accompanied by an adult/guardian.
No more than one parent/guardian per Scout. Up to 2 parents per family, if more than one P1776 Scout in the family participating.
One parent may arrange and agree to be responsible for 2 or more Scouts from same or different households.20 participants total.
If additional spots are available after July 6, then sign-up will open up to additional family members (parents, siblings).
// COST
Free for Pack 1776 Scouts.
Price $5 per parent (or sibling if extra spots after 7/6).
Bring check, payable to Pack 1776, to the hike.
// DETAILS
1.5 miles
Allow about 1.5-2 hours for program and hike
// BRING
Sturdy shoes like hiking boots or tennis shoes. You will be walking on dirt and gravel trails.
Layers of clothing – when the sun goes down it may get cold, even in the summer.
Drinking water in a reusable bottle that you can carry with you.
// DO NOT BRING
These items may not be taken on the night hike – you will need to leave these items in your car:
Flashlights
Cameras with flashes
Food
Walking sticks
Cell phones
// IMPORTANT
Parents, please ensure that your Scouts are quiet, engaged, and follow directions throughout the hike, for an enjoyable experience for all.
// LINKS
https://www.larpd.org/hoot-owl
https://ggacbsa.org/wp-content/uploads/2020/07/Hoot-Owl-Sycamore-Grove-Regional-Park.pdf
[ Sign up ]