Date/Time: Sunday, September 25, 2022, at 9:30am
Location: Las Trampas — San Ramon
Meeting point: Las Trampas public parking — at the end of Bollinger Canyon Rd in San Ramon
Distance / elevation / duration: 1.5 - 2.7 miles / 575 ft
Difficulty: Easy to moderate
Hike info / map: Hike info | hike map
Awards: Highlander program: Las Trampas rocker patch
Hiking Chairs: Kushal K., Zhen Z.
Attire: Class B or regular t-shirt, approved face covering, cap, sturdy closed toe shoes
What to bring: Plenty of water and snacks, sunscreen, binoculars, camera
[ RSVP ]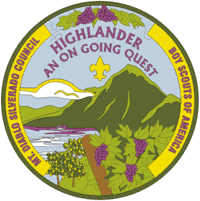 Getting there
Take Bollinger Canyon north, past Crow Canyon. Continue about 4.5 miles to the trailhead at the end of the road. If you've been to Little Hills Ranch, keep going past its parking lot. Turn left on Rocky Ridge Road. Parking lot is at the end on the left. See map.
The hike
Las Trampas (Spanish for the traps) has two distinct areas, each with its own personality. Rocky Ridge, on the west side of the valley, is known for views in all directions, unusual rocks and green rolling hills lightly forested with California bays, oaks and maples. The wildflower display on the hills just off the ridgeline is an east bay favorite. The Las Trampas Ridge, to the east, is quite different, featuring a plant community dominated by chamise with other chaparral plants such as manzanitas and coyote brush.
The trail
Start on Bollinger loop trail for about 0.8 miles then turn right on Bollinger Canyon Trail and stay right and on it for about 0.3 miles. Then turn right on Las Trampas Ridge Trail and keep going for about 0.8 miles, and finally right on Chamise Trail towards the staging area. This final stretch is about 0.5 miles.
Total distance is approx 2.7 miles with about 575 ft gain in elevation. If it gets too hot, we'll cut short the hike to about 1.5 miles.