Get ready for an outdoor adventure! Join Pack 1776 at Sugarloaf Open Space in Walnut Creek for a thrilling pack meeting (overnight stay is optional). Don't miss this special outdoor meeting that will be extra special for our Tigers, and new Wolf, Bear, and Webelos scouts. They, alongside a proud parent, will take part in the awe-inspiring Bobcat ceremony!
Complete this RSVP form to let us know if you'll join us in the pack meeting, overnight camp, or both. Please also fill out the form to let us know if you are unable to join the pack meeting.
When:
Saturday, Oct 14, at noon to Sunday, Oct 15, at 10 am
Where: Sugarloaf Open Space — Orchard Campground
2161 Youngs Valley Road, Walnut Creek, CA 94596
What to wear — arrive in Class A, with Class B underneath (if you have a Class B t-shirt):
Class A uniform + approved face covering for Opening ceremony, Bobcat ceremony, and Closing ceremony
Class B uniform or comfortable clothes
Hiking shoes or sturdy closed-toe shoes
What to bring for each person:
Drinking water in refillable water bottle
Mess kit (or unbreakable washable plate, fork, cup, etc for dinner and breakfast). A dishwashing station will be available at dinner and breakfast.
Sunscreen
Day pack
Hat
Flashlight/headlamps
Folding chair
Layers of clothing as it may get cold after dark
For those staying overnight:
Tent, tarp
Sleeping bag and optional pad, per person
Wagon (optional)
+ Refer to the pack's list of Outdoor essentials for overnight camping
Volunteers needed
We need your help to make this event fun and a great experience for everyone.
SIGN UP to volunteer.
Agenda
The weather should be great, and we have a fun, action-packed agenda! A short-pack hike will take place before dinner. The Pack will host a light dinner and s'mores for dessert. A vegetarian option is available. We'll watch den skits, play games, and tell stories during the evening campfire. A light breakfast will be provided for those staying overnight.
Tentative schedule:
Saturday
Noon to 12:45 — Arrive and set up camp (if staying overnight)
12:45 to 1:00 — Arrive (non-camping)
1:00 to 1:15 — Flag ceremony (Bears Den)
1:15 to 2:15 — Hike
2:15 to 3:00 — Free time
3:00 to 4:00 — Den activities
4:00 to 4:45 — Organized games / BBQ dinner prep
4:45 to 5:45 — Dinner & Clean-up
5:45 to 6:45 — Bobcat ceremony for Tigers and new Wolf, Bear and Webelos Scouts
6:45 to 7:00 — Closing ceremony
7:00 to 7:30 — S'mores dessert
7:30 to 8:30 — Campfire, skits, games
8:30 to 9:00 — Head home if not camping / Get ready for bed if camping
9:00 — Lights out
Sunday
7:15 to 8:00 — Prepare breakfast
8:00 to 9:00 — Breakfast provided by the Pack
9:00 to 10:00 — Break camp and Leave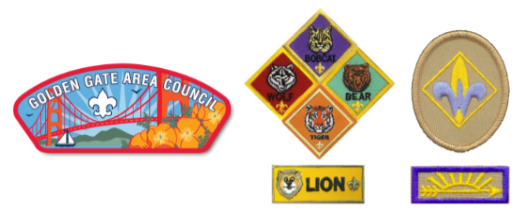 Get the outing back into scouting! Council-organized camp events are now open for registration. More information can be found at https://ggacbsa.org/cub-scout-camping/. The following is a list of camp opportunities available.
Tiger Cub Safari
April 22-23 or April 29-30 at Wente Scout Reservation, Willits, CA
Info & Registration [ link ]
Tiger Cub Safari an exciting overnight adventure full of fun for Tigers and their Adult Partners to enjoy, where the Tigers Rule, Others Drool!
Mom and Cub camp
May 5-7 or May 19-21 at Camp Royaneh, Cazadero, CA
Info & Registration [ link ]
Moms and their Cub (Lion, Tiger, Wolf, Bear, and Webelos). The staff will guide you through a weekend of fun and adventure. A great escape for Cub Scouts and their moms (or another adult female partner like grandmothers, aunts).
Wolf & Bear
July 21-23 at Rancho Los Mochos, Livermore, CA
Info & Registration [ link ]
A weekend adventure that you don't want to miss!
Webelos Adventure Camp
August 1-5 at Camp Royaneh, Cazadero, CA
Info & Registration [ link ]
For all Scouts who have completed the 3rd or 4th grade by Spring of 2023. This is THE summer experience for every Webelos. Come and get a taste of what the future in Scouting looks like.
For all in-person pack or den events and activities, please follow the SRVUSD COVID guidelines. If you are sick or are experiencing symptoms, please stay home and stay safe.
Blast off into an out of this world experience exploring the outer realms of space! This program will take our Scouts from Earth into the great unknown through workshops, activities, exhibits, telescopes and planetarium offerings.
[ Register ] by February 8 if you are planning to attend. There is limited space available, so register as soon as possible.
The odyssey overnight includes:
Exhibit Exploration
Planetarium Shows
Educational Program
Telescope viewing (Weather/availability permitting)
Dinner & Breakfast
Date and time: Saturday March 4th 5:00pm to Sunday March 5th 9:30am
Check-in: 5pm-5:30pm - Program starts at 5:30pm (late entry is permissible.)
Please bring your electronic or paper ticket for scanning at check-in.
Location:
Chabot Space & Science Center
10000 Skyline Blvd.
Oakland, CA 94619

Uniform: Class A on Saturday; Class B on Sunday

Cost: **FREE** for registered Pack 1776 Scouts who raised popcorn funds. $50 for registered Pack 1776 Scouts who did NOT raise popcorn funds. $95 for single parent or adult chaperone. Due to restricted number of attendees only ONE chaperone per TWO or more family members (example, 1 chaperone and 2 scouts). If reserved spots remain available after Scout registration closes, then registered Siblings (5 years and older) may attend at the cost of $95. Please drop off Chaperone payment at the Coyote Creek drop box or bring to the Feb 8th Pack Meeting.

NEED to COMPLETE by Saturday, Feb 18th:
Please complete Chabot's online [ CONSENT FORM ] for every participant.

Meals: Dinner and breakfast are included. Designate your meal preferences on the [ CONSENT FORM ] for every participant. If unspecified, meat is the default option. The meals are pre-packaged and delivered so on-site adjustments cannot be made. None of the meals contain nuts, however, they are prepared in kitchens where nuts may be present. You may bring outside food.

What to Bring for each participant:
Sleeping bag, pillow
Warm jacket, pajamas, change of clothes
Toiletries, medications
Reusable water bottle, snacks
Electronic or paper ticket for scanning at check-in
Additional Information and FAQ's: Chaperone Survival Guide
(https://chabotspace.org/wp-content/uploads/2022/03/Chaperone-Survival-Guide-21-22-1.pdf)
Note: We have a reserved allotment of spots. If we have any remaining spots after Scout registration closes on February 8th, we will accept additional reservation requests of Siblings in order of registration.
Please submit Chaperone payment by Wednesday, February 8th either at the Coyote Creek drop box or the Feb 8th Pack Meeting. We will contact you to confirm if your Sibling reservation request have been accepted and to arrange their payment.
FIRST-COME, FIRST-SERVE
PLEASE REGISTER AS SOON AS POSSIBLE.
SCOUT & CHAPERONE REGISTRATION CLOSES: Wednesday, February 8th.
Many thanks to Mr. Neeraj and Mr. Joe for making this event possible for our pack!
For all in-person pack or den events and activities, please follow the SRVUSD COVID guidelines. If you are sick or are experiencing symptoms, please stay home and stay safe.
Date/Time: Saturday November 5, 2022 at 2pm to Sunday, November 6, 2022 at 10am
Location: Mt. Diablo State Park // Barbecue Terrace group campground (directions) + Wildcat campground
Parking: Coordinates to Parking road entrance - 37.86154 N, 121.93375 W
Maps: Campground map | Mount Diablo park map
Fees: $10 per vehicle paid upon park entry
Attire: Class A for flags and Bobcat ceremony, Class B otherwise
Camping Chair: Neeraj C.
Camping Committee: Joe G., Michael P., Matt P.
There is a limit on the number of overnight campers. Register ASAP.
Join us for a glorious afternoon and evening of scout skills and outdoor fun! Come for the activities, a pack-provided dinner and our evening campfire program. Staying overnight is optional.
We have an action-packed agenda. This meeting is especially important for Tigers and new scouts and their parents who will participate in our Bobcat Ceremony – let's celebrate with them!
Webelos (4th graders) will prepare their own dinner and desserts, as well as Dutch oven desserts for the pack!
What to bring
Completed parking pass, placed visibly on your car dash before you leave your parked car.
Sun protection
Per person:

1 gallon drinking water for each member of your party — There is NO WATER on Mount Diablo
Refillable water bottle

Mess kit, including utensils and cup
Flashlight
Folding chair
Cap
Sturdy closed-toe shoes for hiking
Rain windbreaker jacket
Warm clothes as it will get cold after dark

For those staying overnight:

Tent with rainfly
Mallet
Sleeping bags
Sleeping pads
Please refer to the Mt. Diablo Checklist for a list of items to bring

Leaders, please each bring an additional 10 gallon water for pack use
Tentative schedule
Saturday
1:00 to 1:45 - Arrival for those staying overnight and set up camp
1:45 to 2:00 - Arrival for those not staying overnight
2:00 to 2:15 - Flag ceremony — led by Bears
2:15 to 2:30 - Group photo / Distribute Class B t-shirts
2:30 to 3:15 - Bobcat Ceremony for 43 Tigers and new Wolf, Bear and Webelos scouts, by den
3:30 to 5:00 - Nearby hike (Webelos will skip hike) / 3:30pm BBQ prep / Dutch oven preparation
(4pm Cook Dutch oven desserts)
(4:45 s'mores prep)
5:00 to 5:45 - Dinner + clean-up
(Add on warm clothing layers ahead of the evening program)
5:45 to 5:50 - Closing flag ceremony — led by Bears
5:50 to 6:30 - S'mores for Scouts / Dutch oven dessert for adults
(6:15 Sunset)
5:50 to 6:30 - Campfire program skits, songs, stories
6:45 pm - START to HEAD OUT
6:45 to 6:55 - Head out for those not camping overnight
7:15 - GATES LOCKED
7:00 to 8:30 - Evening activities TBD
(Potentially games, stories, evening hike, stargazing)
8:30 to 9:00 - Get ready for bed
9:00 Lights out
< DAYLIGHT SAVINGS END>
Sunday
7:15 to 7:45 - Prepare breakfast
7:45 to 8:30 - Free breakfast provided by the Pack (coffee, hot chocolate, juice, muffins)
8:30 to 9:15 - Break camp
9:15 to 10:00 - Camp sweep and leave
Date: Wednesday, October 19, 2022
Time: 6:30 – 8pm
Location: Coyote Creek Elementary School MPR
Are you prepared for the pack campout on November 5-6? Do you know what to bring or what to expect? Join us for a Camping 101 event to have all of your questions answered and learn what to expect for this year's fall campout at Mt. Diablo. This will not be a pack meeting; scouts can come in Class B or casual clothes.
Stations offered:
What to bring for the day, if not staying overnight [Ms. Wendy]
What do bring for overnight camp [Mr. Neeraj, Mr. Michael]
Mount Diablo campsites [Mr. Joe, Mr. Neeraj]
Leave No Trace [Ms. Caroline]
Tent basics [Ms. Cassie]
Program [Mr. Kevin]
Calling all Webelos (4th grade) and Arrow of Light (5th grade) scouts!
This weekend is filled with fun events at the great Camp Herms. Activity pins and scout skills galore. Come interact with some Scouts BSA Troops as well, to get a feel for the adventure at a Troop level. This is intended for a 1:1 Cub to Guardian ratio weekend. If one guardian must take two Cub Scouts, this guardian will be responsible for each participant while they are at camp. This event is for Webelos and Arrow of Light only as the program is specific to their age appropriate program. A packing list, schedule, and list of pins offered for the weekend will be emailed ten days before the event.
Adventure pins being offered are:
On staff from Pack 1776 will be:
Medic: Dr. Sankari
Rangemasters: Mr. Kevin R., Ms. Caroline
Dinner will be provided as a group activity. Sunday breakfast will be offered.
Bring for each participant, scout and adult:
BSA pre-event medical screening checklist + ensure temperature below 100.4 °F just prior to departure for camp.
Shooting Sports form (2 copies only, check "BB Devices" only)
Bagged lunch for Saturday (lunch provided for staff)
Mess kit (plate, spoon, fork, cup), napkins, wet wipes
Drinking water in reusable water bottle
Sleeping bag
Sleeping pad
Clothes appropriate for the weather
Flash light
Toiletries
Folding chair
Shared items:
Tent, including tarp/footprint + rainfly
Mallet for tent stakes
Wagon (to carry your stuff from your car to the campsite)
For this camp, parent/legal guardian and child can share a tent.
Wear:
Class A uniform
Class B t-shirt
Vest / waterproof jacket — there's usually condensation at Camp Herms + it will be windy this weekend
Hiking / closed toe shoes
Registration is currently closed.