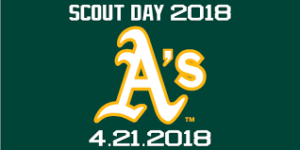 Date/Time: Saturday, April 21, 2018 at 6:05 PM - 10:00 PM
Location: Oakland Coliseum
Attire: Class A uniform
RSVP: Evite
Please join us for the Oakland A's vs the Boston Red Sox which features a pregame festival in the parking lot with a wide variety of activities, an on-field parade for uniformed Scouts and leaders, a commemorative patch for all participating Scouts, and a discounted game ticket.
This event is open to Boy Scouts and Girl Scouts of all ages, as well as their families and friends. All uniformed Scouts and leaders will receive a commemorative Scout Day patch.
Price is $28 per person for Plaza Infield (normally $42). Please sign up and pay by January 31 to secure your tickets. Submit your payment via check to Pack 1776 in the Pack drop box inside the Coyote Creek office OR to your den leader at the Pinewood Derby race on Jan 21, 2018.
More information to come as the date nears!