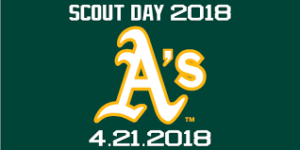 Date/Time: Game time is Saturday, April 21, 2018 at 6:05 PM - 10:00 PM
Pregame parade is at 5 pm. Participants should show up 4:45 pm.
Location: Oakland Coliseum
Attire: Class A uniform
RSVP: Evite
Please join us for the Oakland A's vs the Boston Red Sox which features a pregame festival in the parking lot with a wide variety of activities, an on-field parade for uniformed Scouts and leaders, a commemorative patch for all participating Scouts, and a discounted game ticket.
This event is open to Boy Scouts and Girl Scouts of all ages, as well as their families and friends. All uniformed Scouts and leaders will receive a commemorative Scout Day patch.
Here are the highlights of the pre-game festivities for Scouts:
Scout Festival in the parking lot from 2:30pm to 4:30pm

Inflatables
Camp information
Arts & crafts

All uniformed Scouts will be invited to walk on the warning track during the pre-game parade
All uniformed Scouts receive a special patch at the end of the parade
We will reserve a specified number of lower level seats on the Plaza Infield based on responses to the Evite. These will go first come first serve to those that pay sign up and pay. Plaza Infield tickets are $28 per scout and $28 per additional family member.
Please sign up at Evite and submit your payment via check to Pack 1776 in the Pack drop box in the Coyote Creek office by April 13 or bring to the April 11 Pack meeting. For questions, contact Jimmy Almeida at almeida_images@yahoo.com
Since there are limited seats, we are asking everyone to not sign up unless you are positive you are going to go. Once you sign up, you are committed to purchasing the tickets. There will be no refunds. If you cannot make it, it is your responsibility to find someone to take your tickets.