August Hike at Bishop Ranch Regional Reserve
Date: Saturday, August 25, 2018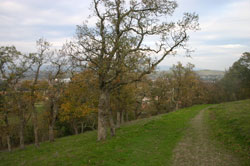 Time: 4:00 pm to 7:00 pm
Location: Bishop Ranch Regional Preserve, 2755, 2761 Morgan Dr, San Ramon, CA 94583
Meeting Point: Trail entrance at Morgan Drive
GPS coordinates: 37°44'58.4"N 121°57'47.0"W
Parking & Fees: Park on Morgan Drive. No paid parking available.
Attire: Class A or B uniform (dress in layers)
RSVP: Evite
Contact: Hiking Chair Siddharth Bhatia 408.431.8037
Directions: Exit I-680 in San Ramon at Bollinger Canyon Road and go west to San Ramon Valley Boulevard. Turn left (south) on San Ramon Valley Boulevard and drive to Morgan Drive. Turn right  (west) on Morgan Drive and go a short distance. Park on Morgan Drive and the trail-head is on the left.
What to Bring:
Plenty of water and snacks
Layers of clothing appropriate for the weather
Binoculars, camera (optional)
Trail: Let's explore areas in our community where we can go for a short hike. The Bishop Ranch Regional Open Space Preserve offers quiet and solitude on 444 acres just a short distance from San Ramon Valley subdivisions. Watch for animals such as deer, red-tailed hawks, and turkey vultures.