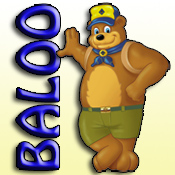 Date: Saturday, October 27th, 2018 - Sunday, October 28th, 2018
Time: 8:30 am to 11:00 am
Location: Camp Herms, 1100 James Place, El Cerrito, CA 94530
The BALOO Training Course is presented by the council that introduces Cub Scout leaders and parents to the skills needed to plan and conduct pack outdoor activities, particularly overnight events and camping. In order for our Pack to attend an overnight event, there must be BALOO trained adults in attendance. Right now we have 3 BALOO certified leaders and 1 BALOO certified parent, and need more BALOO trained adults to fill this important role.
If you enjoy going on overnight camping trips, please register. The training starts at 8:30am on Saturday and finishes at 11am on Sunday.
The BALOO training sessions include hands-on demonstration of the why and how of Cub Scout camping — planning, equipment, fire safety, stoves, and lanterns, first aid and sanitation, nature hikes and games, meal preparation, overnight campsite setup and selection, and an evening campfire program.
Cost:  $45.00 for Registration by April 7 ($55.00 after October 13th). The pack will reimburse you the $45 cost if you register before October 13th and your participation goes toward your volunteer hours.
Register here.
For more information.