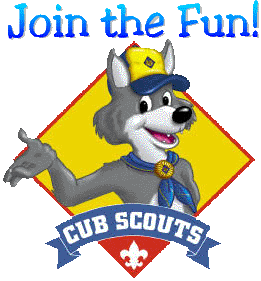 You can now sign up online for next year and invite friends to join too! All scouts must submit:
1. Complete the online Pack 1776 Registration Form
2. Complete the Medical Form Parts A & B
3. Make a copy of the front & back of your scout's medical insurance card.
4) $150 registration check written to Pack 1776
5) A separate $200 volunteer deposit check per family, post-dated to 4/1/2020.
We will hold onto your check and return it after you have completed 8 service hours.
Drop off your completed paperwork in the Pack 1776 Scout Box in the Coyote Creek Elementary School Office.
Family Scouting: Girls Welcome!
Our Pack is open to boys and girls. By welcoming girls into the program, even more youth will have access to the character development and values-based leadership that Scouting promises.
Lions: Kindergarten age youth; Come try it out!
We are celebrating three years of participation in the national Lion program! As a Lion, your kindergartner will make friends, laugh loud, gain confidence, discover nature, and most of all…have fun. A kindergarten-age boy or girl and his or her adult partner join and attend meetings and activities together. Recognizing how Lions are integral to the success of our program and to introduce them to the world of Cub Scouting, the Pack has discounted the normal registration fee to $75.00 and waived the volunteer deposit.
Saturday, May 25th @ Presidio National Cemetary
Date: Saturday, May 25, 2019
Time: 8:45 am to 11:30 am (We start promptly at 9 am.)
Attire: Full Class A uniform, footwear suitable for walking on wet grass.
Register: RSVP here so we can provide a headcount.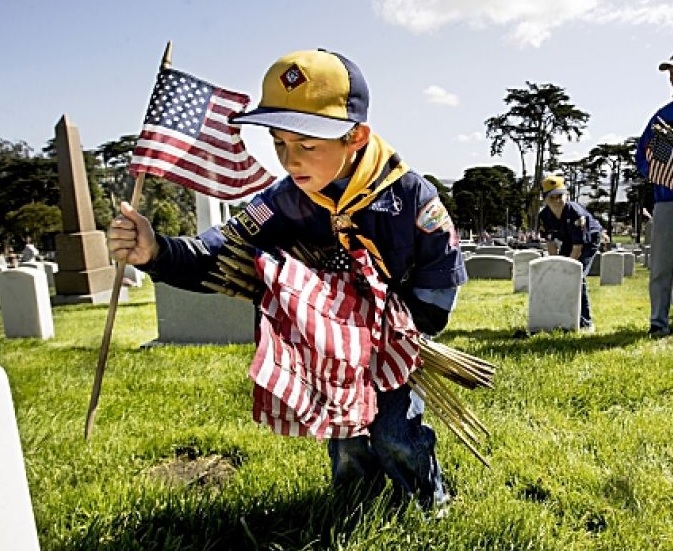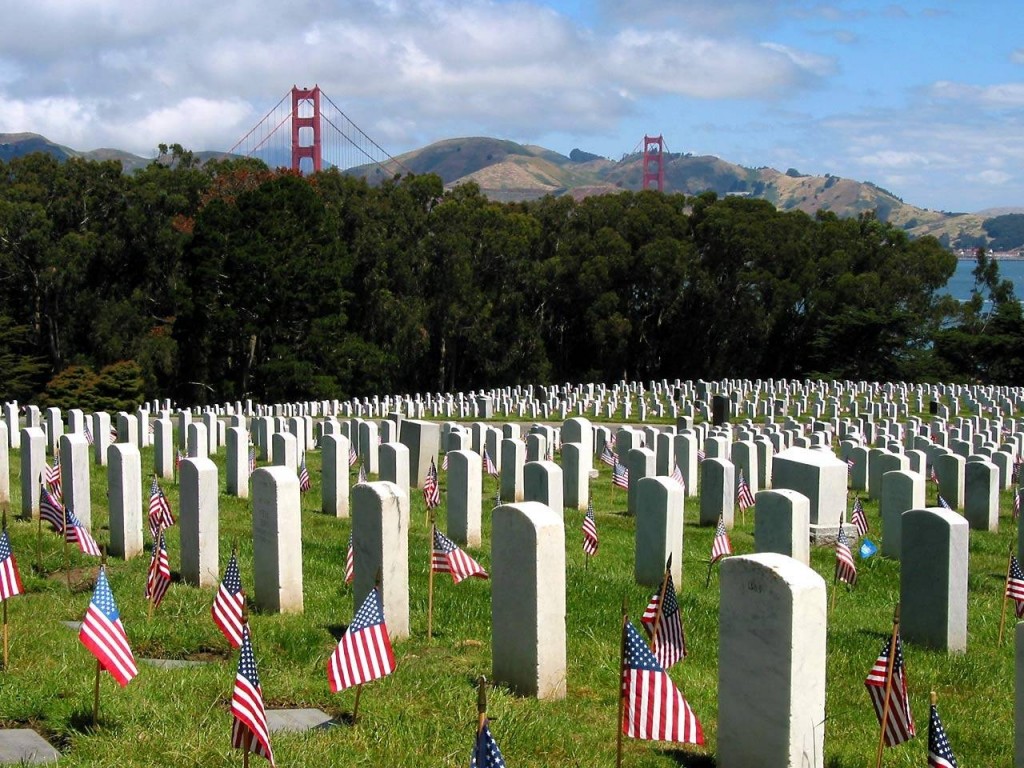 The Memorial Day Weekend Flag Planting event will be held at the San Francisco National Cemetery in the Presidio. Each year scouts from across the Bay Area meet to help prepare the cemetery for the Memorial Day weekend. The ceremony starts with a flag ceremony and then an address by a veteran. The scouts then spread out across the cemetery and place American flags in front of every grave site.
The cemetery contains the graves of more than 35,000 veterans and their family members dating back to the 1846 war with Mexico.
It's a worthwhile event that reminds our Scouts of the sacrifice many have made to make our country what it is today.
All leaders and scouts should be in full uniform.
The ceremony will begin promptly at 9 am.
The San Francisco Bay Area Council hosts a small lunch afterwards and all participating scouts earn a patch.
RSVP to Evite so that we can provide the SF Council with a headcount.
Date and Time:
Sunday, May 26, 2019, 9 am to 6:30 pm
Monday, May 27, 2019, 10:30 am to 7 pm
Location: Central Park 12501 Alcosta Blvd, San Ramon, CA Booth # TBD
Attire: Class A Uniform
It's that time of the year again! We are asking the entire Pack 1776 Cub Scout family to participate in the sales of our Cotton Candy Fundraiser at the 2019 San Ramon Art & Wind Festival. The scouts will practice being friendly, courteous, kind, and cheerful. Click the link to sign up.
Plus enjoy all that the festival has to offer once you're there. You'll browse 150 arts and crafts booths featuring paintings, photographs, pottery, toys, clothing, jewelry, gourmet food products and more.
Creativity and old-fashioned fun will fill the air at the kids' zone. If you're hungry, you'll be a huge fan of the various cuisine and beverage options. Bring lawn chairs and blankets and enjoy live music on multiple stages. Check out helicopter landings, a tethered hot air balloon launch, hang gliding demonstrations and professional kite flyers. You'll even have a chance to build, decorate and fly your very own kite!
Volunteer through: SignUp Genius