Dates:  September 14-15, 2019 or October 26-27, 2019; Check with your den to see what session to attend.
Location: Camp Herms, El Cerrito @ 1100 James Place
Time:  Check in Saturday 7:00 am to 8:30 am; ends Sunday 10:00 am.
Cost:  $45 WEBELOS, $25 Adults (pins, patches, entertainment, dinner & breakfast)
Process:  Online registration
Information: Flyer Information Sheet Schedule Shooting Form
Online registration is now open!
The WEBELOREE is an overnight tent campout for WEBELOS & their parents led by troops. Youth work on four Pins & one patch, (Aware & Care, Sports, Earth Rocks! & Outdoor Pins, plus BB Guns Shooting Sports Award Patch).
 
Parents will learn about Scouts BSA while enjoying time with their scout. 
Aware & Care, Sports and Shooting Sports will be fully covered, but parents/den leaders will need to complete some requirements for Outdoor and Earth Rocks! before attending. (See below for details)
Each WEBELOS must be accompanied by a parent or guardian who must stay with their WEBELOS throughout the day. No siblings may attend who are not Webelos.
Required Forms: Bring a copy of the Firearms Form & parts A & B of the Medical Form found here: BSA MEDICAL FORM PART A & B BSA SHOOTING PERMISSION FORM
Bring both forms to Camp Herms. Bring only a COPY of your type A & B medicals for your child & parent, as records will not be returned.
All adults must complete Youth Protection Training. Other guidelines are found in Guide to Safe Scouting.
Correcting: All Scouts, BSA, staff and parents are deputized to correct poor behavior per the Boy Scout Promise, Law and Oath. Parents: Please assist with camp activities when requested. This will make for a smoother camp.
Parking will be in the quarry. Enter camp off James Pl, the north end of camp. Exit the quarry to the immediate left going south down the camp road to Villa Nueva Dr. No vehicles may leave camp between 11 PM - 7 AM.
Field uniforms (including the official shirt) must be worn during check-in and flag ceremonies. Activity uniform (including a Scout related T-shirt) is permitted during Round Robin sessions.

Meals: BRING YOUR OWN LUNCH. During the pin activities, camp will provide ingredients and instructions for families to prepare foil dinners. (If dietary restrictions aren't compatible with our VEGAN
dinner option, PLEASE BRING A READY TO EAT MEAL FOR DINNER) Camp staff will cook & deliver meals to the quarry during one of two assigned dinner periods (5:35 or 6:20pm). Be sure to bring your MESS KITS! Dishes, cups & utensils will NOT be provided. A light Sat. afternoon snack is provided around 3:25 for youth at the 4th station. Sunday breakfast for all will be provided at 7am. BRING YOUR COFFEE CUP & MESS KIT or at least a cup and plate. No alcohol is allowed per BSA policy.

What to bring: 1 copy of medical forms (Part A & B) & Firearm Forms, a day pack, poncho, mess kit, water, ground cover, tent, sleeping bag/pad, flashlight, toiletries, sack lunch, WEBELOS handbook, field & activity uniform, warm clothes (40° at night), folding chair & Do Your Best attitude!

What NOT to bring: All electronics (games, iPod, etc.); knives/axes (a pocketknife with a Whittling Chip is the exception). Pocketknives used in an unsafe manner will be confiscated & returned to an adult leader. A limited # of camperships are available & must be submitted by 7/25, before registration opens on 8/1.

Pin prep, review & follow-up:
1) Choose before/after camp to complete REQ #2 of Earth Rocks! & complete #1, 2, 3 & 5 of Outdoor. We will only review #2, 3 & 5 of Outdoor.

2) Review ALL pin & patch REQs with your scout before coming! 3) During camp, your job will be to make sure your scout has completed what we go over & after camp sign him/her off only when complete.
For Questions, Campership Appl. or to Volunteer: Contact Mike Moffat Michael.Moffat@Scouting.org.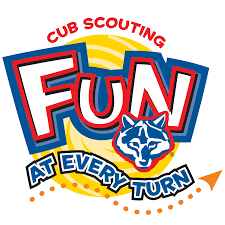 DATE: August 28, 2019
TIME: 7:00 p.m. - 8:30 p.m.
LOCATION: Coyote Creek Elementary MPR
UNIFORM: Class A
Preview of the Scouting Year
Den Chief Ceremony
Parent Orientation and New Scout Registration
Scout Skills: Square Knot
Popcorn University
Register before our first Pack Meeting so that you won't miss out on the fun!
How to Register with Pack 1776
To guide you on completing your application, please visit our website at http://pack1776.com/join.
1. Complete the online Pack 1776 Registration Form
2. Complete the Medical Form Parts A & B
3. Make a copy of the front & back of your scout's medical insurance card.
4. Provide the scout registration fee for your year via a check made out to Pack 1776:
$150 per Tiger, Wolf, Bear or Webelos scout (First through Fifth grades in 2019-2020).
$75 per new Lion scouts (those who will be in Kindergarten in 2019-2020)
5. Provide a separate $200 parent volunteer deposit - 1 per family (check postdated to 4/1/2020, also made out to Pack 1776).
Volunteer deposit waived for new Lion scouts.
6. Complete the online BSA Youth Application Form for new scouts only. Drop off the checks, medical forms and copy of your child's medical card to the Scout Box located inside the Coyote Creek Elementary School Office. If you have questions, feel free to email us at cubmaster@pack1776.com.