& Distribution of Popcorn & Awards
November 6th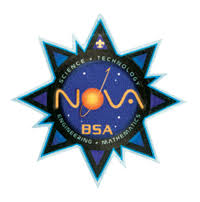 DATE: November 6, 2019
TIME: 7:00 p.m. - 8:30 p.m.
LOCATION: Coyote Creek Elementary MPR
UNIFORM: Class A
This module is designed to help you explore how symmetry affects your life each day. Symmetry is something for which most people have an intuitive feel, but many have never thought about in enough detail to give names to all that they see. Symmetry is a way that a figure is like itself. Symmetry is everywhere. Minerals organize themselves in crystals, which are repeating patterns. Plants and animals have many interesting symmetries in their shapes. Most artistic traditions in the world, and many activities where people design a shape for its function, depend on some form of symmetry. In this award, Scouts get to explore many aspects of this topic.
Stations at this event will be:
Make a paper lantern.
Learn about the kolam artwork of southern India and make a kolam.
Learn about the design of Navajo rugs and using different colors. We will, make our own Navajo-like rug.
Distribution of Popcorn & Awards
Popcorn Top Seller Awards, Prize & Door to Door Sale DistributionThis year's Popcorn Fundraiser was a-maize-zing! You pop-ably never realized it, but the Fall Popcorn Campaign is a key fundraise for our Council given it does not receive any funding from our national registration fees.
Come learn what the Pack raised, who the top sellers were. If you earned a prize for selling popcorn, this will be distributed after the pack meeting.
For those of you who took "Take Orders" – i.e. door to door sales, this popcorn product will be distributed at the end of the pack meeting so that you can deliver it to your customers.
February 1-2, 2020
Date: February 1st (Saturday) – February 2nd (Sunday)
Check In: 6:30 p.m. Event: 7 p.m. to 8:30 a.m.
Location: Monterey Bay Aquarium
Directions:  Here
Cost: VARIES $95 per adult/scout, however depending on your popcorn tier, there may be a subsidy paid by the Pack. This will be determined soon.
RSVP: Google Form
Payment: Checks payable to Pack 1776 by November 6th or pay online (added fee)
Attire: Class A for Saturday and Class B for Sunday; Pajamas.
Parking: See below. Overnight parking at Foam and Irving charges until 8 p.m. and again at 9 a.m. Overnight parking at Foam and Hoffman charges until 8 p.m. and again at 6 a.m.
Must Read:Planning Guide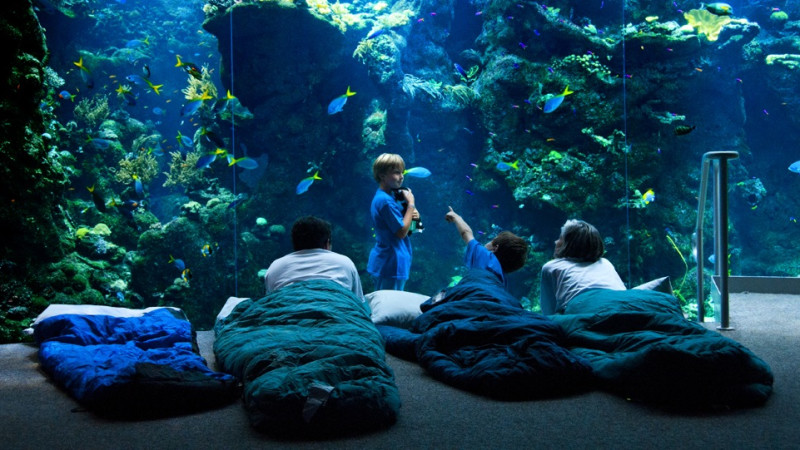 Let's explore the Aquarium after hours and sleep with the sharks…in a good way. Sign up and turn in your check made to Pack 1776 by November 6th at the Pack Meeting or in the Pack mailbox. You may also pay via credit card via Square, but note these prices are higher as it incorporates their service fee. Only paid participants are guaranteed spots. Refunds are available only until November 27, 2019. After that, the costs are not refundable.
What to Bring
Completed check-in forms.
Sleeping bag and optional pad or air mattress. Aquarium floors are hard.
Mattresses or pads should measure no larger than 39 x 75 x 19 inches (twin) per guest, unless shared with another guest to ensure plenty of space for all guests. Cots are a tripping hazard in the dark, so must be flat against a wall.
Pillow.
Pajamas and comfortable shoes or hard-soled slippers. Footwear must be worn when walking around the Aquarium.
Toothbrush, toothpaste and personal care items. Shower facilities are not available.
Reusable water bottle.
Camera (flash photography, tripods and monopods are prohibited). The Aquarium is a flash-free facility. Camera flashes and flashlights may cause harm to our animals.
Earplugs if you are a light sleeper.
What Not to Bring
Any outside food, drinks or gum
Tents
Radios, music/MP3 players, iPads/tablets, computers or other electronic devices
Party favors or balloons
Parking
You may drop off passengers in the pull-out directly in front of the Aquarium or across the street in the bus turnaround. Parking enforcement may cite cars blocking traffic or double-parked.
The sleepover runs from 7 p.m. to 8:30 a.m. Please park in a location that will not require you to move your vehicle during the sleepover.
Overnight parking at Foam and Irving charges until 8 p.m. and again at 9 a.m.
Overnight parking at Foam and Hoffman charges until 8 p.m. and again at 6 a.m.
The Aquarium does not validate parking.
Contact Monterey Parking Division for more details at 831.646.3953.
Food
Outside food and drink are prohibited at the Aquarium.
All sleepovers include evening snack and morning breakfast. Vegetarian and made-without-gluten options will be available.
Please note that the Aquarium is not a gluten-, nut- or dairy-free facility. Cross-contamination may occur. If you have severe allergies, please contact them at two weeks prior to the event at 831.647.6886.
Evening Experience
The Aquarium will offer a variety of activities throughout the evening for our sleepover guests. Guests are free to choose the activities they wish to participate in, or use the evening to explore the Aquarium. The only mandatory activity is orientation, which will provide more information about the sleepover.
Access to overnight gear is available at approximately 9:30 p.m. The Aquarium is unable to accommodate earlier requests, as overnight gear in exhibits would limit other guests' access to those spaces.
Lights begin to go out at 10:30 p.m. depending on the exhibit. All exhibit lights are out by 11 p.m. Final bedtime for all guests is 12:30 a.m.
Exhibit areas vary overnight in terms of light levels, sleeping space and ambient noise. For the safety of the animals, some exhibit windows may be blocked (either with a curtain, black screens or bubble screens) or closed during portions of the evening or the entire event. Guests are prohibited from moving curtains, screens or other exhibit blocking devices to view animals.
Electrical outlets are scattered throughout sleeping areas, but the Aquarium is unable to guarantee their availability. Preference for outlets will be granted to those with medical concerns (such as for use of a CPAP).
Note that our sleepovers are public and coed events.
Morning Activities
Wake up is at 7 a.m. Guests must pack up their gear and stow it in assigned areas (designated at orientation) before going to breakfast.
The Aquarium offers a variety of activities in the morning, including a naturalist on the back deck to assist with wildlife watching (weather dependent).
The Aquarium Store will be open in the morning for those who wish to make any purchases.
Departure is between 7:45 a.m. and 8:30 a.m. All guests must vacate the Aquarium with their gear by 8:30 a.m. even if they plan to visit the Aquarium after the sleepover.
Sleepovers include admission to the Aquarium the day following the sleepover (e.g. if the sleepover is Saturday night, admission will be for Sunday). Your sleepover wristband and ticket will grant you re-admission at Will Call in the Main Entrance when the Aquarium opens to the public for the day.
Looking for something to do between the exit time and re-entry time? Take our free Coastal Trail audio tour or Cannery Row audio tour.
Safety
Wear shoes or hard-soled slippers while walking around during the sleepover.
NO weapons or drug use of any kind are allowed on Aquarium property.
Smoking (including electronic) is prohibited by all persons anywhere on Aquarium property.
Cell phones should be put in silent mode.
The Aquarium is not responsible for lost, damaged or stolen items. Lost and Found is located at the Information Desk.
The Aquarium does not allow pets.
The Aquarium advises their security officers are certified in First Aid/CPR and on-site throughout the sleepover. Reach out to staff or the Information Desk for minor care. In case of emergency, reach their security staff at 831.648.4840.
Security will lock all outside doors once check-in is complete. Leaving the sleepover is highly discouraged. If you need to leave for an emergency, please notify the Information Desk first.
In case of an evacuation, all guests will meet across the street at the bus turn-around. Willing guests may be asked to assist staff.
Failure to adhere to these policies may result in expulsion from the event without a refund.
Refunds & Cancelations
Refunds are available only until NOVEMBER 27, 2019. After that, the costs are not refundable.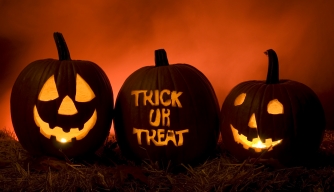 Date and Time: Wednesday, October 30, 2019 from 6 pm to 8 pm (Setup begins at 5:00 pm.)
Location: Coyote Creek Elementary School, MPR, 8700 North Gale Ridge Road, San Ramon, CA
Cost: Free admission. Nominal fee for concessions.
Attire: Costumes!!
Signup: Just show up and have fun! No sign up is needed. The entire scouting family is welcome!
Beware of ghosts and goblins! Come for an evening of games, fun, and mayhem! Participate in our Cub Scout Carnival! Jump in the large jumpy house and play carnival games to win prizes. Come dressed up in your Halloween best and get your picture taken at the photo booth. You may even win one of our costume medals at the parade; you do not need to be a scout to win. A small slice of pizza will be available for $1.00 in the food booth. Popcorn is free!
See you there!
WE COULD USE YOUR HELP! Sign up to volunteer at: Halloween Party Committee.
September 11, 2019
DATE: September 11, 2019
TIME: 7:00 p.m. - 8:30 p.m.
LOCATION: Coyote Creek Elementary MPR
UNIFORM: Class A
Come join us for this hero and patriotic themed Pack meeting. All dens will merge and be split into three groups. Each group will visit three stations:
Flag - learn the history of the American flag, how to display, fold and care for it. This skill satisfies many required adventures.
Scout Skills: Learn to tie the Overhand Knot and Bowline. This skill satisfies many required adventures.
Craft: Build a flag neckerchief slide.
October 5-6, 2019
Date: Saturday, October 5 to Sunday, October 6
Time: 2 pm Saturday to 10 am Sunday
Location: Eagle View Campground @ Lake Del Valle Regional Park, 7000 Del Valle Rd., Livermore, CA 94550
Directions: Google Maps
Parking: $6.00
RSVP: Here on the Google form
Volunteer: Here!
What to bring: Everyone should bring a refillable water bottle, flashlight, folding chair, and sun protection. Wear sturdy shoes for hiking. Bring warm clothes as it may get cold after dark.
Bring a mess kit (or similar washable plate, fork, cup, etc.) for use at dinner/breakfast. In support of our Pack's continued commitment to be Conservation & Environmentally Minded and to prepare our scouts for when they eventually go on backpacking trips, disposable plates, forks, cups, etc. should not be brought or used. A dishwashing station will be available.
For those staying overnight, you must have your own tent and sleeping bag. Please refer to the Outdoor Essentials on what to pack. The Pack is camping at the Eagle View Campground at Del Valle. Overnight camping is limited to 50 people. Flush toilets are nearby.
Bring the family and join Pack 1776 at beautiful Del Valle Regional Park for our Outdoor Pack Meeting and optional campout! Del Valle Regional Park, part of the East Bay Regional Park District, is located in a valley framed by oak-covered hills. The centerpiece of the park is a five-mile long lake, with all kinds of water-oriented recreation, surrounded by 4,316 acres of beautiful land.
Please come as this outdoor experience and camp out will fulfill many Adventure requirements your Scout has and will be fun! This Pack Meeting is mandatory for Webelos I Scouts.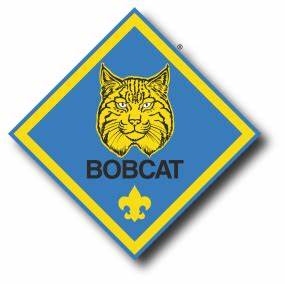 This Pack Meeting is especially important for our Tigers and new Wolf, Bear and Webelos scouts as they and a parent will participate in our Bobcat Ceremony!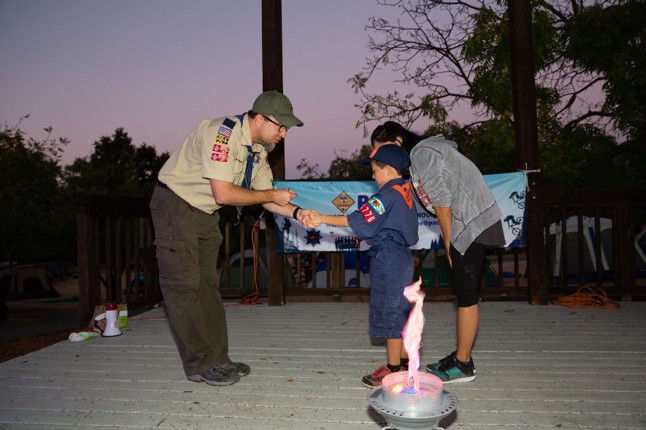 A short pack hike will take place before dinner. The Pack will host a light dinner and s'mores for dessert. A vegetarian option is available.
During the evening campfire, we'll watch skits, play games, roast marshmallows/make S'mores and tell stories. We encourage all scouts to buddy up and perform a skit. Search online under "cub scout skits" for ideas. A light breakfast is also provided for those staying overnight.
The weather should be great and we have a fun, action packed agenda. Scouts should arrive in Class A uniform with a Class B shirt or T Shirt underneath.
BE SURE TO RSVP: Our Pack is paying for all the food. Please help us plan for this event by clicking on this shared document (different from evite) and let us know 1) if you're coming or not, 2) if you're camping overnight and 3) what's your food preference.
In order to have a fun and successful camping trip, we need everyone's help. If you see an opportunity, jump-in! Also, if you see scouts doing something dangerous, wandering away from our group, hurting the environment, or being disrespectful to another, please stop them immediately. Don't wait for a uniformed leader (who are parent volunteers like you) to get involved.
WE YOU COULD USE YOUR HELP: Please sign up here. Volunteers are needed to run this event.
Here's our tentative schedule:
Saturday:
2:00 to 3:00 - Arrive and set up camp
3:00 to 3:15 - Flag ceremony
3:30 to 4:30 - Hike
4:30 to 5:30 - Fun activities / BBQ prep
5:30 to 6:30 – Dinner hosted by the Pack (hot dogs, vegan hamburger patties, drinks)
6:30 to 7:15 - Bobcat Ceremony for Tigers and new Wolf, Bear and Webelos scouts
7:30 to 8:30 - Camp fire, flag retirement, games, S'mores, skits, songs,
8:30 to 9:00 - Get ready for bed
9:00 Lights out
Sunday:
7:15 to 7:45 Prepare breakfast
7:45 to 8:30 Free breakfast provided by the Pack (breakfast burritos, coffee, hot chocolate, juice, muffins)
8:30 to 9:00 Closing Ceremonies
9:00 to 10:00 Break Camp and Leave