August 8, 2020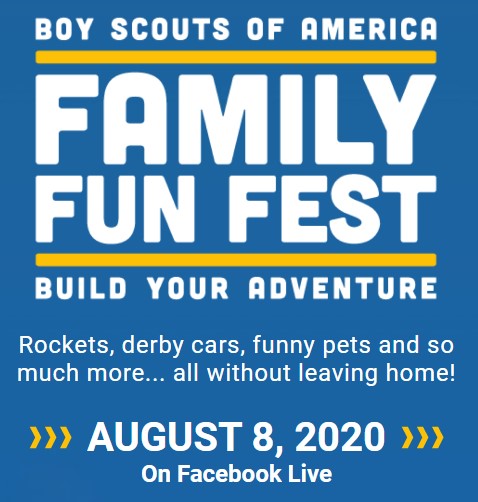 If you like funny pets, rockets and astronauts, Pinewood Derby cars, movie make-up artists and backyard camping then you'll love Family Fun Fest! It's outdoor adventure you can have online! This is sponsored by BSA National.
 
This very special online-only event is just for families like yours! There will be cool hands-on activities, interviews with amazing people, opportunities to make your community better with a service project.
 
And you can join in on the fun with activities you can do at home – like building your own pinewood derby car! BSA will post lists of items you'll need on Facebook so you can build your own adventure!
On Aug. 8, you'll hear from NASCAR driver Joey Logano, discover the secrets of spacewalks from a barrier-breaking NASA astronaut and score expert advice for crafting the fastest, best-looking Pinewood Derby car ever built.
Like pretty much everything in Scouting, this will not be a passive, watch-other-people-have-fun experience. Family Fun Fest puts Scouts in the driver's seat as they enjoy an interactive experience filled with hands-on fun.
Grab a pencil and paper and watch as a Boys' Life artist teaches you how to draw a dinosaur. Help build the perfect Pinewood Derby car where your vote determines how it's made. Share photos of your cuddliest — or most adorably ferocious — pets for a chance to be featured in the broadcast and win a prize.
Oh yeah: the prizes! In case you needed another reason to join, they will give away prizes every 30 minutes. Grab the latest must-have gear, BSA-themed merch, shopping sprees on ScoutShop.org and more. Learn more about the prizes here.
When
8 a.m. to 11:30 a.m.  Pacific
Where: Live on the BSA's Facebook Page
The lineup for Family Fun Fest
Family Fun Fest features something for everyone: hands-on activities you can try from home, interviews with amazing people and opportunities to help make your community better.
Step inside the garage with 2018 NASCAR Cup Series champion Joey Logano
Hear about space from Dr. Bernard Harris, a former NASA astronaut who in 1995 became the first African American to perform a spacewalk
Get secrets for building the speediest, sweetest-looking Pinewood Derby car ever
Learn to draw from professional artists and vote on what you want to learn to create
See some very good dog photos and discover how to make your own dog treats
Win awesome prizes with drawings every 30 minutes (insider's tip: the prizes get bigger as the show goes on)
And enjoy plenty of exciting surprises
How to watch Facebook Live on your TV
While huddling around a laptop screen or tablet is a great way to get closer to your family, you might want to enjoy Family Fun Fest on the largest screen in your house.
Here's how to watch Facebook Live videos on your TV.