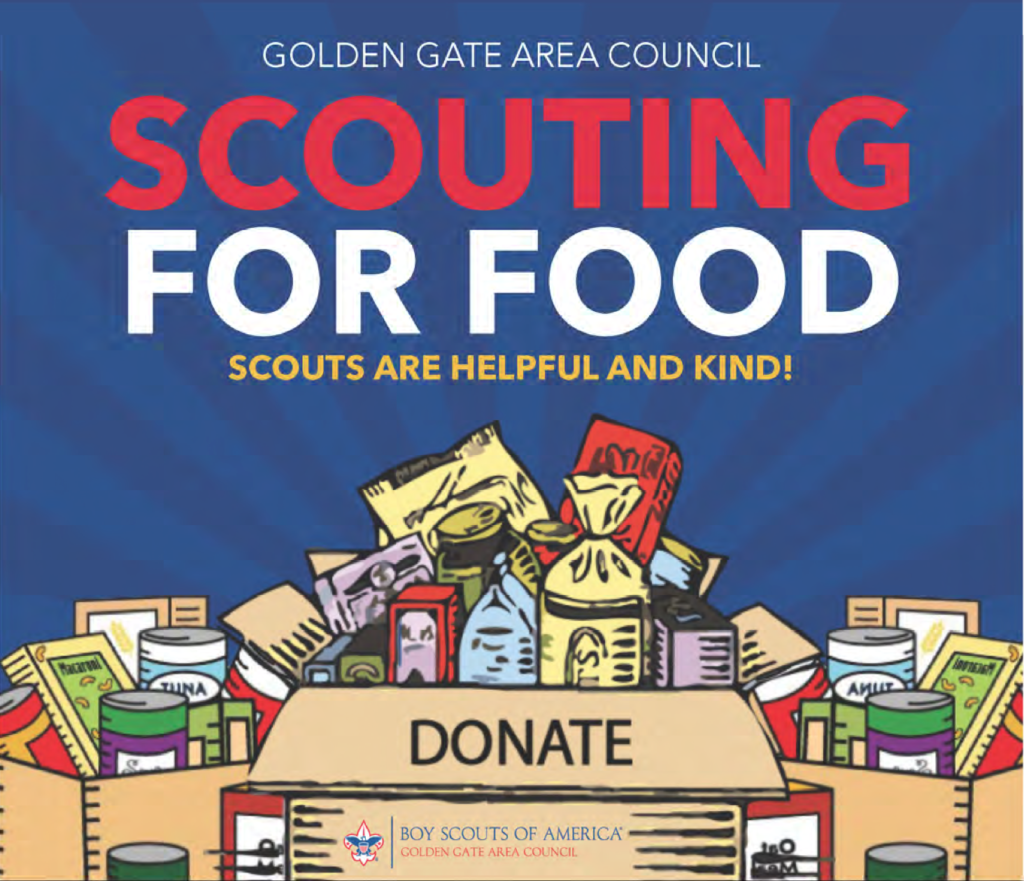 What: Scouting for Food
When:
Nov 6, 2021 — Distribute door hangers to assigned area homes
Nov 13, 2021 — Pick up food donations from same homes after 9am + drop off in front of Coyote Creek MPR by 12pm
Where: See map for assigned areas by den; Den Leaders have assigned specific blocks to scouts within each den
What to wear: Class A uniform, approved face covering
Scouting for Food coordinators: Satwant & Anjula, Cassie
The food that we collect will go to various food banks across the Bay Area to be distributed to those in need. And the need is great, this year especially!
We accept canned foods and non-perishable food items. Canned and boxed foods, cereal, pancake mixes, crackers, and pasta are great! Protein items like canned tuna, ham, sardines, SPAM, and peanut butter are much needed. Please do not donate glass objects or food that will perish soon.
For those new to scouting, this is a wonderful opportunity for our scouts to participate in a community service project. Den leaders are responsible for ensuring their den's full participation in this event. All participating scouts will receive a cool patch.

Please sign up to volunteer
We need 4 volunteers to drive their minivan/SUV to take the collected food from Coyote Creek to the main collection site at Bishop Ranch / 2700 Camino Ramon, San Ramon.

General reminders
Wear Class A Scout uniform
Wear an approved face covering — applies to everyone involved in Scouting for Food
Keep your scouts in view at all times
Supervise scouts when crossing roads
Bring and use hand sanitizer
DO NOT to enter a donor's residence
Door hanger distribution — November 6
Distribute door hangers on another day this week, iff not possible on Nov 6
Place door hanger on the door or partially under the doormat
Do not place door hangers in mailboxes
Knock or ring doorbell after placing door hanger and take a few steps back
Speak with the resident about the program
Food donations pickup — November 13
Pick up food donations from the same homes where you distributed door hangers
Do not pick up earlier than 9am
Knock or ring doorbell at every house that received a door hanger and did not leave a donation; maybe they forgot and would give on the spot if asked kindly
Drop off the collected food donations in front of Coyote Creek MPR between 10am and noon
If you cannot drop off by 12pm, drop off directly at the main collection site at Bishop Ranch / 2700 Camino Ramon, San Ramon, by 1pm
As with any pack activity, please adhere to the pack's COVID statement. If you or your Scout are sick, are experiencing COVID-like or flu symptoms, or may have been exposed to COVID-19, please stay home and inform your Den Leader ASAP so they can make arrangements to cover your Scout's area.
Other ways to donate Tell your family, friends, and neighbors! With the many fortunes and blessings our community has, this is a great way for everyone to give back. And donating is easy! Anyone in the community can drop off food donations in the marked bin outside the Coyote Creek office on Wednesday, November 10, during school hours, or in front of the Coyote Creek MPR on Saturday, November 13, 10:00 am to noon. Thank you for coming together to serve the community!