Why do we do this?
This is a key fundraiser for our pack and council, the Golden Gate Area Council (GGAC).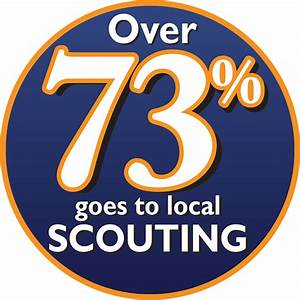 73% of all popcorn funds will go to support scouting locally - proceeds are shared between GGAC, our local district – "Meridian District" and our Pack. GGAC and Meridian District use these funds to support activities such as Webeloree, Summer Day Camp, insurance, training and much more and keep participation costs low. Our fundraising effort helps to make Scouting a great experience for our scouts. Here is a sampling of the Pack 1776 activities supported by your fund-raising efforts and participation:
Halloween Party
Pinewood Derby Equipment, Awards and Facilities Rental
Pack Camp Outs, craft and skill station supplies, food
Blue & Gold Celebration entertainment and dessert
End of the Year Graduation
Benefits to Your Scout:
Teaches Scouts the value & process of setting and working toward goals
Gives Scouts a strong sense of accomplishment through recognition
Enhances communication, leadership skills and confidence in your Scout
Scouts can earn a participation patch and rewards
Scouts can earn their way to a Pack adventures.
Donations to the pack are preferred!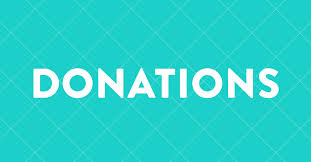 If friends and family are not interested in purchasing popcorn, perhaps they would be willing to make a donation to the pack. They can do so by submitting cash or check to you or donating directly using a credit card on our pack payment portal. Make sure you email us to let us know a donation is coming as we are unable to track donations.
What is our goal?
Our goal is for every scout to sell $200.
Each Scout should strive to achieve $200 in sales
$100 from sales made to family & friends
$100 from sales made to neighbors and parents co-workers
Prizes and Rewards:
Each scout will earn a patch for making a sale or obtaining a donation.
Based on their total sales, scouts will select the prize or prizes from Trails End they'd like and enter the codes on their order form before returning it on 10/20
The top earner (sales of popcorn + donations) wins the Grand Prize - a Nintendo Switch Lite! For the purposes of pack awards (not through Trailsend) families with more than one scout can combine their sales & donations
How to Sell:
This year everyone needs to download the Trails End App or make a sales page on Trailsend.com as:
All sales will be online
Tracking Inventory will be online
Credit Card sales willbe online.
Door to Door / Sales to families can be made through the APP.

You may download the App on your on. If doing so, select "Meridian" for the district and "Pack 1776" for the unit. The Pack will send one family member an invitation to set up an account with the Trails End App that is linked to Pack 1776. You can also text APP to 62771 for a link to download the app.
Unfortunately, we can only send one invitation out per scout, so Mom and Dad, one of you will get the invitation and have to set up the account and give that log in information to the other parent.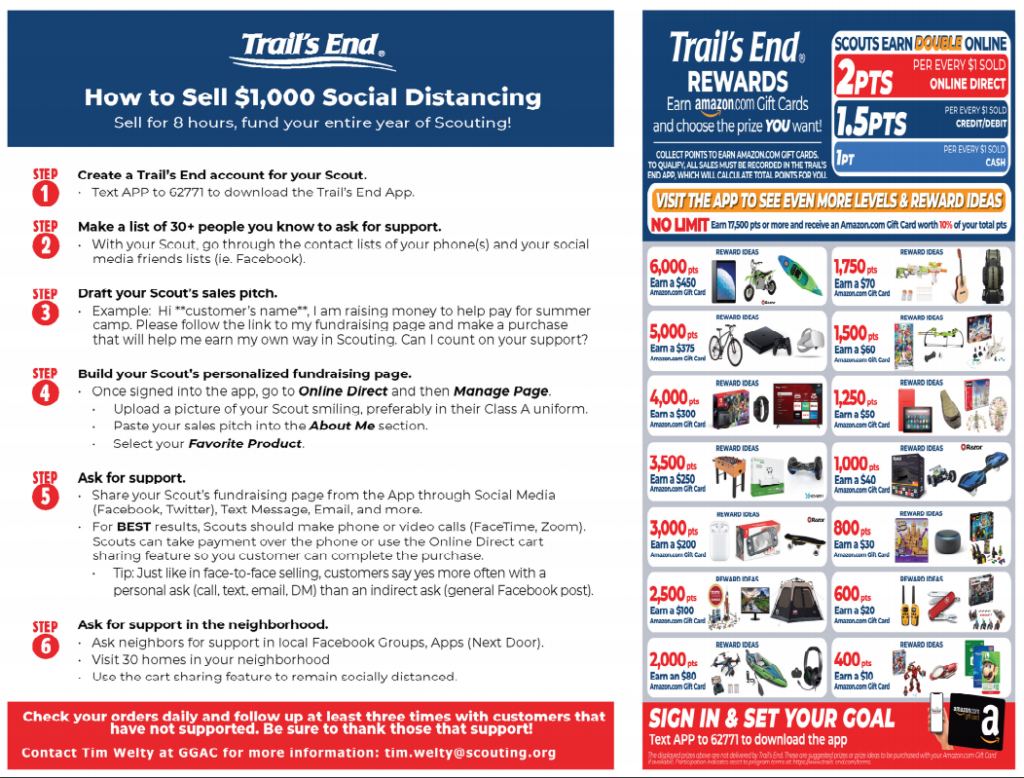 Selling Online
Online Direct
Scouts can ask family and friends far away to support them by purchasing popcorn through the Trails End site online. You will receive an email from the Pack via Trails End with the subject line "Welcome to the NEW Trails End. Sign-in & raise money now!". Follow the steps with your scout to set up your scout's account. The new Trails End site allows you and your scout to customize his or her 'page' and from there you can send invites to your family and friends.
Scouts can record an Online Direct sale in the Trail's End App while selling door-to-door or over the phone. This allows the scout to initiate the order and send a link to customers to enter credit card info to complete the transaction.
Marketing Your Scout