Date: Saturday, May 29, 2021
Time: TBD. See instructions below. The Pack coordinator for this event will advise you of our start time.
Attire: Full Class A uniform, footwear suitable for walking on wet grass.
Register: RSVP here so we can provide a headcount.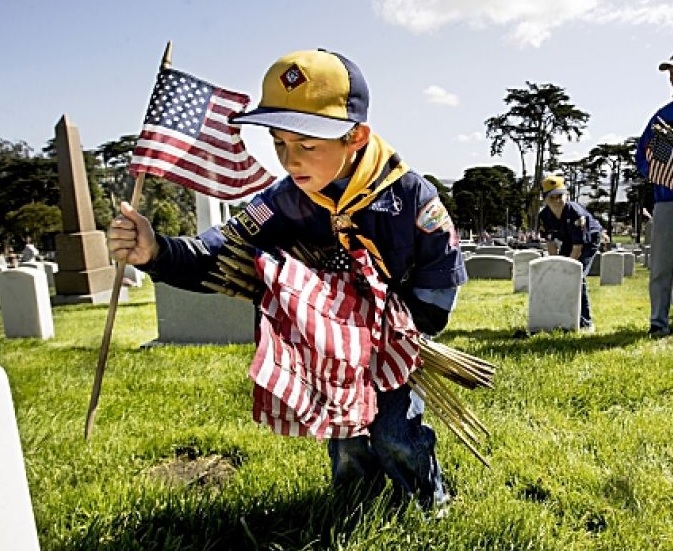 The 2021 Flag Planting to honor our fallen veterans is scheduled for Saturday, May 29, 2021 at the Presidio of San Francisco. In accordance with local/state guidelines, they will limit participation to 180 participants for this year's event. Representation from all units is encouraged. All adult leaders and scouts should be in full uniform for the event. All participants will be required to follow social distancing rules and wear a face mask. There will be no refreshments at the event this year.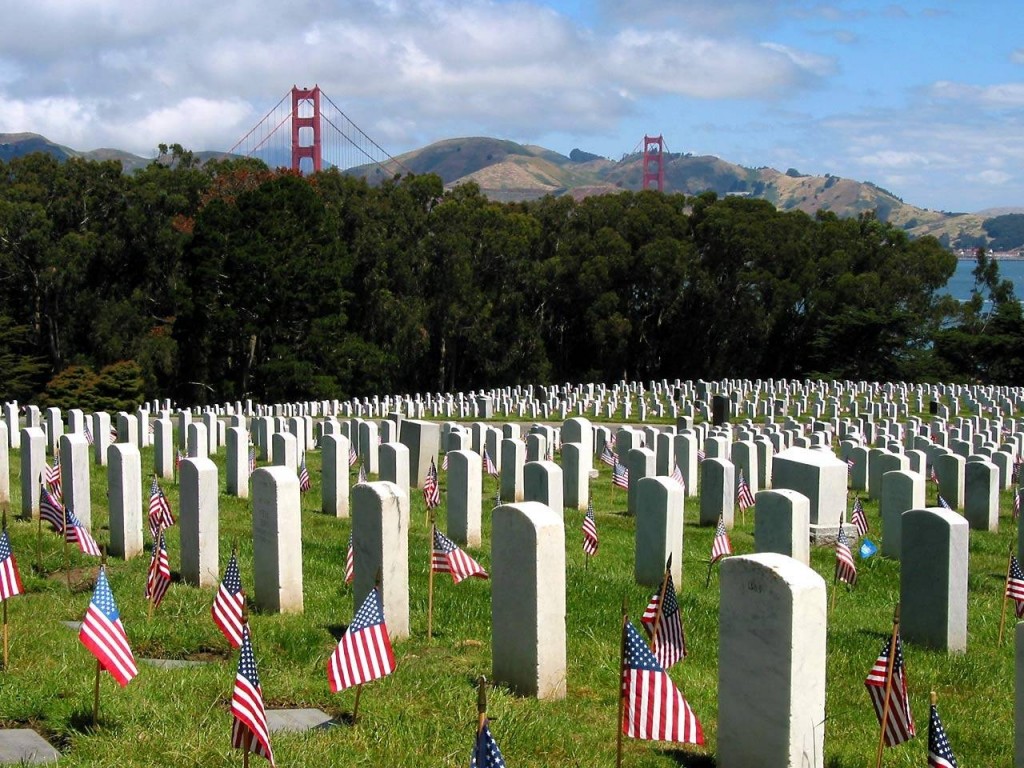 Logistics: There will be a staggered timeline beginning at 9:00 am for 3 units of 10 participants (maximum of 30 scouts, including parents and adult leaders) each serving a 1 hour shift. Each unit will be required to leave after the hour is completed.
Process: 3 units of 10 participants (including adults) may register for a 1 hour shift beginning at 9:00 a.m. to 2 p.m. There will be a total of 6 shifts completing at 3 p.m. Our unit will do the registration.
Calling all Webelos and Arrow of Light Scouts!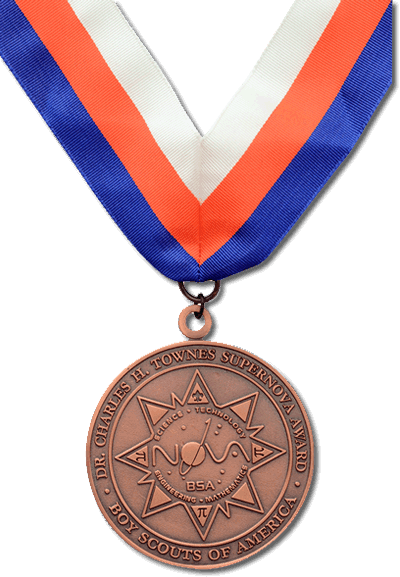 The Golden Gate Area Council is offering an opportunity for fifteen (15) Webelos or Arrow of Light Scouts to work with a Council Supernova mentor to earn the Dr. Charles Townes Supernova Medal. 
Pack 1776 had 14 scouts earn their Dr. Charles Townes Supernova Medal this past year. Come join the elite group of Webelos STEM scientists.
Starting on Wednesday, June 9th at 6 PM, the Webelos and Arrow of Light Scouts will begin a 9-week journey to earning the Dr. Charles Townes Supernova Medal, the top STEM award for Webelos and Arrow of Light Scouts.
Each week the Scouts will have a small project to work on that will broaden and deepen their understanding of STEM. The required adventures must be completed outside of the sessions. The event runs for nine (9) weeks on Wednesday evenings from 6:00 to 6:45 PM. The cost of the program is $50 per Scout. (Please note, this is not a Den Event.) The event is only open to incoming Webelos and Arrow of Light Scouts.
This activity is entirely online with the possible exception of a final Science Fair on Saturday, August 7th (morning). Parents must attend the first online meeting as a part of orientation.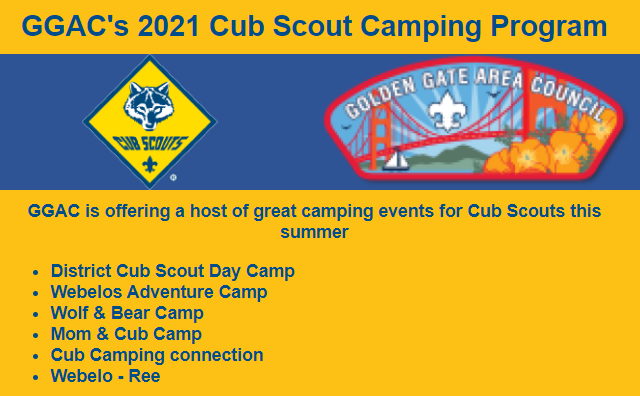 Webelos Adventure Camp
August 2-7, 2021 @ Camp Royaneh. Pull on your hat for adventure around every turn. The Thunderbirds await you to join them to have fun in the sun at Camp Royaneh!
Wolf & Bear Camp 
July 16-18, 2021 @ Rancho Los Mochos. Cubs who will be Wolf or Bear (in the Fall) and their Adult Buddy
Cubs and their adult partners are invited to an exciting weekend camping experience at rustic Rancho Los Mochos Scout Camp. This two-night camping program with Archery, BB guns, Nature, Crafts, and so many more fun activities!
Mom and Cub Camp
September 24-26, 2021 @ Camp Royaneh. Moms and their Cub (Tiger, Wolf, Bear, and Webelos). Located in the beautiful coastal redwoods of Camp Royaneh. The staff will guide you through a weekend of fun and adventure especially designed to reinforce that mother-child bond. A great escape for Cub Scouts and their moms (or another adult female partner like grandmothers, aunts, etc.).
Cub Camping Connection
October 23-24, 2021 @ Rancho Los Mochos. All new scouts and their Adult Buddy. New? This is the overnight campout for you! Bring along your family for a special introduction to Cub Scout Camping.
Webelo-Ree
October 2-3 or October 30-31, 2021 @ Camp Herms. All Webelos and Arrow of Light Scouts. Come meet and learn new skills with other Webelos in our Council.