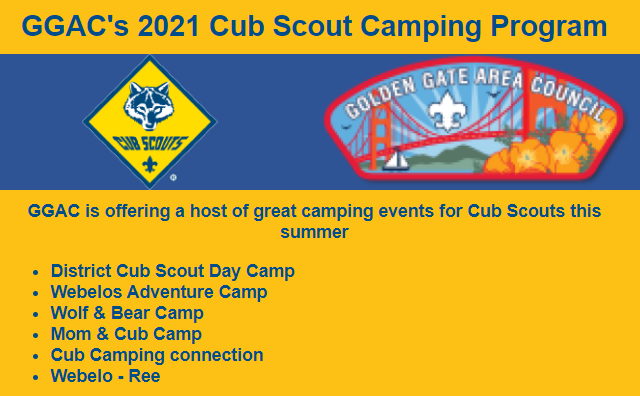 Webelos Adventure Camp
August 2-7, 2021 @ Camp Royaneh. Pull on your hat for adventure around every turn. The Thunderbirds await you to join them to have fun in the sun at Camp Royaneh!
Wolf & Bear Camp 
July 16-18, 2021 @ Rancho Los Mochos. Cubs who will be Wolf or Bear (in the Fall) and their Adult Buddy
Cubs and their adult partners are invited to an exciting weekend camping experience at rustic Rancho Los Mochos Scout Camp. This two-night camping program with Archery, BB guns, Nature, Crafts, and so many more fun activities!
Mom and Cub Camp
September 24-26, 2021 @ Camp Royaneh. Moms and their Cub (Tiger, Wolf, Bear, and Webelos). Located in the beautiful coastal redwoods of Camp Royaneh. The staff will guide you through a weekend of fun and adventure especially designed to reinforce that mother-child bond. A great escape for Cub Scouts and their moms (or another adult female partner like grandmothers, aunts, etc.).
Cub Camping Connection
October 23-24, 2021 @ Rancho Los Mochos. All new scouts and their Adult Buddy. New? This is the overnight campout for you! Bring along your family for a special introduction to Cub Scout Camping.
Webelo-Ree
October 2-3 or October 30-31, 2021 @ Camp Herms. All Webelos and Arrow of Light Scouts. Come meet and learn new skills with other Webelos in our Council.