Date/Time: Sunday, November 14, 2021, at 9:30am
Location: Flag Hill — Sunol Regional Wilderness
Meeting Point: Parking lot immediately to the left after the entrance kiosk — 1895 Geary Road, Sunol, CA 94586
Fee: $5 parking fee
Distance / elevation: 3.9-mile loop / 994 ft
Difficulty: Moderate / Recommended for Bears and Webelos
Hike Info: Hike info / Trail map
Awards: Trail Trekkers Cub Scout Patch / Progressive Hike Award
Contact: Hiking Chair Kushal Kaleshwari (925-639-5493) / Nagabhushan Channabasappa
RSVP: evite
What to wear
Class B and dress in layers
Approved face covering
Sturdy closed toe shoes
Sunscreen
What to bring
binoculars, camera
Lunch
Plenty of water and snacks
map
Directions
Drive south on I-680 and exit at Calaveras Road/Highway 84 just south of Pleasanton. Turn left onto Calaveras Road and proceed to Geary Road, which leads directly into the park.
Important
Use extreme caution on the rocks at the Flag Hill summit
Watch for poison oak on narrow sections of trail
There will be cattle at Sunol -- give them plenty of distance
The hike
A moderately strenuous hike will take you to the top of Flag Hill, which is composed of layers of fossil-rich sandstone formed some 13 million years ago. You'll enjoy great views and good opportunities to watch birds and other wildlife.
The trail
Begin this hike by crossing Alameda Creek on the footbridge near park headquarters. Turn left (downstream). After a short distance, Flag Hill Trial will take off uphill, to the right. The trail zigzags up the face of the hill (make sure your hikers understand why it's important not to shortcut switchbacks). After about a mile of rather steep uphill hiking, you'll reach the top where you'll probably want to take a good snack or lunch break.
While on top, watch for red-tailed hawks (the red upper surface of the tail is visible when the hawk turns), turkey vultures (which hold their wings in a slight "V" and teeter in flight), and maybe even a golden eagle or falcon.
Continue your hike by going down the back side of Flag Hill, turning right when you reach High Valley Road. Return to the cars by way of Hayfield Road.
The history
Sunol Regional Park area was inhabited by the Ohlone Indians for about 4000 years. In 1797, when the mission was built at Mission San Jose, most of the Indians moved to the mission. The Indian camp was located on the same site as the Green Barn and park office are now located.
On the Fourth of July in 1903, a group of children climbed a hill located north of the present park headquarters, and planted a flag. The hill thereafter was known as Flag Hill.
For all in-person pack or den events and activities, please adhere to the pack's COVID statement. If you or your Scout are sick, are experiencing COVID-like or flu symptoms, or may have been exposed to COVID-19, please stay home.
Date: November 17, 2021
Time: 6:30 pm - 8:00 pm
Location: Coyote Creek Elementary School MPR + classroom
Uniform: Class A

In last year's Nova Out of this World program, our pack learned from NASA all about the Mars rover Perseverance. This year, we persevere and continue on our Nova mission!
Cub Scouts Can Code
How on earth do NASA Engineers make Perseverance roam all over Mars and follow their instructions? It all starts with understanding the basics of programming, and a lot of curiosity! Come learn all about algorithms while having practical fun with a programmable robot! Yes, Cub Scouts can code!

While only Wolves and above are eligible for the Nova award, we have a fun program for Lions and Tigers as well, bot included!

The Cub Scouts Nova STEM program incorporates learning with cool hands-on activities and exposure to science, technology, engineering, and mathematics. Cub Scouts Can Code is the Nova award for computer science and engineering. To earn this award, Cub Scouts explore topics such as computers (wait, what is a kernel?), programming, or careers that involve computers. They may also optionally complete the corresponding rank adventure: coding for Wolves, robotics for Bears, or game design for Webelos.
Hello, world of gratitude!
This Nova program is made possible thanks to the dedication of Nova Mentor Kevin, Cubmaster Mrs. Cassie, and a generous donation from an anonymous local resident. A former CSU Sacramento student who graduated in Mechanical Engineering and who was also the president of the Rockets/Robotics Club at Hartnell College graciously donated 8 robot kits to the pack to give kids an opportunity to learn more about Engineering. Thank you!
You, too, can help inspire tomorrow's Engineers! We are looking for 9 parents to assist with the activities and 3 to lend their iPad to control the bots at the meeting. Please sign up to volunteer.
The other kernel
Speaking of out of this world, popcorn sales this year have been astronomical! As a reward for all, the pack offered free pizza at the Halloween party and is looking into sponsoring a fun pack event for early next year. Stay tuned! All sellers earned a cool Popcorn patch. And in this pack meeting, we will award prizes to the Top Sellers!

We expect to receive the popcorn for door-to-door sales on Nov 19. If you submitted an order, please look out for info from Popcorn Kernel Ramesh closer to that date.
The popcorn campaign is a key fundraiser for both our pack and our Council, given neither receives any funding from the national BSA registration fees. So thank you to all who helped keep the pack going!

For all in-person pack or den events and activities, please adhere to the pack's COVID statement.If you or your Scout are sick, are experiencing COVID-like or flu symptoms, or may have been exposed to COVID-19, please stay home.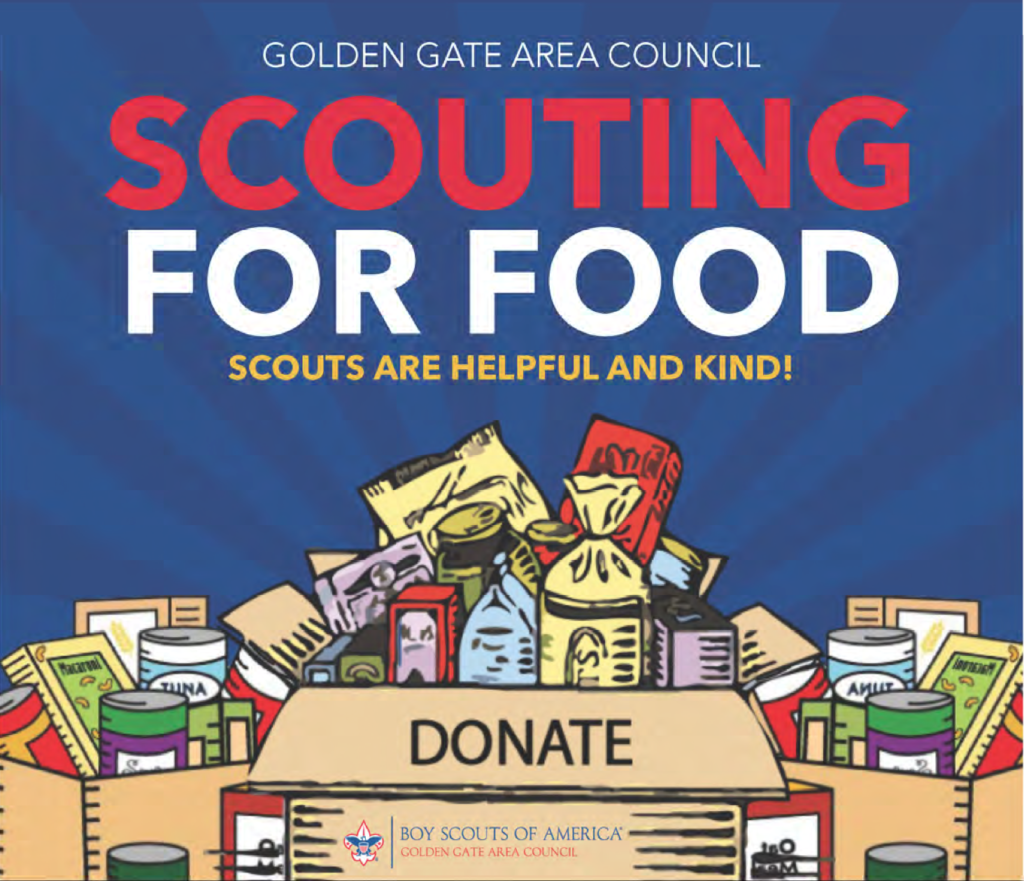 What: Scouting for Food
When:
Nov 6, 2021 — Distribute door hangers to assigned area homes
Nov 13, 2021 — Pick up food donations from same homes after 9am + drop off in front of Coyote Creek MPR by 12pm
Where: See map for assigned areas by den; Den Leaders have assigned specific blocks to scouts within each den
What to wear: Class A uniform, approved face covering
Scouting for Food coordinators: Satwant & Anjula, Cassie
The food that we collect will go to various food banks across the Bay Area to be distributed to those in need. And the need is great, this year especially!
We accept canned foods and non-perishable food items. Canned and boxed foods, cereal, pancake mixes, crackers, and pasta are great! Protein items like canned tuna, ham, sardines, SPAM, and peanut butter are much needed. Please do not donate glass objects or food that will perish soon.
For those new to scouting, this is a wonderful opportunity for our scouts to participate in a community service project. Den leaders are responsible for ensuring their den's full participation in this event. All participating scouts will receive a cool patch.

Please sign up to volunteer
We need 4 volunteers to drive their minivan/SUV to take the collected food from Coyote Creek to the main collection site at Bishop Ranch / 2700 Camino Ramon, San Ramon.

General reminders
Wear Class A Scout uniform
Wear an approved face covering — applies to everyone involved in Scouting for Food
Keep your scouts in view at all times
Supervise scouts when crossing roads
Bring and use hand sanitizer
DO NOT to enter a donor's residence
Door hanger distribution — November 6
Distribute door hangers on another day this week, iff not possible on Nov 6
Place door hanger on the door or partially under the doormat
Do not place door hangers in mailboxes
Knock or ring doorbell after placing door hanger and take a few steps back
Speak with the resident about the program
Food donations pickup — November 13
Pick up food donations from the same homes where you distributed door hangers
Do not pick up earlier than 9am
Knock or ring doorbell at every house that received a door hanger and did not leave a donation; maybe they forgot and would give on the spot if asked kindly
Drop off the collected food donations in front of Coyote Creek MPR between 10am and noon
If you cannot drop off by 12pm, drop off directly at the main collection site at Bishop Ranch / 2700 Camino Ramon, San Ramon, by 1pm
As with any pack activity, please adhere to the pack's COVID statement. If you or your Scout are sick, are experiencing COVID-like or flu symptoms, or may have been exposed to COVID-19, please stay home and inform your Den Leader ASAP so they can make arrangements to cover your Scout's area.
Other ways to donate Tell your family, friends, and neighbors! With the many fortunes and blessings our community has, this is a great way for everyone to give back. And donating is easy! Anyone in the community can drop off food donations in the marked bin outside the Coyote Creek office on Wednesday, November 10, during school hours, or in front of the Coyote Creek MPR on Saturday, November 13, 10:00 am to noon. Thank you for coming together to serve the community!