Pack 1776,
Registration of 2011 Cub Scout Day Camp is now open. Early Bird sign up discounts is $165 before 4/19/2011 (that is $33/day!). Older siblings (junior helpers) can help. Younger siblings (tags) can attend. Details and registration information below.
Date: June 20 – 24th , 2011, Monday – Friday
Time: 9 am – 3:30 pm everyday, except Friday ends at 2 pm
Location: Little Hills Ranch in San Ramon, end of Bollinger Canyon Road (map)
Register early. This camp has filled up every year!!
What: A week long camp filled with sports, archery, swimming, knot tying, engineering work, whittling, BB guns, crafts, skits, songs, and daily entertainment shows with about 400 other scouts from our district. Scouts will be able to earn various badges.  More info here.  Go here to see what our scouts achieved last year.
Cost: $165 per scouts before 4/19/2011
$180 before 5/25/2011
$195 before 6/06/2011
$ 25 for TAGS
Who: Any scout from Tigers to Webelos II, using his Fall 2011 rank. If your scout will be an incoming Tiger (entering 1st grade) his adult needs to attend each day too. If your scout has graduated from 5th grade (entering 6th grade or above in Fall 2011 and at least 11 years old) he can volunteer as a Junior Helper for no charge. Jr. Helpers must attend one evening of training.
Volunteers: This camp is entirely organized and staffed by volunteers. Our pack must provide one adult volunteer for every six scouts attending. Adults attending all day for all the five days will receive a steep discount on the registration fee for one scout. Also, adults volunteering all week will be able to bring their potty-trained to pre-school age child to the TAG program for $25. Every adult that attends camp, even if for only half a day, needs to take the "Youth Protection Training", needs to register as a volunteer, and fill out a medical form. Adult volunteers must attend one evening of training.
Registering for camp requires three steps:
Register at: http://www.bsa-mdsc.org/meridian/daycamp.php
Print, fill out, and sign the medical form. Attach a copy of BOTH sides of your scout's insurance card.
Turn in a copy of your registration and your filled out medical form to me at home or at a Pack Meeting. There is so much paperwork, they are asking that each pack camp coordinator handle the paperwork for their own pack scouts. Every person at camp must register and turn in a medical form with a copy of his registration receipt.
Please feel free to email or call me with questions.
Thanks.
Susan Kim
Pack 1776 Day Camp Coordinator

Newscasts on the recent earthquake and tsunami in Japan have been horrifying to watch, yet they serve as reminders of the importance of being prepared. While we express our condolences to the victims and their families, we should not forget to get ourselves ready. Take this opportunity and work with your children on the Emergency Preparedness Award. This award is available to all cub scouts, boy scouts, as well as Scouters. Check out the requirement over here, and send award request to the Awards Chairs upon completion.  Be Safe.
P.S.  If you have a boy scout at home, this may be a good time to work on the Nuclear Science Merit Badge too.

Update 4/14/2011: Deadline is extended to April 15th, that is tomorrow. If you still need a reason to sign up, read this from USA Today.  38 has already signed up.  Don't miss out!
Update 3/28/2011: Two weeks left to sign-up and send in your checks! Deadline in April 9th... Don't be left out!!
Scott & Scott.
Date: Apr 29 - May 1, 2011
Location: Woodlands Youth Camp located in the Joseph D. Grant County Park (park map)
Price: $15 per person per night, includes site, food, and all activites
Payment must be received by Apr 9, 2011
RSVP via evite.
Pack 1776 Families,
Spring Camping is right around the corner!
Located only one hour from San Ramon near Mt. Hamilton/San Jose is the Woodlands Youth Camp located in the Joseph D. Grant County Park. Camping, hiking, and other attractions are in the park for all to enjoy. Hikers have access to an extensive 52 mile trail system. One large lake and several smaller ponds are accessible for warm water fishing. There is space for up to 200! campers and cars are unlimited!! Chemical toilets are at the site but flush toilets and hot showers are a short walk away.
As always, the cost is minimal.
$15/person/night which covers the site, food, and all activities.
A standard policy of No Refunds applies.
Payment MUST be received BY April 9th to secure your spots! This is to allow for proper planning and selection of helpers. No excuses please.
Please send checks payable to PACK 1776, to Scott Evans.
Please feel free to contact us with questions via email.
Scott & Scott
Camping Chairs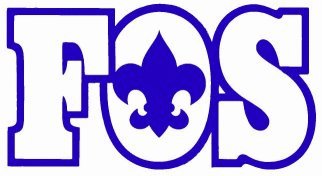 News from the Meridian district:
Things are really rolling along for FOS in our district. We are at 20% of our goal having already raised just over $23K!
Top 5 FOS Units (as of Feb 23):
Pack 36 - $8,270
Troop 36 - $4,534
Troop 805 - $2,565

Pack 1776 - $2,341

Troop 815 - $1,240
Thank you, Pack 1776!! There is still time if you have not contributed yet. Donations are tax-deductible and can be made online at the Council's website.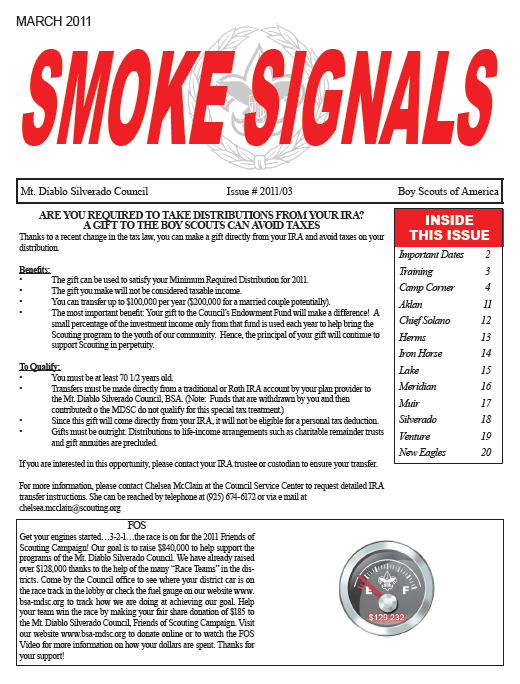 Smoke Signals is a monthly newsletter published by Mount Diablo Silverado Council. The March issue is now available for download.
Find out the latest on Blackhawk 500, Cub family camps, Cub Scout rangemaster training, Scoutreach golf tournament, distinguished citizen luncheon, and many more.