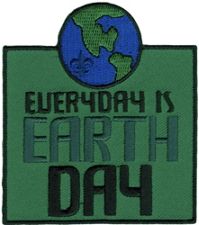 Date/Time: Sunday, June 7, 2015, 4-5pm
Location: Around Coyote Creek
Time: Allow 1 hour
Attire: Class A uniform
Award: "Every day is Earth day" patch
Meeting Point: Coyote Creek Elementary MPR
Contact: Hiking Chair Siddharth Bhatia
RSVP: Evite
What to Bring:
Your trash hunting skills
Good attitude
Details:
Let's end this school year by cleaning up our beloved school and surrounding areas. Scouts will walk along the school perimeter picking up trash. We will hand out gloves and garbage bags. We will also talk about recycling and discuss
which items can be recycled. Scouts will be doing their part in keeping our school clean and following the principles of Leave No Trace.
Route:
Walk along the outer perimeter of the school and then walk around Briza Loop. We can split into groups and explore areas around Lantana Way/Cattleya Drive if time permits.
Registration is now Open to Returning Scouts ! Registration is considered complete after the following have been submitted:
New Scouts registration begins 8/11/15. Please also submit the following in addition to the above 2 items:
Thanks !

Date/Time: May 24-25, 2015, 8:30am - 6pm (2 hour timeslots)
Location: Booth #382 by the tennis courts
Attire: Class A uniform
RSVP: SignUp Genius
It's that time of the year again! We are asking the entire Pack 1776 Cub Scout family to participate in the sales of our Cotton Candy Fundraiser at the 2015 San Ramon Art & Wind Festival.  We will be at booth #382 by the tennis courts

Pack 1776 gets a major funding boost from this event and we definitely need volunteer support from all of our dens.
There are still afternoon openings available and we encourage you to click here to sign up now !
In an effort to ensure that everyone has an equal opportunity to participate, please note the following guidelines:
1.) At least one parent is required to be with their participating scout in this fundraiser but the entire family is most welcome to join and have fun.
2.) Each shift must have at least 1 Scout Leader present. There will be no more than 4 scouts present inside the booth during any shift.
3.) Try to remember to maintain a Scout attitude while participating in this fundraiser. Don't forget that you are all perfect 1776 Gentlemen. We should always thank those who we have asked and always wish them a good day, to encourage proper attitude demonstrating good manners and conduct.
Please contact Marcos Perez if you have any questions.