Date/Time: Sunday, June 25, 2023, at 10am
Location: Martin Canyon Creek Trail — 11574 Bay Laurel Street, Dublin, CA 94568
Meeting Point: Trailhead — on Bay Laurel St
Distance / elevation / duration: 2.9-mile out and back / 554 ft / 1 hour 24 mins average
Difficulty: Easy to moderate, with elevation
Recommended for: All, with close parental supervision for younger ones
Hike info: Hike info + Trail map
Directions: Google maps
Awards: Pack hike patch
[ RSVP ]
Attire: Class B t-shirt and comfortable pants, layers, hiking boots/shoes
Bring: Sunscreen, cap/wide brimmed hat, plenty of water and snacks, optional hiking poles, camera
Hike Chair: Zhen Zhou (925-997-4889)
Directions
Take exit 31 toward San Ramon Valley Blvd from I-680 S. Turn left on San Ramon Valley Blvd, then continue on San Ramon Rd, and then right onto Silvergate Rd. https://goo.gl/maps/rjFy8jmtUNGZDDXA6
Plan to arrive early as parking may be limited in this residential area. Please be respectful of residents.
The hike
Enplore this 2.9-mile out-and-back trail near Dublin, California. Generally considered a moderately challenging route, it takes an average of 1 h 24 min to complete. Majority is shaded. This is a very popular area for birding, hiking, and running, so you'll likely encounter other people and possibly wild animals (coyote has been spotted previously) while exploring. Watch out for poison oak.
The trail is open year-round and is beautiful to visit anytime. Dogs are welcome, but must be on a leash.
The trail
The Martin Canyon Creek Trail is one of Dublin's little known treasures. This improved trail follows Martin. Canyon Creek for 0.89 miles and offers amazing views of the Tri-Valley and the canyons leading to the west. Large oaks and bay trees line the creek and trail and provide tranquil areas for respite. The trailhead is located near the corner of Silvergate Dr and Bay Laurel St. Second part is narrow and steep — careful with young ones.
For all in-person pack or den events and activities, please follow the SRVUSD COVID guidelines. If you are sick or are experiencing symptoms, please stay home and stay safe.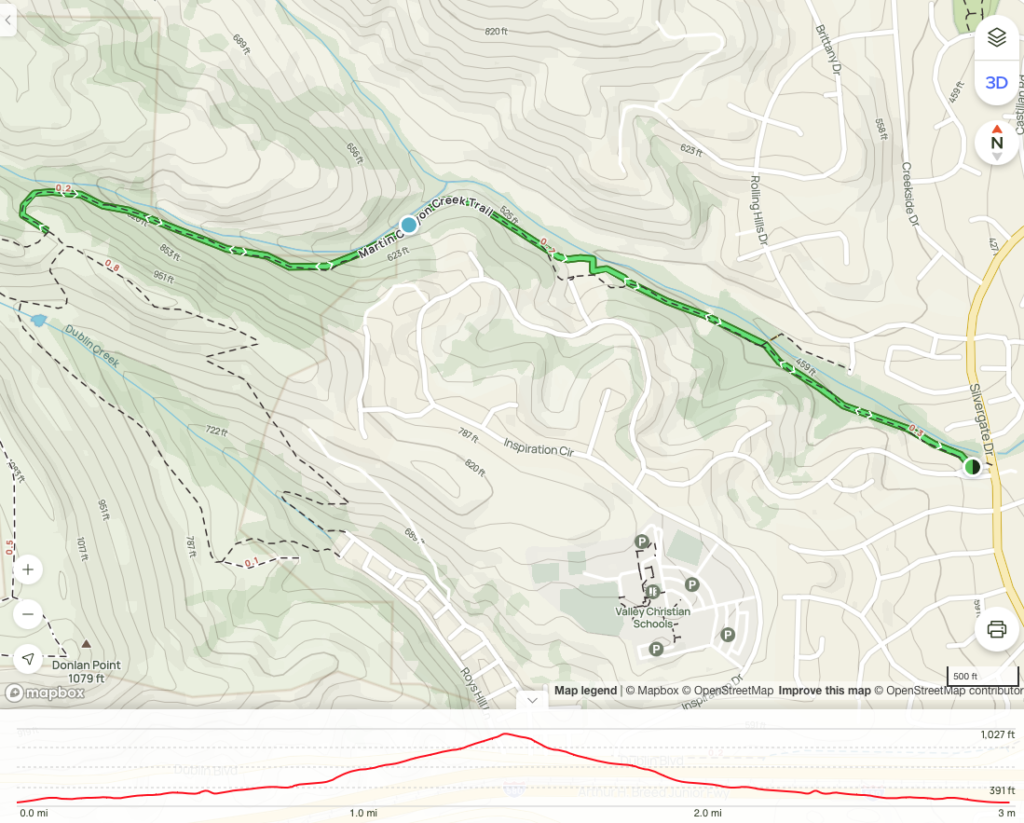 When: Saturday, May 27, 2023 at 8:45am
Where: San Francisco National Cemetery in the Presidio 1 Lincoln Boulevard, San Francisco, CA 94129 Parking: There is free street parking near the cemetery entrance. You may need to walk a bit.
Wear: Full Class A uniform with shirt tucked in, comfortable shoes for walking, sunscreen
[ RSVP ] ASAP to get included in the pack's headcount.
Bring: Water in reusable water bottle, a jacket as the weather can be unpredictable A light snack and patch will be provided at the end.
Event Leaders: Archana Singh (952-250-1212) and Rakesh Dama (315-251-5928)
Please join Golden Gate Area Council's annual flag planting event at the SF National Cemetery in the Presidio. Hundreds of Scouts of all ages and their families will help plant thousands of flags at the National Cemetery in preparation for the Memorial Day event. It's been the pack's annual tradition to participate. This is typically one of the most meaningful service events of the year, reminding our Scouts of the ultimate sacrifice many have made to make our country what it is today.
Scouts and Uniformed Leaders must be in full Class A Uniform. Friends and family are welcome. The ceremony will begin promptly at 9:00am. The event will likely be completed with the flag planting by 11:30am. Following the flag planting, the Council typically offers some light snacks. Scouts who participate earn a patch.