Date: Saturday, May 29, 2021
Time: TBD. See instructions below. The Pack coordinator for this event will advise you of our start time.
Attire: Full Class A uniform, footwear suitable for walking on wet grass.
Register: RSVP here so we can provide a headcount.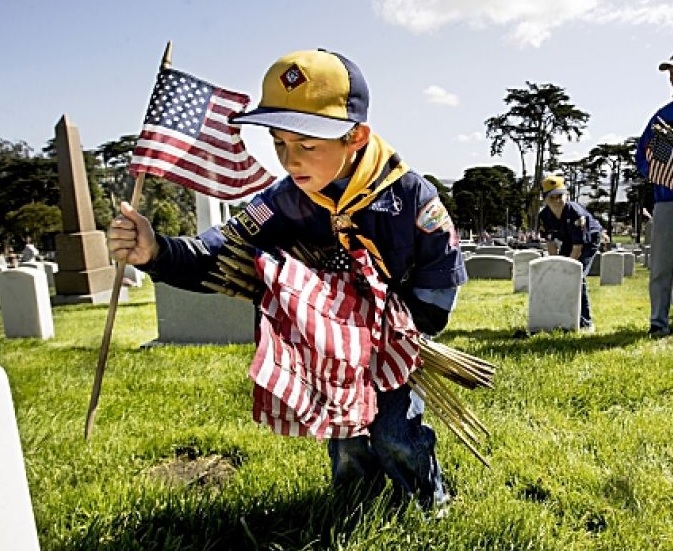 The 2021 Flag Planting to honor our fallen veterans is scheduled for Saturday, May 29, 2021 at the Presidio of San Francisco. In accordance with local/state guidelines, they will limit participation to 180 participants for this year's event. Representation from all units is encouraged. All adult leaders and scouts should be in full uniform for the event. All participants will be required to follow social distancing rules and wear a face mask. There will be no refreshments at the event this year.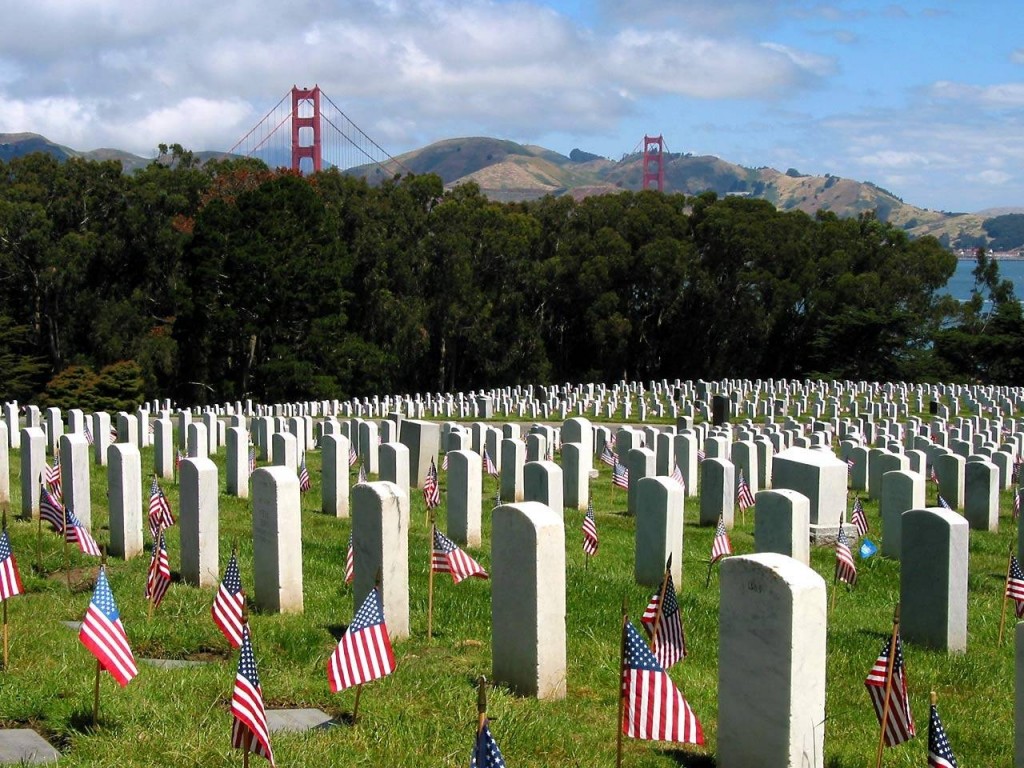 Logistics: There will be a staggered timeline beginning at 9:00 am for 3 units of 10 participants (maximum of 30 scouts, including parents and adult leaders) each serving a 1 hour shift. Each unit will be required to leave after the hour is completed.
Process: 3 units of 10 participants (including adults) may register for a 1 hour shift beginning at 9:00 a.m. to 2 p.m. There will be a total of 6 shifts completing at 3 p.m. Our unit will do the registration.
Calling all Webelos and Arrow of Light Scouts!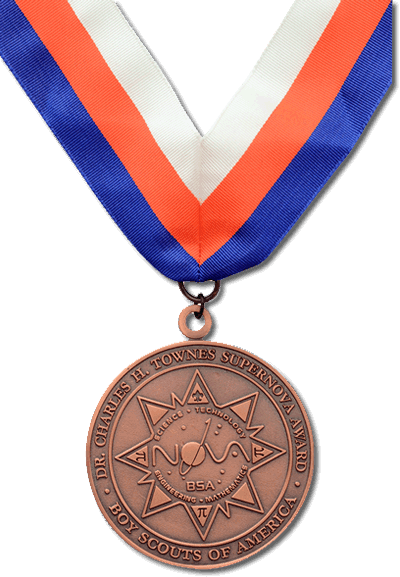 The Golden Gate Area Council is offering an opportunity for fifteen (15) Webelos or Arrow of Light Scouts to work with a Council Supernova mentor to earn the Dr. Charles Townes Supernova Medal. 
Pack 1776 had 14 scouts earn their Dr. Charles Townes Supernova Medal this past year. Come join the elite group of Webelos STEM scientists.
Starting on Wednesday, June 9th at 6 PM, the Webelos and Arrow of Light Scouts will begin a 9-week journey to earning the Dr. Charles Townes Supernova Medal, the top STEM award for Webelos and Arrow of Light Scouts.
Each week the Scouts will have a small project to work on that will broaden and deepen their understanding of STEM. The required adventures must be completed outside of the sessions. The event runs for nine (9) weeks on Wednesday evenings from 6:00 to 6:45 PM. The cost of the program is $50 per Scout. (Please note, this is not a Den Event.) The event is only open to incoming Webelos and Arrow of Light Scouts.
This activity is entirely online with the possible exception of a final Science Fair on Saturday, August 7th (morning). Parents must attend the first online meeting as a part of orientation.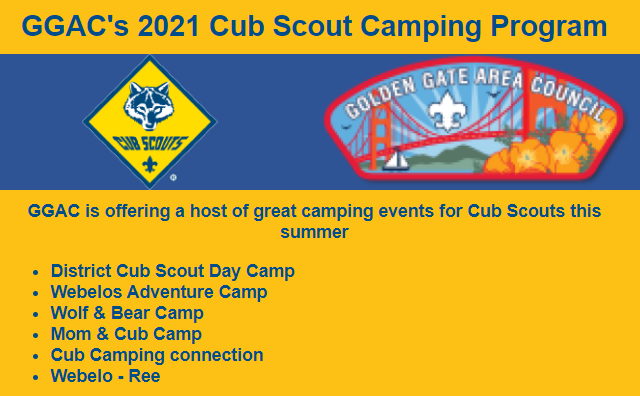 Webelos Adventure Camp
August 2-7, 2021 @ Camp Royaneh. Pull on your hat for adventure around every turn. The Thunderbirds await you to join them to have fun in the sun at Camp Royaneh!
Wolf & Bear Camp 
July 16-18, 2021 @ Rancho Los Mochos. Cubs who will be Wolf or Bear (in the Fall) and their Adult Buddy
Cubs and their adult partners are invited to an exciting weekend camping experience at rustic Rancho Los Mochos Scout Camp. This two-night camping program with Archery, BB guns, Nature, Crafts, and so many more fun activities!
Mom and Cub Camp
September 24-26, 2021 @ Camp Royaneh. Moms and their Cub (Tiger, Wolf, Bear, and Webelos). Located in the beautiful coastal redwoods of Camp Royaneh. The staff will guide you through a weekend of fun and adventure especially designed to reinforce that mother-child bond. A great escape for Cub Scouts and their moms (or another adult female partner like grandmothers, aunts, etc.).
Cub Camping Connection
October 23-24, 2021 @ Rancho Los Mochos. All new scouts and their Adult Buddy. New? This is the overnight campout for you! Bring along your family for a special introduction to Cub Scout Camping.
Webelo-Ree
October 2-3 or October 30-31, 2021 @ Camp Herms. All Webelos and Arrow of Light Scouts. Come meet and learn new skills with other Webelos in our Council.

Now more than ever it's important for our youth to disconnect from the computer screen and socialize safely outdoors with friends.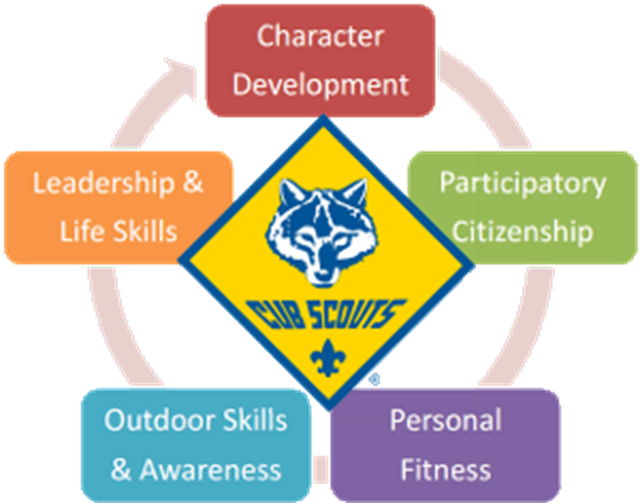 Come and experience the adventures of our Cub Scouting program. For less than what local sports is charging, you and your child can experience a year's worth of fun, while at the same time learning important life skills. While we meet at Coyote Creek Elementary, boys and girls from all schools are welcome to join.
Click here to see why Pack 1776 is such a great deal.
| | | |
| --- | --- | --- |
| Outdoors | Life Skills | STEAM & Service to Others |
| Archery | Cooking | Community Service |
| Bicycling/Hiking | First Aid | Environmental Stewardship |
| Camping | Knot Tying | Pinewood Derby |
| Personal Fitness | Leadership | Rocketry |
| Marksmanship | Public Speaking | Science Projects |
Celebrating our 20th year in October 2020, Pack 1776 didn't slow down due to COVID. We quickly shifted to virtual meetings when Shelter in Place rules prevented us from meeting in person and conducted socially distanced outdoor events such as our Rocket Day!, Halloween Trunk or Treat and hikes. We also hosted the 20th running of Cub Scouting's famous Pinewood Derby. Now, with the pandemic situation improving in the Bay Area and guided by County and Boy Scout of America guidelines, we are doing more outdoor socially distanced events and looking forward to what our new Scouting year has in store for us.
Don't miss out on the fun. By joining before June 6th, you can take advantage of our registration discount and be able to participate in Summer time fun such as the Raingutter Regatta (June 6th), Meridian Cub Scout Day Camp (July 26th - 30th at Little Hills Ranch) and monthly hikes.
You can now sign up online for Cub Scouting and invite friends to join too!
Download our step by step registration instructions here.
All scouts must submit:
1. Complete the online Pack 1776 Registration Form
2. Complete the Medical Form Parts A & B
3. Make a copy of the front & back of your scout's medical insurance card.
4) Registration check written to Pack 1776. Write your Scout's name in the memo line.
$275 for Tiger, Wolf, Bear or Webelos scouts (First through Fifth grades in 2021-2022). Prices are even lower if you sign up to volunteer as a leader or chairperson. We only accept Fifth graders if they have completed Webelos I.
$200 per new Lion scouts (those who will be in Kindergarten in 2021-2022)
Pack 1776's annual membership fee includes the cost to register with the Boys Scouts of America, the Council Program Fee, a one year subscription to Scout's Life magazine, a Pack 1776 Class B uniform t-shirt, award belt loops, pins and patches and expenses in events like Halloween Party, Pinewood Derby, Raingutter Regatta, etc.
5) A separate $200 volunteer deposit check per family, post-dated to 4/1/2022. Write your Scout's name in the memo line. We will hold onto your check and shred it after you have completed 10 service hours.
Mail or Drop off your completed paperwork to the Scout Box at the Coyote Creek School Office or at Rocket Day!
Family Scouting: Girls Welcome!
Our Pack is open to boys and girls. By welcoming girls into the program, even more youth will have access to the character development and values-based leadership that Scouting promises.
Lions: Kindergarten age youth; Come try it out!
We are celebrating five years of participation in the national Lion program! As a Lion, your kindergartner will make friends, laugh loud, gain confidence, discover nature, and most of all…have fun. A kindergarten-age boy or girl and his or her adult partner join and attend meetings and activities together. Recognizing how Lions are integral to the success of our program and to introduce them to the world of Cub Scouting, the Pack has discounted the normal registration fee to $200 and waived the volunteer deposit.
Click here for more information or to register.