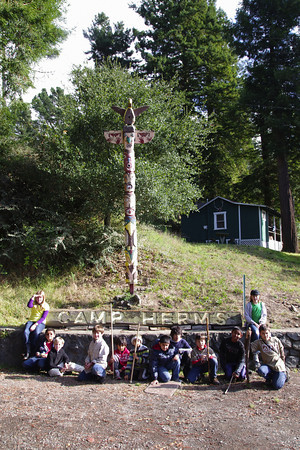 The Fall camping event at Historic Camp Herms turned out to be a great success and everyone had a great time!! We camped in the Redwood Grove area surrounding by Giant Redwood trees which also help provide some cover for the rain that came Friday night. Luckily, most people had their tents up in time to take cover and the rain didn't go on too long.
We woke up Saturday and had good weather for our opening flag ceremony and breakfast where the scouts received their very own mess kits to use, clean and keep. We then had a fun filled day that included many belt loops, including Kickball led by me, Photography (every scout got their own disposable camera!) led by Harry Beck, Hiking lead by Bernard Kiriakos and the Marble belt loop lead by Ammy Pluth. We also had the Lower Field reserved nearby where the scouts had free time to play soccer, football and the always popular stick battles which included the conquering of a nearby hill.
After dinner, John Pluth led a touching flag retirement ceremony where the Webelos assisted in retiring a donated flag. John then led everyone in singing techniques and great traditional and holiday songs which allowed the scouts to get their final belt loop - Music. For those who are counting that was five belt loops this trip! We ended the night with a large campfire, great stories by the parents and kids and lots and lots of smores.
The following morning, we wrapped up the trip with breakfast and a closing flag ceremony. A BIG thank you to everyone who helped make the Fall Camping 2011 trip a great success!!
Camping Chair
Scott Spears
p.s. If you would like to bring your developed pictures from the disposable cameras to the next pack meeting, Ammy Pluth will put them up for the Pack to see.