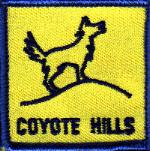 Date/Time: Sunday, February 8, 2015, 2:00pm Cancelled due to Rain
Location: Coyote Hills Regional Park
Distance: 4 miles round trip
Time: Allow 2-3 hours
Grade: A few short but quite steep grades
Suggested Age: Tigers through Webelos
Attire: Class B uniform
Award: Trail Trekkers patch
Parking & Fees: Parking at the Visitor Center. $5 parking fee.
Meeting Point: Coyote Hills Visitor Center
Contact: Hiking Chair Siddharth Bhatia
RSVP: Evite
What to Bring:
Plenty of water, snacks. Wear clothes appropriate for the weather.
Details:
Head first into the marsh by crossing the park road at the south end of the Visitor Center parking lot. The kids will enjoy walking on the boardwalk. Stop at the wildlife viewing platforms to observe water fowl and possibly muskrats. When the boardwalk ends, keep heading straight, gradually curving to the left, until you reach the D.U.S.T. Trail. Turn left on this trail, then right on Lizard Rock Trail. You will then join Bayview Trail, a paved bicycling trail which encircles the hills. Turn left on the Bayview Trail. When you reach Nike Trail, follow it up to a saddle. Once on the saddle, head south on the Hill Trail. After a short steep climb, you'll reach Red Hill Top, a hill formed of red chert. Watch out for poison oak among the rocks. On a clear day, the views are great. You'll want to point out some of the sights - the salt evaporation ponds to the west, the marsh and boardwalk below you to the east (can you see where you were?), and some of the high peaks in the Bay Area. Some of these peaks are "Rim Rover" peaks which the boys can climb when they become Boy Scouts - Mission Peak just a little southeast, Mt. Tamalpais to the northwest (beyond San Francisco), and Mt. Diablo to the northeast. Continue south, stopping at Glider Hill to watch people flying model gliders. Go slowly down the steep hill to Soaproot Trail and go left, passing above Dairy Glen, the group campsite. Turn left again, back to the Visitor Center (you'll be approaching the Visitor Center from behind.)