Boys are required to wear Cub Scout "Class A" Uniform to all meetings and activities. The minimum requirement is a shirt, pants or shorts, neckerchief, slide, hat and belt. There is a different color neckerchief/slide/hat for each rank: Kindergarten (Lion t-shirt), 1st grade Tiger (orange), 2nd grade Wolf (yellow), 3rd grade bea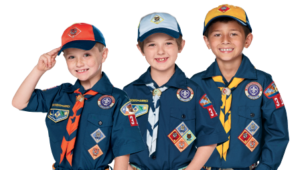 r (blue), 4th and 5th grade Webelo (tan & plaid). You will also need to get insignia for the uniforms.
Go to: http://bsauniforms.org/ for pictures of the uniform and where the insignia should go.
When wearing the Class A uniform, the official Cub Scout pants or shorts is dark blue. However, Pack 1776 will accept any pants with belt loops; no elastic-waist sweats please! The neckerchief should be rolled and placed under the shirt collar. Wear closed toe shoes; no flip flops.
You can purchase scout's uniform online or at the following local stores:
    Mount Diablo Silverado Council Shop, 800 Ellinwood Way, Pleasant Hill
    McCaulou's, 589 San Ramon Valley Blvd, Danville
    East Bay Scout Shop, 1001 Davis Street, San Leandro
    Dom's Outdoor Outfitters, 1870 First Street, Livermore
When you go to the store, ask for the following:
     Cub Scout shirt
     Cub Scout belt
     Cub Scout cap
     Cub Scout neckerchief
     Cub Scout neckerchief slide
     World Scout Crest Emblem
     Mt Diablo Silverado Council shoulder patch
     "1776" Pack numerals
     "Den X" patch (den assignment will be announced after the 1st Pack Meeting)
     Cub Scout Handbook
If you do not like to sew, you can purchase "Badge Magic" and glue on the insignia. The glue can withstand frequent machine wash but leaves a stain when you remove the insignia.