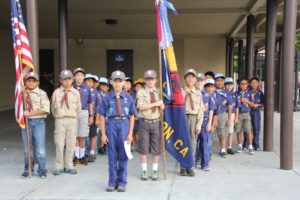 Coyote Creek Elementary School invites us to lead the opening flag ceremony for its 9/11 Memorial to be held at 8:45am on Monday, September 11th (Patriot Day).
Scouts who want to participate must meet at the Sundial (behind the office) at 8:00 am in full Class A uniform for rehearsal. We will also take a group picture for the yearbook. No uniform, no participation, no exception. 
Please RSVP to the evite. Feel free to contact us with questions at cubmaster@pack1776.com.
Yours in Scouting,
Grace Dagen
Pack Committee Chair